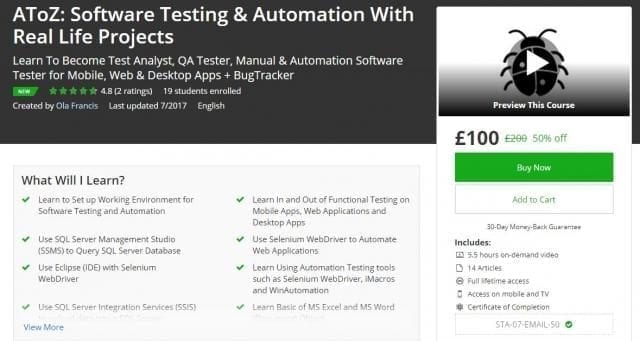 Are you interested in becoming a Software Test Analyst, QA Tester, Automation Tester, Manual and Automation Software Tester?
Here is an information on A-to-Z online course for Software Testing and Automation with Real Life Projects available both in English and Yoruba Languages.
This is being provided by a seasoned Nigerian professional based in the UK. The tutorials are available Udemy while the previews can be watched on YouTube.
The tutor, Ola Francis is offering Lifetime access to the course for 50% off. Be sure to take advantage of this discount while it lasts (through Sunday, 30th July 2017)! Here is where you can get your 50% off discount:
>> English Version: https://www.udemy.com/atoz-sta-with-real-life-projects/?couponCode=STA-07-EMAIL-50
>> Yoruba Version: https://www.udemy.com/ko-sta-ni-ede-yoruba/?couponCode=STA-YOR–07-EMAIL-50
The following are the areas that are being covered in the course:
• Learn to Set up your own Working Environment for Software Testing and Automation
• Learn In and Out of Functional Testing on Mobile Apps, Web Applications and Desktop Apps
• Use SQL Server Management Studio (SSMS) to Query SQL Server Database
• Use Selenium WebDriver to Automate Web Applications
• Use Eclipse (IDE) with Selenium WebDriver
• Learn Using Automation Testing tools such as Selenium WebDriver, iMacros and WinAutomation
• Use SQL Server Integration Services (SSIS) to upload data into a SQL Server Database
• Learn How to Migrate MS Access Database and MS Excel to SQL Server Database Engine
• Use Microsoft Business Intelligence Tool for Database Testing and Extract Transform Load Testing
• Learn How To Report Bugs or Defects Using BugTracker System
• Have access to 20+ Real Life Projects (Desktop, Web and Mobile Applications) and much more!
WATCH THE COURSE PREVIEW BELOW:
"I put my best teaching methods to use in this course, so you'll learn through a combination of video lessons delivered by me, real life examples and case studies, homework to check your ability, and supplemental material." – Ola Francis
"I watched one of Ola Francis' video course on YouTube and was indeed impressed with the contents and presentation. You will be amazed with ones in Yoruba as well. Only a trial can convince you!" – Adewale Ademowo
Look forward to seeing you in the course. Feel free to forward this to friends and colleagues who would benefit! – Ola Francis
Link: Learn Software Testing and Automation with Real Life Projects in Yoruba Language.