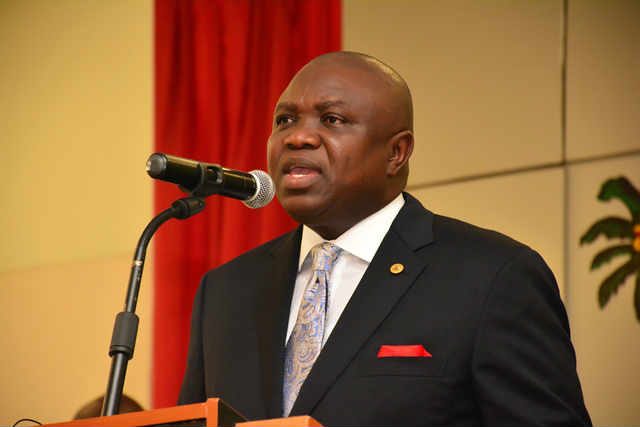 Governor Akinwunmi Ambode of Lagos State has reiterated the present administration's commitment to the vision of making Lagos become the 3rd largest economy in Africa.
The Governor stated this at the launch of a book, titled "Making Africa Work – A Handbook for Economic Success", put together by the Brenthrust Foundation at the Radisson Blue Hotel Victoria Island, Lagos.
While praising the Chairman of the Foundation, Chief Olusegun Obasanjo and Authors of the book, Ambode declared that some of the principles expounded in the book will help the State in its vision of becoming the 3rd largest economy in Africa.
He also noted that the Brenthrust Foundation has been at the frontier of new ideas and innovative actions for strengthening Africa's economic performance.
In his words, "They have been working at the invitation of African Governments since 2004 with a team constantly engaged with a diverse range of experts, policy specialists and senior government officials with activities focused on three main areas: Private Events, Policy Advice and Thought Leadership".
The Governor, represented at the Book Launch by his Deputy, Dr. Idiat Oluranti Adebule, stated that Africa can be salvaged from its present seemingly difficult situation if the continent can invest heavily in human capital-formation that can elicit an innovative and people oriented leadership.
"If we have to make Africa work, then Nigeria, the largest economy in Africa must work. I also believe that Nigeria will work better if Lagos, the fifth largest economy in Africa works", he stated.
In his remarks, the Chairman, Benthrust Foundation and former President of Nigeria, Chief Olusegun Obasanjo stated that the foundation is fully ready to partner with the Lagos State Government in his vision to become the 3rd largest economy in Africa.
While expressing hope about the prospects of Africa getting out of its myriad of economic misfortunes, Obasanjo said the book is a guide to improving Africa's capacity for economic growth and job creation, noting that the book is structured by sectors including mining, agriculture, infrastructure, services, manufacturing, planning, and delivery.
During the book review presentation, the President/CEO of NEWSEUM and co-author of the book, Dr. Jeffery Herbst said the book includes a brief digest of the key steps for success, challenges and opportunities Africa's States will experience.
He advised African leaders to adopt policies to integrate its youths and make them participate in the society, stressing that for Africa to be economically prosperous it must tackle its growing cases of unemployment.
Herbst maintained that Africa's population is growing rapidly and measures must be put in place to ensure its teeming young population is employed.
According to him, "Africa is the only region that its population will become younger due to growing birth rate and unemployment is a recipe for political destabilization, as such drastic decisions to tackle unemployment must be taken now". (LASG)