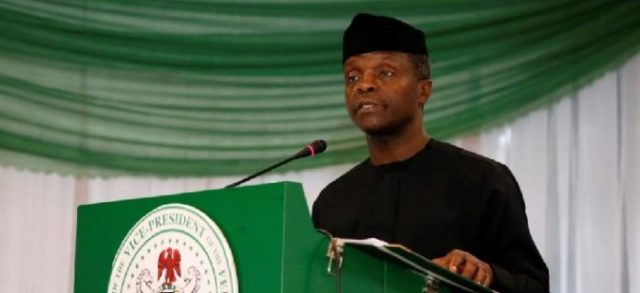 The Acting President, Prof. Yemi Osinbajo, on Wednesday in Abuja urged Nigerians, especially the youths, to do everything wihin their power to promote unity of the country.
Osinbajo made the call at a National Security Seminar with "Unity in Diversity: Security and National Development" as theme, organised by the Department of State Service (DSS).
He said that the future of the country lies with the youth and that they must be involved in making it a better place.
He said that he had been able to discover some "false narratives" about the country in the course of his engagement with various stakeholders arising from different agitations and quit ultimatum.
One of the false narratives, according to the acting president, is that Nigeria is a mere geographical expression formed with the agreement of its people, and as such, will end up not succeeding.
He said that such narrative was false as it was first used for Italy, exactly a century before Nigeria was born, adding that Italy was still a "geographical expression'' and had not failed.
"We must not be misled by some few intellectuals suggesting to us that if we do not for one day hold a conference to come together as a nation, we cannot stay together. Indeed, we can.
"Most countries of the world came together by some accidents of history in one way or the other.
"Many were put together, many were forced together, but the wise ones have remained together and united.
"The second false narrative is that one particular religion or ethnic group is more responsible for the Nigerian problems than the other, or that one is superior to the other. My experience is exactly the opposite.
"As a matter of fact, whenever you find a charge-sheet of people who have been charged with an offence, especially stealing or corruption, you will never find one ethnic group alone represented.
"You will always find an equal representation of the ethnic groups. There is complete unity in this business of stealing. You will also not find one religious group.
"You will find that there is nobody arguing about religion when it comes to this matter,'' Osinbajo said.
He added that there was also the belief among Nigerians that they would be better off when their people were in power, saying "history and experience are of course, exact opposite of that.
"As a matter of fact, what history has shown is that no ethnic group can be better off, economically or socially, merely because a leader of the country as at that time is from a certain ethnic group.''
He added that there were also complaints that certain ethnic groups were being marginalized and said that each group in the country could bring up a narrative to suit it on the matter.
"There was also a false narrative that hate speeches is allowed by freedom of speech. This is very wrong and we should not allow that to continue.
"We must ensure that there is respect for each other in conversations and interaction. We must show respect for one another, respect for each other's religion and views. The language of interaction must be civil.''