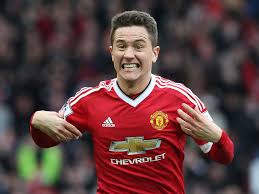 Ander Herrera has warned that Manchester United should be prepared for a step up when they make their return to the Champions League on Tuesday.
United face Swiss champions Basel at Old Trafford in their first game in Europe's top club competition for close to two years.
Despite being unable to qualify in two of the last three seasons, United will still be expected to top Group A, which also includes Benfica and CSKA Moscow, but Herrera insists them being tagged favourites means nothing.
"We have to know where we come from," He said.
"We have come from the Europa League, we won it and it is very important and it is a very good title but it is the Europa League. We were sixth in the Premier League [last season] so we have to respect every team we face because they deserve to be in the Champions League.
"Basel have been champions of Switzerland for many years, they have a talented team. They sell players to the world with a lot of talent. We have to respect them. We are ready but we have to respect every opponent and realise where we have come from.
"We are a big club and maybe the biggest in the world but we were not in Champions League last season and we have to take it step by step. First aim we have is Basel. We cannot think of winning the Champions League now, we have to take it one step at a time."
"Last season we won three titles because we had one of the top scorers like Zlatan Ibrahimovic. If you want to be a champion and win titles you need a guy like him and Romelu is doing fantastic for us.
"Paul Pogba is there to score goals, Marcus [Rashford] will score, Anthony [Martial] is scoring, Juan [Mata] will score because it is in his DNA so we cannot give all the responsibility to Romelu. It is important to have him though.
"It doesn't matter that he hasn't played Champions League before, he has scored goals and played in the best league in the world so he will score goals for us. He is so hungry, he wants to win things, he wants to score goals and he wants to be important."