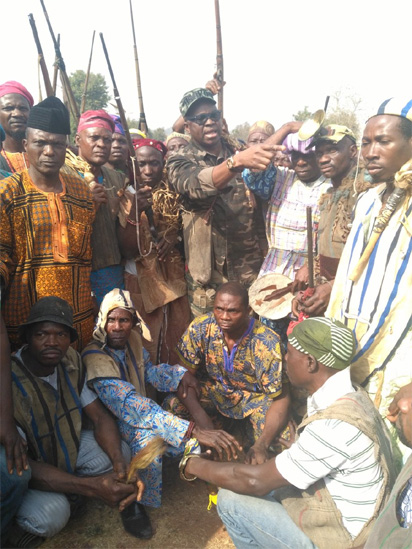 The Governor of Ekiti State, Mr. Ayodele Fayose has assured the people of the state of safety, vowing that his government will explore every available resources to resist attempts by herdsmen to invade any part of the state.
Mr. Fayose who gave the assurance on Wednesday when he met with local hunters in all the 16 councils of the state, raised an alarm of a surreptitious move by some Fulani herdsmen, who he said have already find their ways into outskirts of Ekiti, to attack the state with an alleged aim to kill and maim people.
"I have received letters that the Bororos have entered our reserves they want to violate our laws," he raised, noting that the planned attack was an attempt to pressure his government to rescind the anti-grazing law it enacted last year.
The governor who called the attention of the federal government to the planned attack, however, vowed to resist it and safeguard the people of the state.
"We will not allow that to happen," Mr. Fayose who was clad in military outfit vowed, handling a marching order to local hunters in all the councils across the state to ensure they protect the people of the state.
He told the local hunters that his meeting with them was to raise their consciousness to the security of the state, assuring them that he would offer them strong support to ensure the success of the exercise.
"I want you all he hunters to go back today to protect your people, be vigilant, open your eyes, make sure everyone entering our state is screened.
"No one in the guise of grazing should enter our land after 8pm. For our brothers who harbour criminals, tell them Ekiti is a no go area. If your plan is to make this state ungovernable you are wasting your time.
"I have called this meeting for everyone to be vigilant. I will begin to support you now to secure Ekiti.
Don't let them take you by surprise.
"Don't allow them to take Ekiti by storm. Go to the farms and keep vigil. Don't just entertain visitors that come in the night, screen them. We don't want visitors in our games at 8pm," he admonished them.
However, he cautioned the local hunters to observe full adherence to the law in their task of defending people of the state, providing them with a line where they can use in situation of distress.
"Don't take laws into your hands but defend our people," he warned, stressing that the hunters should "Protect our people, check all arrivals at night coming in the guise."
"I am making a line available where you can recall distress calls. I trust you that you can secure our people."
Mr. Fayose who also met with Benue citizens resident in the state, conveyed the sympathy of the government and people of the state over the loss of their kinsmen back home from attacks by herdsmen, assuring them of their safety in Ekiti state.
"I sympathise with our brothers, sisters and people from Benue State that are mourning the brutality of those who killed their kinsmen," he said, after which he observed a minute silence to honour the dead and pray for the repose of the souls.
Mr. Fayose encouraged his counterpart from Benue state, Samuel Ortom to fasten his belt and protect his people, averring that seeking help from Abuja will be a waste of time as none will ever come.
"I want to appeal to our people from Benue to pray for your state and your governor. I also leant that they want to come and be arresting people for no reasons. They would meet Gods hand in it. My hunters, you know Ekiti very well. Protect the state. We will be having monthly meetings"
Credit: Sarafa Ibrahim