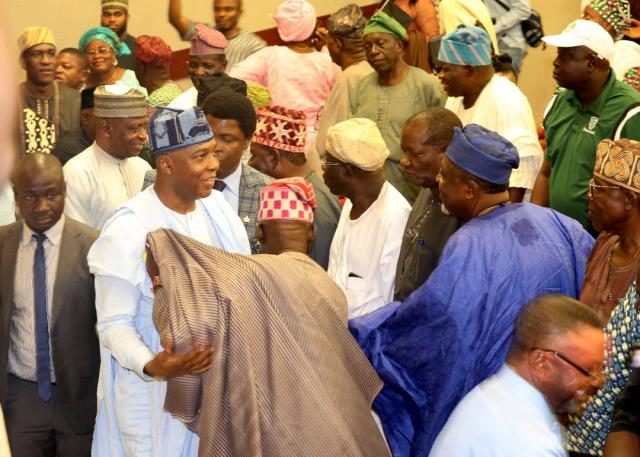 The Presidency has described Senate President Bukola Saraki as a dangerous person who's ready to go to any length to feed his personal interests without a care for the country.
Garba Shehu said the Senate President's recent "crude speeches" against the president, despite working with him for three years, prove that he only has his own interests to cater to.
He said Saraki has always been complimentary of the president until his recent defection to the People's Democratic Party (PDP), a move he alleged was for the sole purpose of contesting against Buhari in the 2019 presidential election.
The statement read, "The Presidency wishes to react the crude speeches hitting the news from Senator Bukola Saraki who recently joined the Peoples Democratic Party with the sole ambition of running as the president of Nigeria.
"In response to the condemnable and extremely derogatory speeches by the PDP aspirant, we urge all Buhari supporters to display restraint in language and conduct and to always put across their points of view in a decent language.
"Throughout his political career, Senator Saraki has shown that he is a very dangerous person who can go any length to promote his personal interests. The language of his campaign is such that cannot be used against a domestic help.
"Is he just knowing that the President lacked vision? This is someone that the Senator had worked with very closely for more than three years. Amazingly, he never said all that he is now saying against him.
"Rather, his word for and on the President were always respectful and reassuring. That's the man he called 'My Father,' about him 'there is no cause for alarm…a President who is healthy, witty and himself'. What then changed, all of a sudden?
"Is he saying these blatantly false and crude things against the President because he is gunning for the same office? Could it be that he is targeting President Buhari because the party he just joined does not have any real issues to highlight?
"Be that as it may, our appeal to our supporters is to ignore Saraki and any such politicians bent on lowering the quality of political discourse. Let them drown in their own waters."