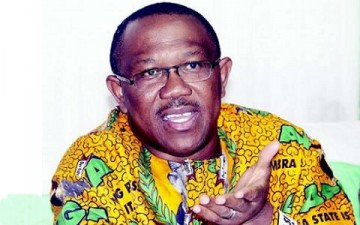 Did former Governor of Anambra State, Peter Obi, tell a bare-faced lie when he told the nation that he has no other house outside of his property in Onitsha?
This question has dominated social media chatter for days on end.
Recall that PDP presidential flagbearer, Atiku Abubakar, recently named Peter Obi his running mate for the 2019 general elections. Soon after the announcement was made, a lot of folks on social media embarked on a digging spree of some sort and came up with the following allegations:
a) That Obi has been exaggerating a lot of his prudence and frugal stories (b) that Obi has a mansion in upscale London contrary to his claim in this video below:
"Just in case you are having one of those frequent "poor network connection" days, here is a transcript of what Obi said at a forum called ThePlatform, a couple of months ago:
"When I got to America to address Nigerians, it is Nigerians that will tell me when I was Governor, that this man has a house here, this man has a house here. We can lead you to buy here. And I would say, listen, I don't live in America. Why will I own a house in America?
"It's pure madness. I don't need it. I go to South Africa to address Nigerians…these are the same people who have run away from home because things are tough here. They will be telling me this man owns a flat here, this man owns a flat there."
In fact in one case in South Africa, somebody brought one man who told me that he knows every Nigerian that owns a flat, every politician, you know. And he says I can sell the same to you. It's just $2.5million and everything. And I said to him, why will anybody buy this type of place and keep? If I buy it, it will cost me at least another $25,000 a year to keep it. He said more than that. And I said, so why will I own it? I don't need it!
"I'd rather use that money in my country, buy a bond and I get 5 percent of it, which is $125,000 a year. I come to South Africa three times in a year. It costs me $200 a night in a hotel. So three times is $600,000. And you want me to buy this?!!
"And I told the man, look, I don't own a house in Abuja. The only place I own a house as Peter Obi is in Onitsha. The house I will own in Abuja will cost me N400million. Why will I own it when I go to Abuja every week and sleep one night which costs me 35,000. If I multiply it by 52 weeks, it's not up to 5 million and I buy a house for 400million? Then it's not worth it".
However, there is a document attaching the property on N0 14 Oman Avenue, Cricklewood, London NW2 6BG to a certain Gregory Peter Onwubuasi Obi.
There are indications that there are a few other property in London bearing Obi's name.