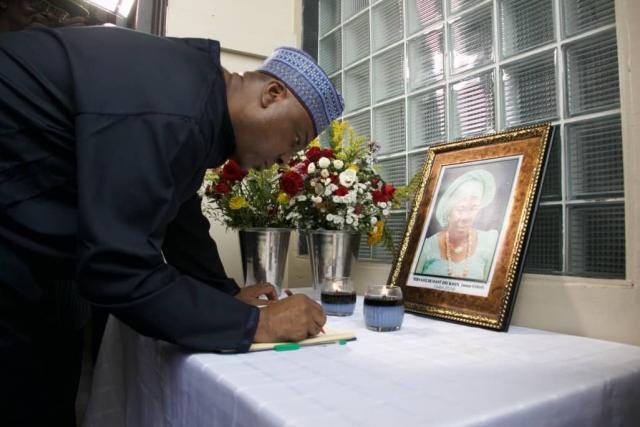 Abubakar Malami, in a letter to the Inspector-General of Police, Ibrahim Idris has said that there no evidence linking the Senate President, Bukola Saraki to the Offa robbery.
Over 30 people, including policemen were killed when armed robbers attacked several banks in Offa on April 5, 2018.
Following investigations, the gang leader, Michael Adikwu and his team members were arrested and they reportedly made confessional statements.
One of the gang members known as Ayodele Akinnibosun allegedly confessed that he has been making 'political arrangement' for Saraki and the Kwara state Governor, Abdulfatah Ahmed for years.
As a result of the confessional statement, the police invited the Senate President for questioning.
However, the letter obtained by Premium Times dated June 29, 2018, shows that the AGF advised the police not to identify Saraki as a suspect in the robbery.
Malami also cleared Yusuf Abdulwahab, the chief of staff to the Kwara state Governor, Abdulfatah Ahmed, of any involvement in the robbery.
The AGF, in the letter said that there is no 'collaborative evidence' linking Abdulwahab to the incident.
Malami, who recommended that the other suspects be charged to court for robbery and murder, ordered the police to return the case to Kwara state.
The police had earlier insisted that the suspects will be tried in the nation's capital, Abuja.
Premium Times also reports that "Mr Malami warned a police chief in charge of the armed robbery investigation to desist from offering 'condescending opinions' to the AGF's office.
"David Ogbodo, an assistant inspector-general of police, had suggested in the second police submission that Mr Malami should step aside in the case and detail a senior Nigerian lawyer to handle prosecutorial advice.
"Mr Malami said his office had dispassionately prosecuted several cases that were successful, and warned Mr Igbodo to desist from making official comments that could be deemed as "disparaging" to the office of the AGF."