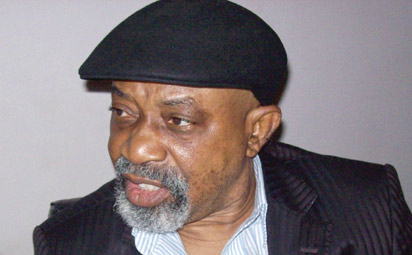 Former General Secretary of the National Union of Petroleum and Natural Gas Workers Union (NUPENG), Frank Kokori, has accused the Minister of Labour, Chris Ngige, of oppressing him.
Mr Kokori spoke about how he battled for democracy and was detained for years, and now Chris Ngige is treating him unjustly.
His words, "I'm very emotional and I want to cry. (breaks down in tears).
"I've done my best for my country. When nobody raised their voice against the military, I came out with the unions to fight for freedom and democracy of my country…
"…twenty years after democracy, i am being oppressed by somebody like Nigige…"
"The reason is because Frank Kokori is regarded as a man of integrity, a man of honour and a transparent man.
"And this is a government which talks of integrity and you allow a man like Ngige to humiliate me for two years after the appointment,"
"I feel Ngige is on his own. He is dragging the name of the president. Not the president I know,"
Anti-corruption activist, Olarenwaju Suraj also thinks Chris Ngige should be sacked.
His words, "I think it is not just about Kokori, it's about some of the individuals that are associated with this government including Ngige. A number of them are not only a disaster to the country, they are an embarrassment to the president and the whole anti-corruption agenda of the government.
"It is actually arbitrary for a minister to fail in the inauguration of a board constituted by the presidency and for that reason, it is not in anyway, tolerable that the level of insubordination will be tolerated.
"If it was a serious government, Ngige should have been removed automatically from office by the president for that act of insubordination but it seems to be a government of free-for-all,"
"It is also confirming the fact that the president is not actually in full control of some of his ministers.
"The secretary to the government should immediately constitute the board and the minister should actually be sacked from office."