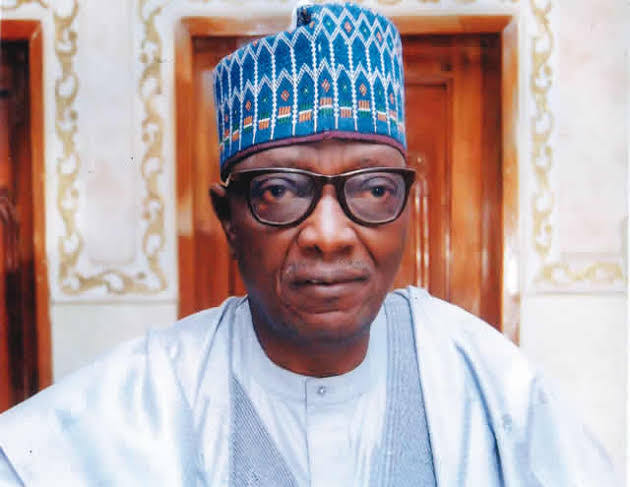 Ex-Senator, Muslihu El-Jibrin Doguwa who was chairman Senate Committee on Agriculture between 1999 and 2003 has come out to talk about the state of Nigeria.
In a recent interview with Vanguard, the Managing Director of Hadejia Jamma'are River Basin Development Authority and APC member spoke about the way forward for Nigeria during these difficult times.
According to him, we need to be grateful to our founding fathers and manage the unity we inherited from them.
He added that the problem with our generation is that the citizens and politicians are not committed enough to doing everything to develop the nation.
Asked about how he sees Nigeria's development since her independence, he said, "We have to be grateful to our founding fathers. Those who fought for our independence in 1960 must be appreciated. We must appreciate their zeal, courage and determination that led to our independence despite all the odds. Secondly, we have to appreciate them for uniting themselves even with their differences. You can see Sir Ahmadu Bello from the North, Chief Nnamdi Azikiwe from the East and Chief Obafemi Awolowo from the West. There are a lot of others like Abubakar Tafawa Balewa, Malam Aminu Kano and a lot of them who joined their hands together, kept aside their political differences and got us independence 59 years ago."
"Unfortunately, the question now is have we been able to manage that unity we inherited from them? The answer is no, we have not.
One can understatnd that in 1979 when Alhaji Shehu Shagari became the first Executive President, Malam Aminu Kano was in the opposition but he gave advice on how the country could be governed. But today there are a lot of differences, and changes. People don't want to share their knowledge with the opposition, the opposition doesn't want to share its knowledge with the party in government.
When you talk about unity and political development in Nigeria one will surely see that there is a very long way to go. On would ask, what are we trying to leave behind as legacy for our people?"
"The legacy we are now leaving is not a unifying legacy. When you look at your people, when you look at your children do you see them living along the same trend? Those from the South, East and West do they see themselves as Nigerians? To the contrary, now, people don't see themselves as Nigerians first.
I see myself as a northerner, the other sees himself as a southerner and on and on. More so, even in the North, I see myself as a Kano man and I will not share my views with somebody from Jigawa, Kaduna or Sokoto. That shouldn't be the case. We are supposed to see ourselves first as Nigerians then as northerners as the case may be so that the unity we inherited from our founding fathers will be meaningful and useful to us. There is a very long way to go when you talk of political development.
We have developed in terms of population, we have developed in terms of building houses and roads but have we developed in our desire to be good people that are honest, sincere or transparent? Are we really as good as we should be? Are we a committed people trying to move the country forward?"
On the agitations of IPOB, "Let me tell you about this issue of IPOB, Afenifere and northerners, we don't see ourselves as Nigerians. During the days of Sir Abubakar Tafawa Balewa, he talked about Nigeria, he talked about the problems in the East, he talked about the problems in the West and there was that regional issue; the Northern Region, the Southern Region and the Eastern Region and the rest. When the leaders came together with each one coming to present a case for his region, they discussed it wholly. But today that you have 36 states, each member is talking about his state; when you go back to his state you have about 43 constituencies with each one talking about his own constituency.
So, at the centre how would one be satisfied when there are 360 federal constituencies? When you come to Kano, for example, how do you expect somebody to satisfy 44 constituencies? The issue is that those people in IPOB, and similar movements agitations were not around when our founding fathers were talking about the unity of this country. That is why they are bastardizing the thinking of our youths and putting them on the wrong path, thinking that when they secede they will succeed.
Whoever secedes from Nigeria as it is today will not succeed. Let me tell you this, especially the IPOB that has made it an issue, if they are allowed to go they will cry. Let me give you a simple example, can you tell me any small village in Nigeria today that you cannot find an Igbo man? You can't. You can't tell me of a small village in this country where you will not find an Igbo man doing his small business or trade. When they secede will they then say they are going back to their own country? Do you think we in the remaining Nigeria will allow them to continue to stay in our villages or in our own part? Or will they allow our people to stay in their own part? No, they will not.
There must be some systematic procedures for somebody to stay in your place. Go to Sudan where they were separated into Southern Sudan and Northern Sudan, do you think somebody from Southern Sudan can just go and stay in northern Sudan just like that? He can't because it is no more his country. It is the same thing that will be of Nigeria, everyone would have to move to his own region. We have properties in their region and they also have a lot of properties in our region. They have forgotten that history is meant to be used in shaping the future. I did my NYSC in Rivers State, in 1979.
Then the issue of abandoned property was still lingering in the state between the Igbo and the people of Rivers and up to tomorrow that issue is still there. The Igbo people have forgotten the issue of abandoned properties in Rivers. What would they do about that one? How would they go about it? So, the IPOB and other people who are agitating for secession or revolution and things like that are only wasting their time. There will be no revolution in Nigeria and there will be no section of Nigeria that will go its own way."
On Restructuring, "That is what we are yet to understand and our people are not yet educated on the issue of this restructuring. Maybe people are misconceiving restructuring to mean independence. It is not.
Restructuring is probably: in the North, we are farmers, we have lands, we will develop our own ways of using policies that we inherited that can give us peace, utilizing everything but at the centre there is a government. And that government will coordinate the affairs of each region.
We are only trying by another way to say we are going back to the former regional government system. That is how I look at it, I may be wrong. But the issue is that restructuring does not mean independence of regions or independence of sections of the country or even independence of those agitating to leave the country. It is not. His take on the prevailing waves of terrorism, banditry, kidnapping, armed robbery and other forms of insecurity."