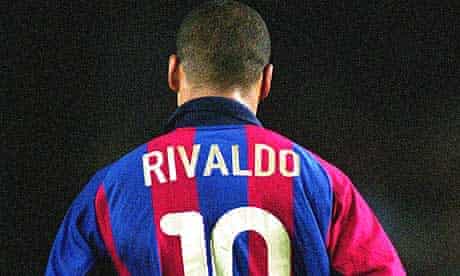 Barcelona must make sure they do not make any signings just for the sake of it this summer, Rivaldo has said.
He recently came out to say that the supposed interest in Lyon star, Bruno Guimaraes will only make sense if he would be guaranteed regular playing time in La Liga.
According to Rivaldo, Bruno Guimaraes is a good player who is still young and can be an important member of the Barca team in the future, but his talents cannot be wasted on the bench all in the name of signing a future star.
He added that the club must pay attention to every player's style and how he could adapt to Barcelona's system before going all out to make the transfer happen.
His words, "Bruno Guimaraes seems to be a good player who could arrive in Catalunya at a very young age and become an important member of the Barca team in the future.
"But Barcelona should focus first on creating space in the squad to incorporate new players and allow them to play regularly.
"Signing players just for the sake of signing, and not paying attention at a player's style and to the way he could adapt to Barcelona's system, would be a mistake. The club should first think and evaluate the player carefully.
"That said, the player is showing good signs at Lyon and at 22 he has time to become a top player."
"The player Barca signed to replace Suárez could lose his place in the team now. Martin Braitwhaite cannot compete with Suarez, but the new signing needs to keep focused and work hard to take advantage of any chance he might have.
"It's not certain that Suarez will reach 100% of his form, and that may allow Braithwate to play sometimes coming from the bench and that's going to be his crucial moment to try to convince the club of keeping him for next season.
"A few months ago it was almost impossible to see Luis Suárez getting back on the pitch before the end of the season. But the suspension of football has allowed him to recover in time to help the team and it will be such a boost for Barca that it will be almost like they've signed a new and brilliant player."