The presidential candidates of the Peoples Democratic Party (PDP), the Labour Party (LP), and the New Nigerian Peoples Party (NNPP) have reportedly been discussing the possibility of forming a political alliance and even a merger in order to overthrow the ruling All Progressives Congress (APC) in Nigeria.
It was reported that Atiku Abubakar, Peter Obi, and Rabiu Kwankwaso met to plot an alliance to defeat the All Progressives Congress in the 2027 election in the event that their legal challenges against the government were unsuccessful.
According to the article, the three leaders have decided to sit tight until they see how the courts rule on the election petitions.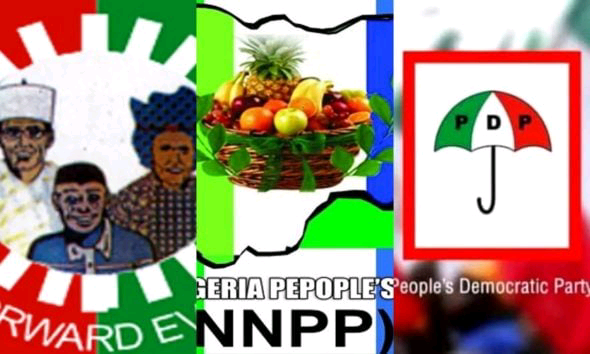 The APC's Bola Tinubu was elected president on February 25, therefore this report follows the election by a little under six months.
The Independent National Electoral Commission (INEC) has announced that Atiku and Obi have placed second and third, respectively.
Kwankwaso of the NNPP came in fourth position according to the official INEC statement.
As previously reported by DAILY POST, both Atiku and Obi have challenged the results in court, with judgement having been reserved by the tribunal after the parties had presented their closing arguments and written addresses.
DAILY POST also reported that PDP presidential candidate Atiku had hinted in an interview with the BBC before the 2023 general election that he might form an alliance with the presidential candidates of the Labour Party, Peter Obi, and the New Nigeria Peoples Party, Rabiu Kwankwaso, but this alliance never materialized.
In contrast, Peter Obi (LP) and Rabiu Kwankwaso (NNPP) had previously attempted but failed to form an alliance.
Obi stated his party was devoted to constructing a better and new Nigeria where they would move Nigeria from consumption to production in response to rumors that he was in merger negotiations with Atiku and Kwankwaso to seize power from the APC.
The former governor of Anambra State addressed supporters at LP's huge event in Edo State on Monday, days before local government elections in the state.
Hundreds of party members listened as he assured them that not all the news they were hearing was true.
Growth of the Labour Party is inevitable. We're only going to get better and stronger from here on out. Don't believe half the things you're hearing, because they're probably just rumors.
When Obi announced that "we are committed to building a better and new Nigeria where we will move Nigeria from consumption to production," the crowd erupted in applause.
On Monday, Yunusa Tanko, a spokesperson for the Labour Party Presidential Campaign Council (LP-PCC), appeared on Channels Television's Politics Today and dismissed rumors of a merger between the People's Democratic Party (PDP), the New Patriotic Party (NNPP), and the LP.
Tanko stated that there has been no foreclosure on the topic and that the party is still willing to talk to other political parties that share its ideology and beliefs.
To unite political parties from different regions of the country would need them to file paperwork with the Independent National Electoral Commission (INEC), which is currently unavailable.
So, technically speaking, a merger is not possible. However, Tanko agreed that talks of a working relationship with the political party were a distinct possibility.
But he did admit that merger talks had been going on since before the election and would ultimately fail.
Yunusa confirmed, in a phone contact with DAILY POST on Tuesday, that an alliance is feasible, as he had said on national television the day before.
Dr. Okwesilieze Nwodo, a former PDP national chairman and governor of the old Anambra State, told DAILY POST that all three parties—the PDP, the LP, and the NNPP—have come to terms with their error.
Nwodo thinks they could have won big in a landslide over the APC if the parties had stayed united.
The three parties have realized they made a mistake, he said, but there is no talk of a merger. They could have easily defeated APC if they had stayed united.
Their victory would have been overwhelming. Therefore, if there is a redo, they should start planning how to work together. That's just elementary mathematics.
Dada Olayinka Olabode, the spokesman for the Forum of State Chairmen of the New Nigeria Peoples Party (NNPP), responded to the news by saying it was made up by the people discussing it.
Olabode acknowledged that the party has been swamped by rumours of merger discussions between the PDP, LP, and NNPP in a statement made accessible to DAILY POST on Tuesday.
A sell-out, he continued, would be to consider a merger or alliance without first consulting with the various parts of the party.
According to Olabode, the NNPP is a promising political party whose future has been boosted by widespread support within Nigeria.
As Olabode put it, "the self-serving agenda of the arrowheads of such merger talks" led to the NNPP State Chairmen's Forum distancing itself from the negotiations.
He claimed that the party had established protocols for making such judgments and taking such factors into account.
Former presidential candidates from the People's Democratic Party (PDP), the Liberal Party (LP), and the New National Progressive Party (NNPP) have been reportedly orchestrating merger negotiations between the three major parties, he added.
We'd like to put an end to such rumors first, because they're completely made up by the people talking about it.
Our party, the New Nigeria People's Party, is a nationwide political organization that ran candidates for every level of office in the recent 2023 elections.
Our party placed fourth out of the eighteen registered political parties that ran candidates for the various offices, according to the results provided by INEC, despite apparent breaches.
It would be a sell-out for a political party that is rapidly expanding and gaining support among Nigerians to consider a merger or alliance at this time without first consulting the various branches of the party.
When election petitions are still pending before multiple tribunals, only criminals would propose a merger against the wishes of their party members. At best, it's an organized effort to destabilize Nigeria's precarious peace, unity, and sovereignty.
Our party's state chairs have formed a forum to distance themselves from the egocentric goals of those spearheading merger discussions.
"In NNPP, we have to follow certain protocols in order to come at any such conclusions or judgments.
Engr. Rabiu Musa Kwankwanso's involvement is motivated solely by vengeance and self-interest. We are aware of his desperation and will not tolerate someone claiming the presidency who has already sold his claim for a cabinet position.
"As Chairmen in our respective states, it is common knowledge that our disagreement with Engr. Rabiu Musa Kwankwanso centered on his open pursuit of self-interest, which ran counter to the will of the party members, who are working tirelessly to grow the party's membership and reorient it so that it can win the next election and form a government with the support of the people.
Proponents of the potential merger or alliance should be aware that no one within NNPP has the authority to negotiate on the party's behalf without first obtaining approval from Chief Boniface Okechukwu Aniebonam, the organization's founder and the Chairman of the Board of Trustees.
Therefore, any discussion that suggests otherwise is an attempt to mislead the People. This community will stand firm against any such attempts.
Finally, we want to warn the public about nomadic politicians whose only objective is to build a crisis in the political space of our nation and caution the self-proclaimed leader of NNPP to proceed with prudence.
"At this time, our party's top priority is repairing itself and purging it of corrupt political opportunists. This is something we will do without exception.
Ohanaeze Ndigbo, meantime, has urged Peter Obi to go with President Bola Tinubu rather than the People's Democratic Party's Atiku Abubakar or the New Nigeria People's Party's Rabiu Kwankwaso.
Okechukwu Isiguzoro, the factional Secretary-General of Ohanaeze, stated in a statement released on Monday that the supposed alliance would fail to materialize because Nigerians would not support either Kwankwaso or Atiku.
In his article, Isiguzoro wrote, "Nigerians know that the uncharitable disposition and desperation of Atiku Abubakar of the PDP will never allow him to support Peter Obi to be the leader of the Nigerian opposition."
Atiku, Obi, and Kwankwaso's "ill-fated journey" will fail, he said.
Support InfoStride News' Credible Journalism: Only credible journalism can guarantee a fair, accountable and transparent society, including democracy and government. It involves a lot of efforts and money. We need your support. Click here to Donate