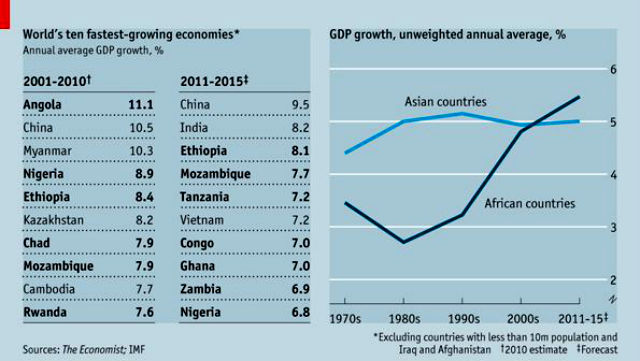 If we look at global headlines, it's easy to conclude that much of the continent is still marred by internal strife and political uncertainty. But these headlines don't tell the full story, as the African continent is currently experiencing unprecedented growth due to many factors. There are plenty of promising trends that should stimulate interest in the continent by both global and local investors. Here are four promising facts about the African economy.
Demographics
Demographics are a central factor to any economic growth. There is currently a steady demographic growth across the continent, with its population set to quadruple by 2100. This means that the continent's workforce will be robust for the coming years. This could be great news to the country's rapidly expanding energy and agriculture sectors.
A Growing and More Educated Middle Class
Africa is steadily making progress on the economic front. The continent's urbanization rate is now at 37 per cent, which is larger than India and comparable to China. As a matter of fact, Africa's urbanization rate is set to be the biggest across all nations from 2020 to 2050.
What's even more promising is that a large portion of this middle class is seeking higher education. In addition to improved local institutions, African students can also take advantage of the myriad of online programs available today. One of the most sought after programs by African students right now are MBA programs, and more and more online MBA degrees are open to African students today. A prime example is Northeastern University's online MBA program, which welcomes students from all over the world.
More Financial Inclusion
Access to credit is essential for any developing economy. Unfortunately, much of sub-Saharan Africa is still lagging behind in this aspect. Mobile banking aims to give a solution to this problem. Kenya has been at the forefront of mobile banking, with great results. In 2011, only 42% of all Kenyans had access to a bank account. Now, over 85% of Kenyans are using their mobiles to make money transfers. As a matter of fact, the amount of money transferred through mobile apps amounted to 42% of the GDP in 2014.
Stronger Civil Society
New technologies have contributed to the betterment of the continent's civil society. While only 9 per cent of the people on the continent use social media, this minority has been very vocal and instrumental in instituting changes. In Nigeria, the 2011 #OccupyNigeria movement mobilized thousands in strikes that had a significant impact on the country and allowed thousands to express their discontent through concrete action.
Another aspect where social media has been essential is in the implementation of fair and democratic elections. For many years, elections across the continent have been affected by corruption. In the 2015 election, the hashtag #NigeriaDecides, which provided unofficial vote counts from independent volunteers stationed at voting precincts, was instrumental in ensuring that the election went through in a more transparent way.
All in all, the future of the African continent looks very bright with its steady urbanization growth, access to new technologies and diversifying economy. A stabilizing socio-political climate is also a great contributor to the growth of the continent, making it a more fertile ground for investors.
Support InfoStride News' Credible Journalism: Only credible journalism can guarantee a fair, accountable and transparent society, including democracy and government. It involves a lot of efforts and money. We need your support. Click here to Donate