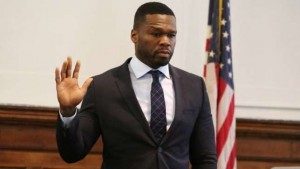 Starz hit series "Power" didn't get a Golden Globes nomination and 50 Cent is angry.
Curtis "50 Cent" Jackson who stars on show and is also the executive producer, took to Instagram to share his thoughts on the snub.
According to Cent, he is done promoting the show outside contractual obligations. As a result of the snub, Cent has vowed to kill off his character Kanan in the upcoming fourth season.
"I'm on the move again, Golden globe's can suck a dick. I accept my series POWER was not intended to be a signature show for the network but it is the highest rated show. I know my audience very well, I'm done promoting this out side of contractual obligations. SEASON 4 KANAN MUST DIE, I got other shit to do. #EFFENVODKA," Cent wrote.
Nominations for the 74th Annual Golden Globe Awards were announced on Monday, December 12, 2016. Nominees include "Game of Thrones," "Westworld," "Insecure," "Atlanta," among others.
The third season of "Power" ended with Milan's murder, Kanan holding Ghost's son hostage, Ghost's arrest, and Tommy plotting behind Ghost to deal drugs at his club.
According to a set of first season four photos obtained by EW, mogul and drug dealer, Ghost, will face trial for the death of Knox.
The photos also feature his ex-lover, Valdes, and his wife Tasha, from whom he got separated from but shared an intense love making session in the penultimate episode of last season.
"Power" stars Curtis "50 Cent" Jackson, Joseph Sikora, Naturi Naughton, Lucy Walters, Jerry Ferrara among others.
The series follows James St. Patrick, nicknamed "Ghost," owner of a popular New York City nightclub. In addition, he is a major player in one of the city's biggest illegal drug networks.
He struggles to balance these two lives, and the balance topples when he realizes he wants to leave the drug ring in order to support his legitimate business, and commit to his mistress.
Following its season three record-breaking premiere, Starz renewed the original series for a fourth and fifth season.
"Power" returns for a fourth season in 2017.