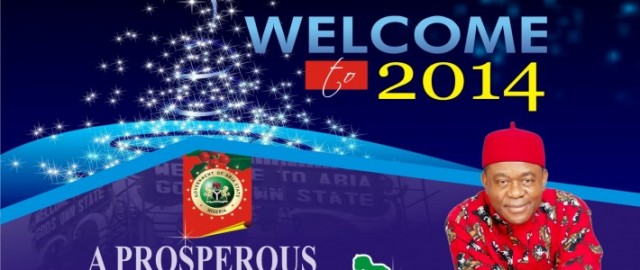 A NEW YEAR GOODWILL MESSAGE DELIVERED TO THE GOOD PEOPLE OF ABIA STATE, BY HIS EXCELLENCY, CHIEF T. A. ORJI (OCHENDO), GOVERNOR ABIA STATE, TO USHER-IN THE NEW YEAR 2014
MY GOOD PEOPLE OF ABIA STATE!
I have the pleasure to usher-in the year 2014 and to wish all Abians 'a very happy and prosperous new year. The year 2014 is our year of hope and great expectations, when our legacy projects and the solid foundations we have laid for the sustainable development of the socio-economic and political transformation of Abia State, will be fully consolidated for the interests of our people.
As we have progressed in the journey towards a new face of Abia State, I have had occasions to look back to the past where we began, not just further down the line, but up to 2013 and through to the first half of our second term in office. I must say without equivocation, that I feel confident and emboldened to say we have not only acted boldly and prudently in many issues, but we have made a tremendous difference in Abia State.
Today, no one can deny that we have made indelible impacts in the lives of our citizens in all sectors, and I am certain that we have brought Abia State to the right path, and the right note of an irreversible development.
As we match proudly into the year 2014, with great hopes and expectations, we are also moving towards the end of our second term in office. The commencement of the electoral process for installing new leaderships in our State and in our Nation, will also begin this year, and I expect our citizens to participate actively in all stages of the process so as to reap the benefits that accrue from there.
Through all the unfolding landmarks in our State and in our Nation, I have good reasons to believe that nothing will ever be the same in Abia State, as our people and our State continue our upwards movement, defying all odds to surge ahead as one of the safest and most secured States in the Nation, and also as one of the fastest growing economies of our Nation.
No one and no leader of the future will make the mistake to return this State to the dark days of strife, impunity and ad-hoc process, and in a private estate of the few, for the few, and by the few. I expect the year 2014 and beyond to yield greater achievements and value expectations for this State!
A few years ago when we arrived at the governance of this State, we were confronted with many negative indices. These include, but not limited to general insecurity in the State, especially kidnapping; poor infrastructures at all levels, poor governance and administrative culture of impunity, low level of economic development and flight of investment capitals, neglect of the government/public sector institutions, growing unemployment and a demoralized un-empowered youths.
The year 2013 saw our Government establishing firm grips on all our past negative indices, and now making appreciative gains and landmark improvements, especially through the prudent selection and implementation of our legacy projects throughout the State. These approach and agenda will be fully consolidated in the year 2014.
It is very gratifying to note that we have achieved our first benchmark of governance of Abita State, through the provision of a reliable and fast improving security system for our environment. We have developed our key infrastructures – road networks, and other public institutions throughout the State, and we have deepened the democratic process in our State.
We have greater expectations that these trends will accelerate in the year 2014. This will be our year of greater expectations and consolidation of our promises of good living and economic prosperity to be readily brought to the doors of our citizens, just as many of our laudable legacy projects will also begin to bear fruits.
The year 2014 will be the year for the consolidation of the politics of our State into the mainstream of Nigeria's politics. Our well articulated programmes and the key roles we play within our great Party the PDP, helped us in 2013 to restore Abia State to its pride of place as a truly first State of the Nigerian Nation, and indeed as God's Own State.
We will advance these further in 2014 and beyond – as the Federal Government of Nigeria commences and completes the Enugu-Port-Harcourt dual carriage way, which is now on-going, including many other Federal projects in the State, especially in the agricultural transformation agenda of the Federal Government. I therefore expect nothing less than the total commitments of our people in support of the PDP.
In the year 2013, our State also advanced our democratic agenda and expanded the frontiers of participatory democracy in Abia State, making it more inclusive, more tolerant and open to everyone that shows the skill, without bondage to godfathers. This particularly helped us in strengthening the security of our State as people-centered, but more especially it created the serene environment for business growth and investment that now exist everywhere.
2014 will further consolidate all these, as Abia State becomes the first port of call for many investors that have now shown interests in our conducive environment.
Some of the new investments that will begin to bear fruits in Abia State in 2014 include our many private-public partnerships with Acroidation International Ltd to develop a new Abita International Industrial City (ABIIC) within a 300-hectare landmass at Osisioma near Aba. When the first phase is completed in 2014, it will provide a relief for the congested markets in Aba Main City, as well as provide an industrial cluster with modern machineries for creative manufacturing in Aba.
We expect ABIIC to provide the required excellent manufacturing and marketing outlets to boost the confidence of Aba ingenious manufacturers and fabricators, so that Aba made goods can be marketed and sold as 'Abia made goods' anywhere, with pride, and Aba becoming the true center of entrepreneurial excellence, and the true 'Japan of Africa'.
2014, will also see our collaboration with Greenfield and Payless Retail-Chain organization – all private Companies now engaged in the building of a modern Abia Mall in Aba, come to fruition. They will host sales and display of goods manufactured in Abia State under decent platforms.
We have also signed an MOU with an indigenous Company – Honeywell Industries Plc., to establish an agro and solid minerals processing plant in Umuahia in 2014. We have also given our support to the Nigerian Breweries Plc., Aba in its N17 billion expansion project and automation of their bottling and canning lines, utility plants and waste treatment plants. Also we expect a Cassava Flour processing plant to be built by the Federal Government to commence in Abiriba in 2014. Our infrastructural support given to Geometric Private Power Plant to enable it commence a 24 hour uninterrupted power supply to Aba and its environs, will also begin to bear fruits in 2014.
All these projects are coming on stream in Abia at this time because the promoters have seen the advantage of our secured environment and the vibrancy of our people, especially our young population. These projects will mean a lot to Abians, because they will generate employment for all our people, improve their living standards and increase our revenue generation at all levels of government.
In 2014, we will also witness the completion of many of our legacy projects, especially those that are coming on stream to recapture the salient institutional forms of statehood – long ignored in Abia State. These will include the first International Conference Center, the first Abia State Civil Service Secretariat, our redesigned Courtrooms, and many of our housing Estates. All these will be put to the service and use of Abians to boost business and the morale of our State work-force.
In 2013, we beefed-up our modern Health Care Centre from 250 to 710 in all our political wards in the State, and also commenced the construction of 100-bed hospitals in nine Local Government Areas of the State. We equally commenced the expansion of our modern diagnostic centres in Aba and Umuahia, with dialysis centres and chest clinic
These are our attempts to ensure adequate health care delivery to all Abians, which will be consolidated in 2014 when the Abia Teaching Hospital expansion at Amachara is completed. Our goal is to increase free accessibility of health care delivery to children, pregnant women, senior citizens and the physically challenged persons in 2014.
In 2013, we focused a lot of our social development activities to empowering our unemployed youths and retraining them, so that they can become the real engines of our economic development in the coming years. That is why we provided more than 700 Siena brand vehicles and other empowerment tools required by retrained youths, both to give them a sense of belonging and to take them to the new base of self sustenance. This will be further improved in 2014, to reach many of our youthful citizens, including the creation of more permanent forms of employments.
During 2013, our Government introduced a new electronic tax product system, where revenues accruing to the State are deposited directly into Government Accounts, both to avoid leakages and double taxation. We have further advanced that project into many other taxable products, and I am happy to inform you that your cooperation brought tremendous success to the scheme, with a consequent rise in our internally generated revenue (IGR).
That is why in 2014, your citizens' taxes and revenue contributions will begin to have greater effects on the financing of our State development projects, especially our commencement of the construction of Abia Airport project to be located between Aba and Umuahia. This when completed, will enable our business entrepreneurs to move and travel easily and conveniently around Nigeria and the World, while opening up more business opportunities and employment in our State.
We also plan to open up our Civil Service for more employment of our people in 2014, including the re-absorption of disengaged non-indigenes in our Civil Service work force. In all these, our goals are to put back as many people as possible into the work force of our State, so as to improve lives and the well being of citizens.
Through our democratization programmes, our prudent management of our human and material resources, and the careful pursuit of our legacy projects in 2013, the Government of Abia State have completely broken away from the past ad-hoc approaches to development and governance of Abia State.
We have been able to manage our lean resources to reduce leakages and produce healthier results with minimal expenditures. This has formed the new basis for trust in our Government and we intend to sustain this.
We are therefore confident that with the solid foundations we have laid for the sustainable transformation of the socio-economic and political sectors of our society, the further development of Abia State from 2014 and beyond will be on auto-pilot.
We will continue in 2014 to drive all our restructured and re-engineered platforms of the new face of Abia – to a level where everything is not only changing for the better, but also strengthened to be self-propelling. I will continue to remind all Abians not to forget where we are coming from – to this far, so that we never derail from our new direction!
I cannot stop commending our citizens for the solid supports you have given to our Administration, your prayers and your sacrifices, so that we all achieve our dreams of the new face of Abia State – where stability, security and prosperity of our people are the new basis of our social contract with the citizens, and are now more guaranteed than ever before.
Let us therefore advance towards 2014 with great hopes and expectations, believing that our citizens and our Governments are more ready and willing to make the desired sacrifices and share the cooperation necessary in keeping our State growing stronger and better for all Abians.
On this note, I once again wish all Abians a happy and prosperous New Year, 2014, and may all your dreams for the year come true!
God bless Abia State, God's Own State!
God bless the Federal Republic of Nigeria!
Thank you
Tags: 2014 New Year Message, T.A. Orji
Abia State Government Press Release
Support InfoStride News' Credible Journalism: Only credible journalism can guarantee a fair, accountable and transparent society, including democracy and government. It involves a lot of efforts and money. We need your support. Click here to Donate