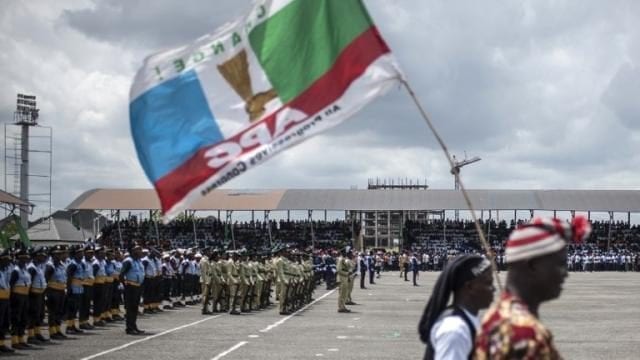 The Rivers State Chapter of the All Progressives Congress (APC) has released list of successful candidates for the just concluded Local Government congresses in the state.
The party in the state has read several reactions based on the conduct and outcome of her just concluded non elective Wards/LG Congress held on 29th July, 2017 in all the 23 Local Government Areas of the State. The party observed with misgiving some of the reactions which were calculated attempts by external forces to discredit an exercise that was held not only with the best democratic practices but an exercise that was done in a very peaceful manner in the Local Government Headquarters of the party.
The party felt displeased that this program that was widely advertised to hold in the Local Government Areas of the State and surprisingly instead of most of our party chieftains mobilising their supporters and associates to the venues of this congress in their Local Government Headquarters preferred to mobilise them to Port Harcourt for reasons the leadership of the party is still at a loss to fathom. What may have led to this if not as a calculated attempt to discredit the party, create unwarranted tension and division among party faithful.
The party further stated that contrary that were presented to the world that no party member or leader was denied participation or access to the venues were the Congress was conducted based on the reports we got from the party's officials that monitored the exercise.
"Let us state that as much as we don't intend to exchange words with anybody or group of persons over this exercise, we wish to reiterate that our political party in the State is not only united but very focused to ensure that we don't fall into the pranks that caused us the 2015 general elections in the State as we are very determined to ensure that the current government in Rivers State is shown the way out come 2019 to enable us restore the creditability and honour of Rivers State and her people". Rivers APC said in a statement signed by the State Chairman, Chief (Dr.) Davies Ibiamu Ikanya, and released on Tuesday in Port Harcourt.
The party pleads with members that are disenchanted in any form with the outcome of the Congress to unite with the party in her drive and mission to sustain democracy and salvage our dear State from the Draconian Government currently operating in the State. This notwithstanding, the party reiterated that it will not be deterred, dissuaded or distracted in this mission to salvage our State from the hands of those who have turned her into Rivers of Blood and a laughing stock amongst comity of nations particularly within the States in Nigeria no matter the outbursts and actions of most of the people that have benefitted so much from the party.
The party also described the attacks on the leader of the party in the State, Rt. Hon. Chibuike Rotimi Amaechi the incumbent Minister of the Federal Republic of Nigeria as unnecessary, unwarranted and misplaced as we can't forget in a hurry the risk and trouble the leader took in repositioning the party in the State. The party is and will ever support every democratic effort by the leader to ensure that we succeed in our common mission of taking over the Brick House come 2019.
The party formally presents to the public the names of the candidates that were duly elected during the exercise of 29th July, 2017 and congratulated these great sons and daughters of Rivers State and urge them to be focused and carry out their functions for the betterment of both the State and the nation at large.
The Comprehensive List for Rivers State APC LGA/Ward Congress Delegates:-
1,ABUA/ODUAL LG DELEGATES
1. Hon Udi Odum
2. Hon Ode ThankGod
3., Mrs Oyani Wilfre
2, Andoni LG DELEGATES
1, Chief Emmanuel Ibodeng Njah.
2, Engr. Sampson Ngerebara.
3, Mrs Paulina Asuk.
3, *AKULGA CONGRESS DELEGATES:*
1, Chief (Barr) Dumo Lulu-Briggs
2, Madam Ngoba Karibi Whyte
3,Chief Dabo Dappa
4, ASALGA APC LGA Congress Delegates:
1, Hon Lolo T. Ibieneye
2, Hon Ojukaye Flag Amachree
3, Mrs Joeba West
5, Ahoada East LG DELEGATES
1, Barr, Eric Apia
2, Dr, Ndubisi Adikema,
3, Hon Ms Queen Ideozu
6 Ahoada West LGA Delegates
1, Hon. Awori Miller
2, Hon(Mrs) Faith P. Esor
3, Hon Chinedu Kio
7, Bonny LGA Delegates
1, Hon. George F. Tolofari
2, Amasenibo Hon. Fubara Hart
3, Miss Justina Ala Wilcox.
8, DEGEMA LG DELEGATES
1. Sir Ngo Martyns-Yellow
2. Hon. Iboroma Harry
3. Mrs. Salome Benibo
9, Eleme LG DELEGATES
1, H.E. Oji Ngofa
2, Mrs Augusta Ejie Emerge
3, Chief Precious Osaroeke
10, Etche LG DELEGATES
1, Hon. Nnamdi Okere
2, Hon. Golden Chioma
3, Mrs. Cecilia Mmeni
11, EMO LG DELEGATES
1. Chf. Sampson Agbaru
2. Chf. Allen Nma
3. Mrs. Edith
12, Khana LG DELEGATES
1, George D N Feyii
2, Gordon M. Tormwe
3, Barida Samuel
13, Ikwerre LG DELEGATES
1, Hon Chibike Ikenga
2, Hon Contro Asobi
3, Hon Mrs Onyinye
14, OKRIKA.. LG DELEGATES
1, D. D. ALABERE
2, DAME DR. MRS. CLARIBEL ABAM
3, CHF. HON. AMANGI SUNDAY.
15, Obio/Akpo LG DELEGATES
1, Hon Chikaodi Dike
2, Madam Beatrice
3, Dr Lawrence Chuku
16, Ogu Bolo LG DELEGATES
1,Chief Jona Tamuno
2, Hon Maureen Tamuno
3, Noble Aseme
17, Omuma LG DELEGATES
1, Engr Ndubisi Nwankwo
2, Onyekachi Ojiegbe
3, Mrs Florence Ubani
18,Ogba/Egbema Ndoni LG DELEGATES
1. Mrs. Blessing Ofuonye
2. Victory Ogolo
3. Joe-light Oyibo
19 *OPOBO/NKORO LG DELEGATES
1. Hon. Michael Donald Igolima
2. Barr. (Mrs.) Aleruchi Cookey-Gam
3. Hon. Maclean Bethel Uranta
20, Oyigbo LG DELEGATES
1, Hon Gift Okere
2, Chief S N Azu
3,, Mrs Eunice Nwonu
21, Gokana LG DELEGATES
1, Hon. Demue Ledee Demue
2, Hon. Koteh Brown
3, Hon. Mrs Giobari Naabiradee
22, PHALGA DELEGATES
1, Chf, Hon Nnamdi Wokekoro,
2, Hon, Mrs Irene Inimgba
3, Hon, Sir Collins Owhonda.
23, Tai LG DELEGATES
1, Hon Joe Philip Boroma
2, Dr Batam
3, Mrs Kate Ngboi
---
Source: Chief Eze Chukwuemeka Eze,
SSA on Media and Public Affairs to the State Chairman, APC Rivers State
Support InfoStride News' Credible Journalism: Only credible journalism can guarantee a fair, accountable and transparent society, including democracy and government. It involves a lot of efforts and money. We need your support. Click here to Donate