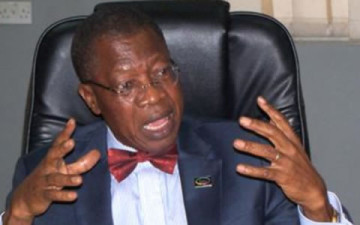 The National Publicity Secretary of the All Progressives Congress (APC), Alhaji Lai Mohammed, on Saturday recounted his ordeal in the hands of masked security agents in Osun State, saying his arrest was because he belongs to the opposition.
He stated that his "Gestapo Style" arrest shows the level of illegality, lawlessness, anarchy and intolerance to which Nigeria has descended under President Goodluck Jonathan's watch.
In a statement issued on Saturday in Osogbo, the Osun State capital, the APC spokesman said he was arrested along with Mr. Sunday Dare, the Media Aide to APC National Leader, Asiwaju Bola Ahmed Tinubu, and Mr. Afolabi Salisu, the Deputy Chief of Staff to Ogun State Governor, Ibikunle Amosun.
He said, "We were being driven to the Government House when we were stopped at a military check point by men in military and DSS uniforms, all hooded and armed to the teeth with AK-47 assault rifles, pistols and other weapons. Since there was no curfew in Osun State and people were moving around freely, we felt it was a routine check.
"Suddenly, the men, some of them apparently drunk, ordered us out of the car, took our phones, pointed their assault rifles at our heads and said 'you are under arrest.' They herded us into their bus like animals and drove away. There is no doubt that they knew who we are because I introduced myself!
"From our encounter with our tormentors, there is also no doubt that these were not just soldiers and DSS officials, there were also ex-militants and thugs, all clad in military and DSS uniforms but apparently lacking in any training! We also witnessed how men in military and DSS uniform fired their guns at the gate leading to the residence of Senator Isiaka Adeleke to force it open!
"We asked them why we were being arrested, but they ignored our question as they drove for close to one hour before veering into a compound that turned out to be the offices of the DSS. There, we met people who had been previously arrested and stri*ped of their clothing, many of them bloodied from the beatings to which they must have been subjected.
"We were herded to one side as our tormentors marched around triumphantly, in what could well have been a scene from the Ukraine! We were waiting for our turn to be stri*ped of our apparels and taken along with those who were arrested earlier to the DSS cells when a man who is apparently a senior DSS official intervened and ordered our release. The men who arrested us, apparently unhappy at the order to set us free, rejected the order, until the man asserted his authority and even accompanied us to where we were arrested from.
"Back there, we discovered that our driver has been badly beaten and even robbed of his personal belongings by the same security agents being paid by the taxpayers to protect the citizens, whose ranks have now been swelled, willingly, by thugs and ex-militants, armed and dressed in official uniforms by the PDP and sanctioned by the Jonathan-led Federal Government!
"This arrest is not about Lai Mohammed, Sunday Dare or Afolabi Salisu, whoever we may be, but about the constitutionally-guaranteed rights of Nigerians, ordinary Nigerians, to move around freely, associate with any party of their choice and express their opinions without being molested or arrested.
"The way and manner we were harassed, arrested and dehumanized on Friday night show that Nigerian citizens can no longer be sure that the security agents they encounter on the roads or anywhere else are well-trained and highly-disciplined men and women in the military, police, DSS and others that we used to know. What we have now are Jonathan's soldiers, policemen and DSS officials who have since stopped working for the nation but are now the enforcement arm of the PDP".
Support InfoStride News' Credible Journalism: Only credible journalism can guarantee a fair, accountable and transparent society, including democracy and government. It involves a lot of efforts and money. We need your support. Click here to Donate