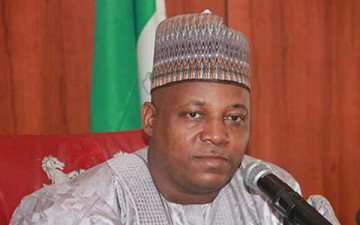 Governor Kashim Shettima of Borno State berated the Federal Government last night over what he termed its slow response to the kidnap of the over 200 female students of Government Girls Secondary School, Chibok, Borno State.
According to him, the FG was busy politicizing and apportioning blames for the April 14 incident when what was required was a timely intervention.
He added that if not for the global outcry over the incident, the government would not have commenced a search for the girls, who were abducted by Boko Haram insurgents from their hostels.
Shettima made these views known in an interview with CNN's Christine Amanpour in London. With him was the All Progressives Congress (APC) National Women Leader, Barrister Sharon Ikeanor.
Shettima said it took President Goodluck Jonathan a while to take action.
He said: "It took a while. For the first three weeks, we were politicking. And there is a whole lot of difference between governance and politics. Instead for us to pointedly address the problems, we were busy looking for scapegoats".
The governor, who described Boko Haram fighters as "a bunch of raving lunatics, who are taking cover because they have violated every single belief of the religion of Islam", said the Federal Government must do everything possible to bring back the girls, even if it would require "talking to the devil".
He said: "We need to get these girls back and we don't have time on our side. It is too painful; this is how it would be if our own daughters are involved. So the issue of not negotiating with the terrorists is out of the context. If it means talking to the devil…if Mr. Devil can come down and we can get back our girls.
Gov. Shettima, who was reprimanded by the presidency for crying out that the insurgents are better motivated and equipped than Nigerian troops battling the insurgency, spoke of how he warned the Federal Government of the danger of allowing Boko Haram to fester.
His words: "…And the fact in all these things is that, three years ago, I was repeatedly telling them that before long, that this is not a minor problem, that if it is not handled with tact and care, it is capable of metamorphosing into a conflagration that might consume the whole North. But the Federal Government was deaf, dumb and blind to the reality.
"We need a holistic approach to solve the issue; military approach is not the only option because Boko Haram is a phenomenon grown out of social exclusivity, poverty, hunger, joblessness, hopelessness, illiteracy… These are very dangerous cocktail or mixture that can really explode anywhere".
Does he believe the abducted girls would be abducted? Shettima said: "I am an optimist. I believe that they would be found and this is one thing that is agitating the mind of everybody… Believe me, we are working assiduously; we are getting information and anytime we get information, we relay it to the military for them to take it to the next level. Certainly, we got some information two, three days ago and we obliged them (military) with the information we got; and we are working with the local communities because we have a very robust platform of local people, who have been sensitised to report to us any unusual movement, be it of vehicular or human traffic. And they are doing a good job.
"We have gone out of our way to assure them (parents) and we are partnering with the military to provide adequate security and we are buying into this school programme championed by Gordon Brown, so that our schools can be better secured. I have to thank the global community for bringing the whole issue on the spotlight".
Support InfoStride News' Credible Journalism: Only credible journalism can guarantee a fair, accountable and transparent society, including democracy and government. It involves a lot of efforts and money. We need your support. Click here to Donate