I am not a fan of Olusegun Obasanjo (OBJ) and will never be his fan, but Obasanjo has a special grace reserved for men of destiny. It was Gen Hassan Katsina who first discovered this uncommon grace in Obasanjo.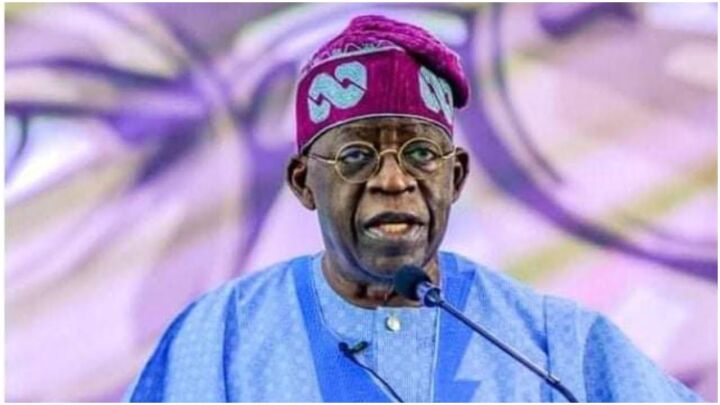 In her book titled "Bitter Sweet". Obasanjo's first wife and the mother of Iyabo, Mrs Oluremi Obasanjo, wrote that she was with Obasanjo at the Airport in Kaduna in the 60s when Gen Katsina prophetically whispered to her that she should take good care of Obasanjo because God has set him aside to play prominent roles in the life of Nigeria. Despite the fallibility of OBJ, the prophecy came to pass because he is a man of destiny.
Another person that I have seen with such special grace, even better, is Asiwaju Bola Ahmed Tinubu. God equipped him with political acumen and dexterity never seen before in Nigeria. In fact, his political tactics should be a subject of scholastic discourse.
Only a man backed by celestial forces can surmount what Tinubu surmounted on his way to Aso Rock. Let me explain.
In the build-up to the 2023 election, all the political forces in Nigeria rose up against Tinubu because they knew he will surely contest. The All Progressives Congress (APC), his own party rose up against him. They removed Oshiomhole as party chairman because they thought he was planted by Tinubu. They hence seized the party from him.
In order to show that Tinubu is no more popular, the opposition Peoples Democratic Party (PDP) sponsored the EndSARS protest and zeroed in on Tinubu. If you think the EndSARS protest was spontaneous, you have to think again.
Immediately EndSARS protest started, and some of us who are politically discerning knew it was the handiwork of the opposition. I, therefore, opposed it right from the onset. I was later proved right when they started burning Tinubu's assets while Nnamdi Kanu was running the commentary. They were ready to kill him. Nnamdi Kanu even told them to go and burn down Oriental Hotels, believing it belongs to Tinubu until the real owners came out to say Tinubu has no share in the hotel. Why Igbos hate Tinubu so much should also be a subject of scholastic research.
Ask yourself, how did EndSARS suddenly become End Tinubu? What has Tinubu got to do with SARS? Why the hatred towards a man who had not held any political position since 2007? They did all those believing they have scared Tinubu, hence he will change his mind and will not contest. They don't know the meaning of Jagaban.
Tinubu was facing wars both within and without. He looked like a political orphan. He was not discouraged. When the EndSARS arsonists got to his house in Bourdillon to burn it down, somebody called Tinubu to alert him and asked what should be salvaged from the house. Tinubu was quoted as saying "Let all the people in the house vacate the building and allow them to burn it. I will build another one. I built the house, the house did not build me". Tinubu went back to the drawing board
The first hint of the reason behind all these attacks on Tinubu surfaced when Atiku's spokesman in the 2019 election, Egbon Segun Sowunmi said on TV that Tinubu is the only person they dread in APC because of his massive political infrastructure.
Dele Momodu also corroborated the line of thought when he said it will be practically impossible to defeat Tinubu if he is presented as an APC candidate.
Tinubu's allies in the villa, including the VP, all ganged up against him. It is important to have someone in the villa to always give you the mood and mind of the President. Osinbajo was put in the position for times like this but since he has allowed the lucre of his office to blindfold him, God raised another person in the villa for Tinubu. Mrs Aisha Buhari.
Lawan, the senate president that was literally hand-picked by Tinubu also allowed sycophants to deceive him. He contested against Asiwaju. Aregbesola, who once said after God, it is Asiwaju in his life, also deserted Tinubu. Even my former boss, Babafemi Ojudu, preferred to go back to farming instead of supporting Tinubu. Such was the herculean task before Asiwaju.
But as a man of destiny, for every ally lost, God replaced them with Gandujes, Badarus, El-Rufais, Omisores and Ribadus of this world.
Despite all these, Tinubu declared his intention and contested APC primaries. He rounded off his campaign with the famous Emilokan speech in Abeokuta. He won the primary with a wide margin. Enemies were dazed but not defeated yet.
They went back to the drawing board and waged a certain war that no politician has ever won in history. Religious war. Who waged this war and how was it waged?
Immediately after Bola Tinubu emerged as the candidate of APC, the kingdom of darkness roared in anger. Places that were hitherto churches turned into covens. Pastors turned to sorcerers. Prophecies turned to Baba Ijebu permutations. House of prayer turned to the political podium where curses are issued on a per-minute basis. There was pandemonium in hell.
They amplified the fact that Tinubu is a Muslim and labelled him an Islamist. Some people said he will pick a Muslim running mate so that Christians can be completely alienated from Nigeria. They deliberately forgot that Tinubu's wife and kids are Christians. They also deliberately suffered amnesia by not remembering that Tinubu's wife is a Pastor in the biggest Pentecostal church in Nigeria.
These agents of darkness found an ally in a mythomaniac Peter Obi, the poster boy of religious politics and "yes daddy" crooner. They launched the fiercest political-religious war ever waged in human history. They called Obi the candidate of God and labelled Asiwaju, who started the Christians prayer in Lagos government house every new year's day, as the devil incarnate.
There is a particular coven operator in Abuja who enjoyed cursing Asiwaju right from the primary elections. Immediately Asiwaju was declared the winner, he spent about 15 minutes in his dome raining curses on a man that God has already blessed. This man is from Benue, one of the worst-run states in Nigeria. He did not rain curses on his Governor but he sees Asiwaju as an enemy that must be killed with curses.
They started competing with themselves over prophecies. There is no prophecy that was not given concerning the last election. From the absurd to the eccentric. Some even sound like a basket-mouth comedy. For instance, one of them said God told him that the name of the winner of the election is in the Bible. Out of the 18 presidential candidates, 5 of them have their names in the Bible. So what sort of BetNaija prophecy is that?
One even said the election will not hold. After the election, they asked him and he was still defending his prophecy even after the election has been held.
A woman coven operator said on her altar that they are ready to waste their votes. When the votes were eventually wasted, she was very angry and started raining curses on INEC. Did her Bible not tell her that the power of life and death is in the tongue?
Their candidate was moving from one church to the other and they were issuing their permutations. One of them claimed that he saw a revelation that Obi won the election.
God said in the Bible " I will confirm the word of my prophet and perform the counsel of my messenger". God did not confirm the words of these coven operators because they are not of Him. He does not know them. Now the operators rely on protesters for their permutations to come to pass.
Tinubu picked a Muslim running mate and the heavens did not fall. When they discovered that their religious shenanigans is losing steam, they changed gears and moved to economic sabotage.
How did they wage this economic war?
At the tail end of the electioneering campaigns, harping on religion started losing steam and Alhaji Abubakar Atiku came up with a masterstroke. If you recall, Atiku ran a lacklustre campaign and feelers have it that he has a last-minute joker.
How Atiku hijacked the cabal and used the Presidency is still a mystery. He successfully manoeuvred the cabal and they introduced the Naira redesign policy. They deliberately made the currency so scarce that even elites don't have access to it. They accompanied Naira scarcity with fuel scarcity.
Atiku relied solely on the Northern votes to win the Presidency and he knew a policy like Naira scarcity will affect the Northerners most. When I was living in Zamfara, out of 14 local governments, only 3 can boast of a semblance of the bank. That is how the whole North is underbanked and Atiku knows that it will be difficult for them to swap their old currency for the new one.
This economic policy caused a lot of upheavals, even some Tinubu supporters believed it will spell doom for their candidate. I have never seen anywhere in the world where the ruling party will deliberately introduce an unpopular policy just days before a general election. Tinubu, therefore, became the first candidate of the ruling party that will not enjoy the power of incumbency, in fact, he contested just like the opposition. But as God would have it, Atiku made a terrible blunder.
He declared support for the Naira scarcity.
Tinubu quickly cashed in on that blunder and declared his opposition to the policy. He chose Abeokuta again. He rallied some Northern Governors to fight the policy in court and this made the Northerners see him as a saviour. Tinubu would have won with a wider margin if not for this policy.
When Atiku realized that the strategy had backfired, he withdrew his support for the policy but it was too late. Obi was an onlooker in this chess game. He continued with his kindergarten yes daddy politics.
After the election, the first result that got to Abuja was the Ekiti State and Asiwaju won convincingly. Obi and his supporters immediately called for the cancellation of the whole election. They calculated that Obi will win Ekiti being a predominantly Christian state but they forgot that Yorubas don't vote along religious lines.
When Tinubu was eventually declared the winner by INEC, Atiku and Obi started addressing a joint press conference to discredit the election. They started crying wolf where none exists. They adopted Trump's strategy.
Some of them even said Buhari should continue. They just could not imagine Tinubu as the President despite all these hurdles. They were dazed. They came up with Abuja 25%. They became a drowning man who is clinging to a straw.
Despite all the curses, despite all the stumbling blocks, despite all the photoshops and mischievous video editing, despite all the balablu, despite all the shenanigans, Asiwaju Bola Ahmed Tinubu GCFR, will be sworn in today Monday, May 29, 2023, at 1.00 pm to the eternal shame of haters of Nigeria.
If you don't see the hand of God in all these, then you don't know anything about God.
Credit: Adeola Daramola – May 28th, 2023
Support InfoStride News' Credible Journalism: Only credible journalism can guarantee a fair, accountable and transparent society, including democracy and government. It involves a lot of efforts and money. We need your support. Click here to Donate