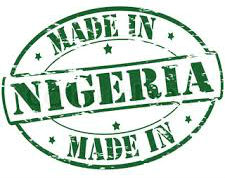 There has been a lot of talk in recent times about promoting 'Made in Nigeria.' From the Senate President, Dr. Bukola Saraki's recent visit to the 'Made in Aba' trade fair, to the hashtag to #BuyNaijaToGrowTheNaira, it is clear that Nigerians are beginning to understand that it is only our concerted and collective internal efforts as a nation that can solve our economic worries.
In the early 2000s, walking around the street rocking 'Made in Aba' goods was synonymous with saying that you shopped at 'bend-down-select' markets and roadside stations. Wearing leather sandals produced from the eastern part of Nigeria in those early years of the new millennium, was seen as an unfavourable status symbol for many – despite the hard work and expertise that had been put in to produce those goods from our local manufacturers. Retrospectively, quality-wise, the shoes, clothing, bags and other 'Made in Nigeria' goods back then, were nearly on par with their imported counterparts. However, the marker of acceptability in social circles in those days came from the fact that your 'Nike' products were truly made by 'Nike, Inc.', and your 'Adidas' was not labelled 'Adadis.'
Somewhere along the line, things changed, and Nigerians began to look inwards. We began to understand that our extreme foreign consumption capacity would not fuel the domestic growth of our economy. We began to realise that Timi, Deji and Haruna, could design and produce goods that were just as good as Thomas, Dickens, and Harrisons'. We began to see that indigenous goods and home-grown services could be on par, or even better than those from abroad. Consequently, new small and medium scale enterprises sprung up allover the country to cater for our increased demand.
From fashion to finance, from entertainment to edibles, 'Made in Nigeria' experienced a positive boom somewhere in the mid to late 2000s. However, with this positive upsurge in our collective social mindsets towards our local products, halfway into the second decade of this millennium, effective policy thrusts to encourage the local manufacturing sector have not been formulated and/or implemented. Even Nigeria's Public Procurement Act of 2007, which is aimed at advising and assisting "procurement staff to help them carry out their procurement responsibilities," fails in some critical aspects to address pushing 'Made in Nigeria' products.
Queue in Dr. Bukola Saraki, and the 8th Senate of the Federal Republic of Nigeria. Over the past few weeks, against the backdrop of the President Buhari-led administration's efforts to boost internally generated revenue (IGR), Dr. Saraki, and his colleagues have embarked on a systematic social and legislative charge to encourage local producers and manufacturers. While speaking at the 'Made in Aba' Trade Fair, Saraki mentioned that the Senate would be working on the review and amendment of the procurement act that would ensure that Made in Nigeria goods are patronized by the government. Some parameters of this amendment, Saraki explained, would include provisions that would ensure that government agencies would only resort to imported goods when there are no domestic alternatives.
Since the last quarter of 2015, the Nigerian Naira has fallen by nearly 20 per cent against the US Dollar. Additionally, global oil prices have fallen by over 70%. What this means is that Nigeria, an oil-rich nation that is "dependent on oil and gas for 95 per cent of its export earnings, 35 per cent of its GDP and three-quarters of government revenue," must see this 'Made in Nigeria' drive being championed by Saraki and a few of his colleagues like senators Abaribe and Murray-Bruce at the National Assembly as one of its options to wiggle out from the impending economic downturn caused by the decline in oil prices.
To make these policies sustainable, a combined effort of both legislative and executive policies must work to ensure that domestic goods should be promoted through a flexible system of discounts, sales and other government-backed incentives. Furthermore, the Standards Organization of Nigeria (SON) must push for quality control of Nigerian-made goods to increase customer satisfaction. As the economic history of developing nations has taught us that exports-driven economies are not fiscally sustainable, on the technical side, the federal government through collaborative efforts spearheaded by the Ministry of Transport must intensify its efforts to create transport networks that connect consumers all across the country to locally manufactured products.
The Nigerian Bureau of Statistics also has a role a major role to play in this campaign. Consumer trends need to be captured so that businesses know where to market their products and services. Surveys can also help the government to measure the consumption habits of Nigerians, so that the progress of this 'Made in Nigeria' initiative can be well-documented overtime.
Development cannot be imported. Neither can financial stability for Nigeria's economy. Accordingly, as we tighten our collective pursestrings to achieve fiscal responsibility in these times, we must also alter our social perspectives and implement the government policies that will not only protect, but also amplify the calls for bringing back 'Made in Nigeria' goods and services.
-Olu W. Onemola is a Senior Legislative Aide at the National Assembly, and the National Public Relations Officer of the APC Youth Forum (APYF). You can follow him @OnemolaOlu. –
Support InfoStride News' Credible Journalism: Only credible journalism can guarantee a fair, accountable and transparent society, including democracy and government. It involves a lot of efforts and money. We need your support. Click here to Donate