Abdul Samad Rabiu, the esteemed billionaire and chairman of BUA Group, marked a significant milestone on a Sunday by officially handing over the Abdul Samad Rabiu Africa International Centre for Innovation and Entrepreneurship to the University of Maiduguri.
This remarkable initiative, built with a dedicated investment of N1 billion by the Abdul Samad Rabiu Africa foundation, was unveiled during the university's 24th Combined Convocation. The ceremony not only celebrated the inauguration of this cutting-edge facility but also bestowed upon Rabiu an honorary degree, recognizing his exceptional contributions to national development, education, and entrepreneurship in Nigeria.
During the convocation, which was graced by the presence of the Vice President of Nigeria, Senator Kashim Shettima, Abdul Samad Rabiu underscored the center's significance as more than just a physical edifice. He passionately articulated his vision for the ASR International Centre for Innovation and Entrepreneurship, envisioning it as a dynamic hub of ideas, creativity, and practical entrepreneurship. For Rabiu, the genesis of this center is rooted in a profound belief in the transformative power of education and entrepreneurship, a belief solidified by his substantial investment of 1 billion Naira through the ASR Africa foundation.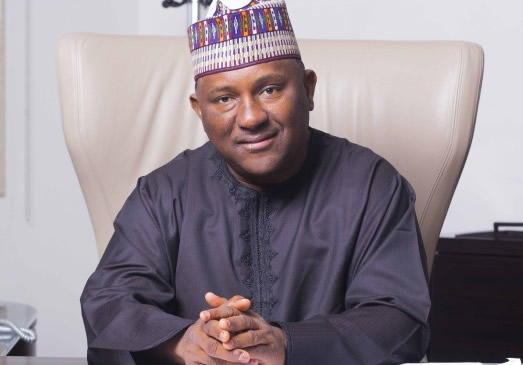 "In a world where economies are rapidly evolving and Nigeria strides towards renewed hope, centers like this are vital for development. They are the platforms for nurturing our future leaders, innovators, and entrepreneurs. We must not just learn; we must act," declared Abdul Samad Rabiu, emphasizing the imperative role such centers play in shaping the trajectory of the nation.
The Managing Director and Chief Executive Officer of ASR Africa, Dr. Ubon Udoh, added depth to the significance of the project in his comments, highlighting its potential to catalyze economic and social growth. He emphasized that the center provides a global platform for innovative expression and fosters partnerships with leading international educational and innovation institutions. The vision extends beyond bricks and mortar; it encompasses a commitment to creating an ecosystem that nurtures groundbreaking ideas and fosters collaboration on a global scale.
Governor of Borno State, Babagana Umara Zulum, and various traditional rulers also graced the event, further underscoring the importance of this initiative in the broader context of regional and national development.
The ASR International Centre for Innovation and Entrepreneurship is not just a physical space; it's a holistic environment designed to foster creativity and collaboration. The facility includes administrative offices to manage its operations efficiently, dynamic workstations for collaborative projects, creative conceptual hubs to incubate innovative ideas, a cafeteria for informal interactions, an extensive library for research and reference, and an exhibition hall for showcasing achievements and projects. To facilitate high-profile presentations and academic conferences, the center boasts a 150-seater hall equipped with state-of-the-art facilities.
Established in 2021, the ASR Africa foundation aims to provide sustainable, impact-based, homegrown solutions to developmental issues affecting health, education, and social development within Africa. The International Centre for Innovation and Entrepreneurship stands as a testament to this commitment, offering a tangible manifestation of Rabiu's vision for a brighter, more innovative future for the continent.
In conclusion, Abdul Samad Rabiu's philanthropic gesture transcends the mere construction of a building; it signifies an investment in the intellectual and entrepreneurial potential of the youth, a commitment to fostering innovation, and a belief in the power of education to drive positive change. As the ASR International Centre for Innovation and Entrepreneurship becomes operational, its impact is poised to reverberate not only within the University of Maiduguri but also across Nigeria and the broader African continent, contributing to the realization of a more prosperous and innovative future.
Support InfoStride News' Credible Journalism: Only credible journalism can guarantee a fair, accountable and transparent society, including democracy and government. It involves a lot of efforts and money. We need your support. Click here to Donate