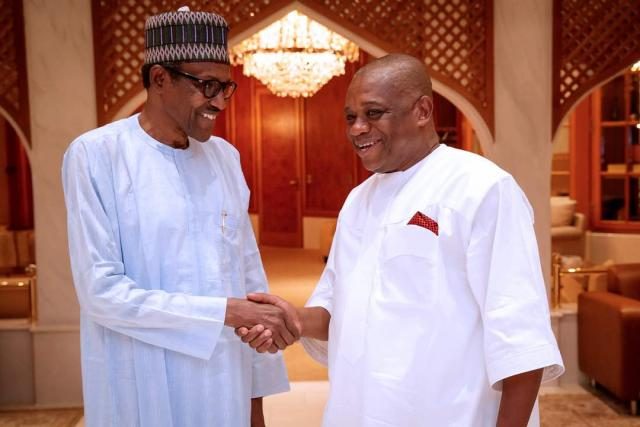 A religious group, United Christian Leaders Eagle Eyes Forum, has asked President Muhammadu Buhari to forget about his second term bid as him as his party has taken the nation several steps back.
Addressing journalists in Abuja, national chairman of the group, Pastor Habu Aminchi said President Buhari has failed to deliver on his campaign promises to Nigerians.
Pastor Aminchi accused Buhari of tribalism and nepotism adding that the President had failed to adhere to the Federal Character principle in his appointments.
"APC as a party have also failed Nigeria as they have failed to fulfill the promises they make to Nigerians.
Instead of a positive change, all we see is a negative change. All we see within the party is disunity, confusion, contention and everyone is after his or her selfish interest," he said.
"The only thing they are good at is blaming the past administration which everyone already knows failed and we were voted out. They should stop hiding behind the mask of blaming PDP for their incompetence to bring solution to Nigerian problem.
"It is also a shame that there is no state in Nigeria that the party is not fighting among themselves. If they cannot coordinate themselves, how can they coordinate Nigeria. I am saying that PDP and APC have failed Nigeria and we can't allow them to rule us again.
"In 2015, Nigerians were looking for a savior to bring them out of hardship and APC promised us a bright future under the change mantra if elected. But after Nigerians trusted them enough to give them the mantle of leadership, they have turned things for the worse.
"It is clear that they have nothing good and tangible to offer this country. They have turned the glory of our dear nation to shame. Instead of us to shine as the heart of this great continent, we have been relegated to the lowest rank.
"Buhari has failed this country. APC has failed this country. The evidence of their failure can be seen on our economy, security system, roads, Labour market etc. all around us, there is evidence of their selfishness, greediness and oppression as they have become tyrants instead of leaders.
"They have changed the true meaning of democracy and have injured our dear nation badly and if we don't collect this country from their hands come 2019, they will kill it completely.
"We admonish each and everyone to actively participate in the political process so as to wrest power from the old brigade politicians who have ran out of ideas. They should not mortgage their future for peanuts they get from the old politicians who have taken this country several steps backwards.
"So we advise every Nigerian to empower him or herself with the right weapon which is their pvc so that we can send these selfish, greedy failed and unproductive government packing.
"We equally implore President Buhari to abandon his second term bid to continue as Nigerian President because he has failed Nigerians. He should not listen to those sycophants around him who will not tell him the truth that Nigerians, especially the masses are grossly disenchanted with his government that has exhibited high sense of incompetence," he added.
Support InfoStride News' Credible Journalism: Only credible journalism can guarantee a fair, accountable and transparent society, including democracy and government. It involves a lot of efforts and money. We need your support. Click here to Donate