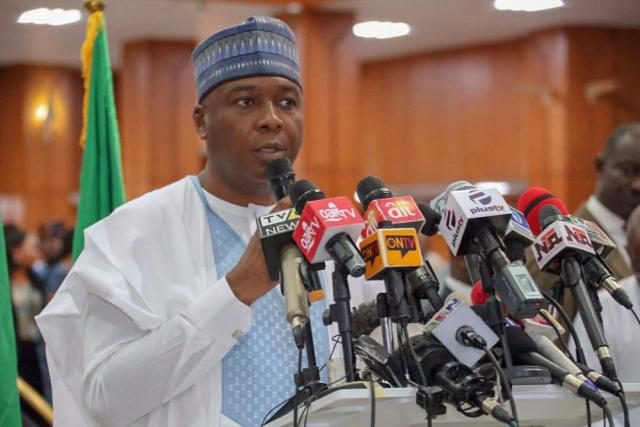 Bukola Saraki has called Adams Oshiomhole, the National chairman of the All Progressive Congress, APC, an ignorant behaving like a rain-beaten chicken.
Saraki responded to the APC chairman through Yusuph Olaniyonu, the Special Adviser on Media and Publicity to the Senate President.
He said "It is rather surprising that Mr. Adams Oshiomhole is behaving like a rain-beaten chicken, crying all over the place about Dr. Abubakar Bukola Saraki, as if the Senate President is the apparition haunting his life and the sinking ship that he captains.
2. Having decided not to join the pigs in rolling in the dirt; we would not like to be involved in any meaningless exchange with the demagogue now in charge of APC. However, because he claimed that he was reacting to the issues raised by the Senate President during his World Press Conference, we thought it necessary to give the APC chairman some attention."
"Alas, we found that instead of addressing any issue raised by the Senate President, his press conference merely showcased his obsession and those of his sponsors with Saraki's removal, which he did without any decorum befitting of his age or his awarded office. He brimmed with hate, hurled abuses, threw tantrums, told lies, huffed, puffed. In the end, he said nothing.
3. It is indeed amazing that the same Oshiomhole, who is now describing Saraki as a politician of no consequence was the same one who only a few months ago was crawling all over the place pleading for Saraki's support to become chairman. We are sure that those who took him to Saraki several times to plead his case must now be thoroughly embarrassed by his reckless and uncouth manner.
4. By his conduct and utterances, Oshiomhole, who accused Saraki of not acting in national interest needs to do more to convince Nigerians that his desperate desire to become party chairman is not simply to feed his over-sized ego.
5. The position of Oshiomhole and his cohorts in the APC that the Senate President must resign is a mere wishful thinking. They will continue to dream about their planned removal of the Senate President. They will need 73 Senators to lawfully remove Dr. Saraki and they will never get that in the present eight Senate.
6. The argument of APC that the Senate President must come from a majority party; that the Senate Presidency is their crown and National Assembly is their palace is only supported by ignorance and dangerous delusion. First, the issue of which party is in the majority will only be resolved when the Senate resume. Two, Section 50 (1) (a) of the constitution is clear that any Senator can be elected as Senate President. If the only thing left of the APC change agenda is to change the Senate President we can only wish them goodluck.
7. Perhaps, Mr. Oshiomhole needs to be better educated about our parliamentary history when he Stated that "For the first time in parliamentary history in Nigeria, we had a situation where the APC had majority of Senators and went on to elect a PDP as Deputy Senate President". Where is Mr. Oshiomhole when Senator John Wash Pam of the Nigerian People's Party (NPP) became Deputy Senate President in the Second Republic even when the National Party of Nigeria (NPN) had the majority. The same thing happened in the House of Representatives when NPP's Rt. Hon. Edwin Umeh Ezeoke was elected Speaker in an NPN majority House. But then, it would require a level of education to understand these things.
8. What hypocrisy! To think that this same APC were jubilating when Rt. Hon. Aminu Tambuwal retained his position after he defected from the PDP and still retained his seat, even when his new party was in the minority. These are people whose standards of morality are infinitely elastic.
9. We are sure the remaining APC Senators need to do a lot of work to bring Oshiomhole up to speed about parliamentary practice. His ignorance are too clear in his comments about how the Senate was adjourned on July 24, 2018, the distribution of committee chairmanship in the Senate and the difference between the post of Senate President and Minority Leader.
10. He has made so much song and dance about Mr. Godswill Akpabio resigning as Senate Minority Leader when he left the PDP to join APC. For this, Akpabio has become his hero and a symbol of honour. He obviously does not understand that the post of Minority Leader is a strictly party affair. And the PDP simply decided who to give it as it is not even a position that was mentioned in the constitution. Whereas, the Senate President position is a constitutional creation, which required majority votes of all the members. Again, we don't expect people whose only experience in politics is at the provincial levels to understand this. No wonder they are talking of crowns and inheritance."
Support InfoStride News' Credible Journalism: Only credible journalism can guarantee a fair, accountable and transparent society, including democracy and government. It involves a lot of efforts and money. We need your support. Click here to Donate