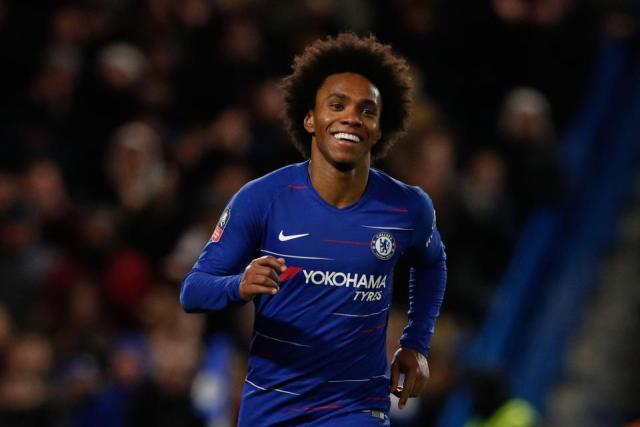 Chelsea will most likely allow Willian to join an EPL rival this summer, Dennis Wise has said.
Dennis recently revealed that the Brazilian would actually be a wonderful fit for Arsenal.
According to him, even if he would prefer the winger moving to a different league, he would be a very good playmaker for the Gunners if he decides to ply his trade in North London.
He added that he would really want Chelsea to keep Willian but his age might be the reason he leaves.
His words, "Well, I wouldn't want him to go to any of them, I've got to say because it'll be competition for Chelsea. Go to Italy please, Willian. Go away.
"I think he'd be a good fit for anyone; Arsenal, I think he'd be a wonderful fit for them. That's the sad thing about it, we'll let him go to an opposition who wants to compete.
"We have to replace him with more, we have replaced him but we will [need] a lot more because we'll be depending on only two when you want more.
"I think Pedro is going to go as well, so we're going to lose two wide men. We'll be disappointed to lose him as well. When you look at the quality that's going, Chelsea have got to look for quality to come in."
"I would love Chelsea to keep him but I think Chelsea look at his age, and I think that comes into the equation,"
"They look at his age. Yes, they probably would extend by a year but they won't give him three, and this is why he's got an opportunity elsewhere to take a longer contract."
"It'll be disappointing because I've got to say he's had some wonderful years at Chelsea and he is a quality player as you've seen tonight [against West Ham].
"He's still got so much ability to give. It'll be sad to see him go. 'I think that's why Chelsea are building already to try to replace Willian with other personnel, and that's what they are going to have to do.
"Once you take him out, with the quality he has, the assists that he gives, the goals he gives, you're taking a big chunk of it out [of the team]. We'll miss him when he goes, he's been a wonderful talent for Chelsea."