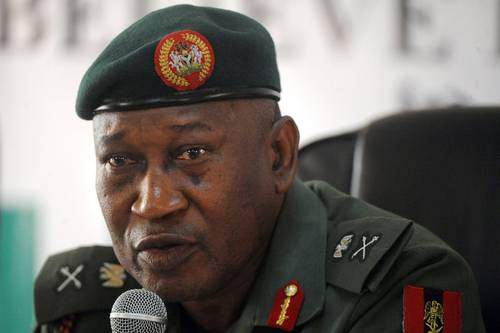 The Nigerian Army has redeployed 334 senior officers.
The redeployment of the senior officers was contained in a statement by acting Director, Army Public Relations, Col. Sani Usman, on Wednesday.
The postings and appointments, which were approved by the Chief of Army Staff, Maj. Gen. Tukur Buratai, affected 37 Major Generals, 57 Brig. Generals, 128 Colonels, several lieutenant colonels and others.
The appointments are also to take effect on various dates.
According to the army spokesman, the exercise affected the General Officers Commanding the 1, 2, 3, 81 and 82 Divisions of the Nigerian Army.
He said, "The Chief of Army Staff, Major General Tukur Buratai, today approved the postings and appointments of 334 officers of the Nigerian Army with various effective dates. These include some Principal Staff Officers at the Defence and Army Headquarters, Corps Commanders and General Officers Commanding as well as other commanders. They include 37 Major Generals, 57 Brigadier Generals, 128 Colonels, several Lieutenants Colonels and others.
"Some of those affected were the General Officers Commanding 1, 2, 3, 81 and 82 Divisions, Operations Pulo Shield and Safe Haven of Niger Delta and Plateau States.
"Some of those affected include Major General M A Koleoso, who is now Commander TRADOC, Major General S N Mu'azu, who moved from 2 Division to the Headquarters, Infantry Corps and appointed Commander. Major General M T Ibrahim moved from the Department of Army Standard and Evaluation to the Nigerian Defence Academy and appointed Commandant. Major General L K J Ogunewe is now the Chief of Policy and Plans. Major General F O Alli is now Chief of Training and Operations and Major General A A Salihu is now Chief of Logistics. Others include Major General A G Okunola, who is now the Commander of Operation PULO SHIELD (JTF) and Major General T C Ude, Commander, Operation Safe Haven (STF Jos). Others are Major General L W Wiwa, who is now the Deputy Commandant of the Nigerian Armed Forces Resettlement Centre.
"Major General A Oyebade is now the General Officer Commanding 1 Division, Major General L C Ilo is now the General Officer Commanding 2 Division. We also have Major General H Umaru as the General Officer Commanding 3 Division, Major General I H Edet (General Officer Commanding 81 Division) and Brigadier General I Attahiru is now the acting General Officer, Commanding 82 Division. While Brigadier General A T Hamman is now the acting Provost Marshal. Brigadier General L F Abdullahi is the acting Commander, Nigerian Army Education Corps and Colonel R Abubakar is now the acting Director, Defence Information, among others".
The post DHQ Spokesman, Olukolade Affected In Shake-up As Army Redeploys 334 Senior Officers appeared first on INFORMATION NIGERIA.