Immediate past governor of Bayelsa State, Senator Henry Seriake Dickson, has warned against yielding Peoples Democratic Party (PDP), structure to the demands of those who want to hijack the party, saying it would lead to implosion.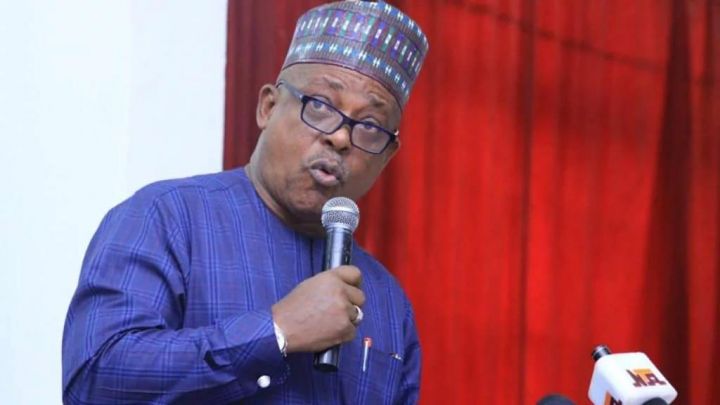 Dickson noted that after observing the growing tension, recriminations and outright attack on the National Chairman, Prince Uche Secondus, and members of PDP National Working Committee (NWC), by some leaders of the party, he decided to speak out.
He called for an emergence National Executive Committee (NEC), to take appropriate decisions to stabilise the party, in the light of the insurrection by some members of the NWC, stressing however, that any NWC wanting to resign should consider the overall interest of the party and do a rethink.
In a statement made available to The Guardian, the former governor, who chaired PDP Reconciliation Committee from 2013 to 2020 and was former chairman of PDP Governor's Forum, explained that going by the party's constitution, "the NWC is empowered to make replacements."
This is just as the PDP National Youth Leader, Comrade SKE Udeh-Okoye, in a statement by his media aide, Okah Ewah Edede, regretted that after his appearance on national television, where he called on Secondus to resign as the national chairman, a lot of negative imputations have been given to his action.
While stressing that his call was not in pursuit of any personal grudge or parochial sentiment, Ude-Okoye said his action was hinged on a desire to see to the success and progress of PDP.
Listing the perceived shortcomings of the national chairman, the national youth leader stated: "Since the inception of the tenure of Prince Uche Secondus as the national chairman of PDP, he has not gone to any PDP or non-PDP State on a membership mobilization drive. He has also adamantly refused to listen to advise from well-meaning party leaders on how to steer the affairs of the PDP.
"Prince Uche Secondus has also failed to astutely and wisely manage the internal conflicts and contradictions rocking PDP. This inability to manage conflict has led to mass defection of PDP leaders to the ruling APC, thereby weakening the opposition."
He disclosed that PDP governors, party leaders, members of the NWC, NEC, and BOT have all tried to manage Prince Secondus and his abysmal leadership style in the hope that he will hearken to the voice of reason and change his style.
"But, unfortunately, this seems not to be the case as he seems entrenched in his destructive style of leadership that has driven PDP into a hole of despondency, dismay, disillusionment, and despair.
"It was strictly for these reasons and other malfeasance, nothing personal, that the PDP National Youth Leader, Comrade SKE Udeh-Okoye, felt it was both an ethical and patriotic duty to PDP party members and Nigerians to call for the resignation of Prince Uche Secondus so that another capable hand can start the process of rebuilding and healing the party."
He declared: "I therefore call on the National Chairman and other members of the NWC in accordance with the constitution of the party to immediately make appropriate consultations from the states and zones from which these officers have resigned and forthwith, make those replacements subject to ratification by the NEC."
Part of the statement reads: "One has refrained from making statements, because we believe that the party has internal mechanisms and levels of leadership that will handle it and I was in fact aware that BOT members, governors and other elders, reconciliation committee, collectively and individually, have been making efforts to resolve some of these disputes and challenges affecting the stability of the party.
"As we are all aware, some officers of our party, resigned yesterday and we should thank them for their services but if their resignation is aimed at causing crisis in the party then we should all condemn it and those behind it."
Senator Dickson urged that national chairman, Secondus, and his NWC to utilize their powers under the constitution to discipline erring members involved in the nefarious plot to destroy the party."
"PDP is bigger than any individual and should no longer tolerate people with inordinate ambitions to destroy the party, which belongs to all Nigerians. People with ambition must know that unless the party is stabilised and strengthened, their ambition will be of no consequence even if they pocket it.
"If the PDP shrinks from a party for all to a party for a few, it would lose its selling point and many members and leaders will have no option than to review their membership," he remarked.
While noting that PDP is no longer a governing party, the former governor reminded party faithful that the party "does not have the time, resources and mechanisms to resolve problems that will arise from a caretaker committee, which will throw up more problems before the national convention and primaries at the federal and state levels.
His words: "I caution all those behind this crisis not to leave any opening to APC to exploit with their control of resources and machinery of government.
"We should all learn from the challenge APC has found itself with the appointment of a caretaker committee which is still unfolding. With only four months to the end of the tenure of the current working committee, it does not make sense to either push for or force a resignation, or to force the appointment of a caretaker committee on a party with officers who have a constitutionally guaranteed tenure.
"Furthermore, with only about a year to the nomination of candidates in the light of the ongoing electoral acts amendments bill, it again does not make sense to push a divisive agenda that the party may not have the time resources and mechanism to resolve before the nomination processes and primaries which by their nature are divisive."
Dickson said PDP's "focus and singular target for now, if we are serious, should be to stabilize and strengthen the NWC by supporting it and correcting whatever may be wrong in-house quietly, while putting our effort wholly on the task of identifying and selecting credible candidates and ensuring fair primaries."
Support InfoStride News' Credible Journalism: Only credible journalism can guarantee a fair, accountable and transparent society, including democracy and government. It involves a lot of efforts and money. We need your support. Click here to Donate