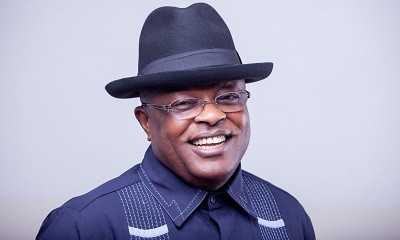 GOV. DAVE UMAHI
The Governor of Ebonyi State, Dave Umahi, on Sunday paid a courtesy visit on former President Olusegun Obasanjo at his hilltop mansion, Abeokuta, Ogun State.
Though details of the 45 minutes closed-door meeting were kept away from the press, the governor informed journalists after emerging from the meeting that he came to show appreciation to the ex-president for his non-partisan attitude to national matters.
"We also came here to thank you for the manners and the ways you have been using the wisdom of God to assist in piloting the affairs of our nation. I thank you very greatly sir. I believe very strongly that what transpired during the election is actually the will of God. And we have the opportunity to right the wrong.
"There is no administration that wouldn't have some ills but the most important thing is the ability and the knowledge and wisdom to identify them like you just advised me here; all those good ones continue with them, the bad ones you can always right them", he said.
Mr. Umahi also commended President Muhammadu Buhari's forthrightness so far in piloting the affairs of the nation, pledging his support for his administration.
"And I use the opportunity to thank Mr. President Sir and to say one of the greatest things that will move this nation forward is forthrightness and Mr. President has displayed that. In our meetings, every of [sic] the governors, we are very pleased with him. It's not a question of being in this party or being in the other party.
"He displays rare sense of humility, honesty and the willingness to carry this country forward. And that's what we are looking for. We are not interested in which party or the other party. We are interested in the man who has the welfare and the interest of the nation at hand. His directive to stop many accounts of NNPC, I'm sure you are gladdened because I had discussed that with you and you complained bitterly about the way NNPC was being run; when they keep more money than what they give the federal government.
"So, we thank you and I want to say Sir that you continue to support Mr. President, General Buhari, and I'm very sure with you sir by his side, he is going to deliver in his promises", Mr. Umahi said.
Speaking on the trend whereby political office holders slashed their salaries by half, the governor said that was not the solution to the current cash crunch confronting many states.
President Buhari recently announced a 50 per cent reduction in his salary and that of Vice President Yemi Osinbajo, while some state governors had also announced similar cuts.
But Mr. Umahi said such offer of reduction in the salaries of elected politicians would be too meagre to address the current financial problems confronting many of the states.
"The major issue is to be honest to the people, it's to deploy the resources God has given the people, don't cheat them, don't steal their money. What we take as political leaders, what is due to us is really very meagre.
"I earn about N600,000 a month; so if I cut it down to 50 percent, that's N300,000. That is not the kind of money the society is looking for. They are asking whatever is due to us, give it to us and I believe in that", Mr. Umahi said.
He, however, assured that his administration would ensure the development of Ebonyi State, adding, "We have taken very major step in addressing the growth of our state, Ebonyi. We've taken decisive steps. Right now, we are auditing our workforce; we think our workforce is not right. We are also doing everything to bring investors into these mineral resources I told you and agricultural sector. These are what we are doing. Definitely in 100 days, you'd see a lot but you'd see a plan that is installed and you expect a steady growth. So what you see in 100 days is beyond 100 days; it's well articulated plans for the greatness of our state, Ebonyi".
He said the dwindling prices of oil in the international market was a blessing in disguise to the country as this had compelled Nigeria to think seriously about tapping other natural resources and diversifying her economy.
"We already have five gigantic rice mills in Ebonyi State", he said. "What we don't have is money and we've been asking the federal government to give us funds".
"CBN governor, a very wonderful man, is giving Ebonyi State attention, he has written us since the banning importation of rice, which is what is supposed to be done.
"I don't see the reason why we should import food into Nigeria. I don't see why we should import toothpick in Nigeria, import vegetable oil; that's quite absurd and I think they have taken decisive steps to address all those. We have quite vast land, very good for rice production, very good for cassava, maize and we have a lot of mineral resources like limestone, salt, bauxite, zinc, lead, copper and quite a lot of them. So, what we need is assistance from federal government so that we can develop them".
The Ebonyi governor also reiterated the decision of the governors of the South East states against the planned transfer of some Boko Haram prisoners to the zone, stressing that the inmates were not welcome in any of the states in the region.
The post Ebonyi Governor Holds Private Meeting With Obasanjo In Abeokuta, Faults Pay Cut By Public Office Holders appeared first on INFORMATION NIGERIA.
Support InfoStride News' Credible Journalism: Only credible journalism can guarantee a fair, accountable and transparent society, including democracy and government. It involves a lot of efforts and money. We need your support. Click here to Donate