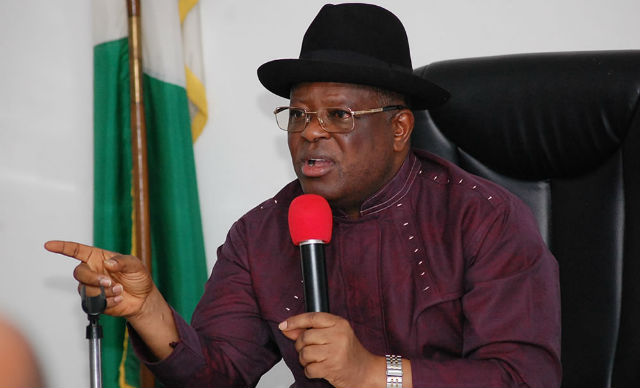 Agha Hasan Abedi also known as Agha Sahab a Pakistani banker and philanthropist who founded the Bank of Credit and Commerce International in 1972 may have had Engr Dave Umahi the action Governor of Ebonyi State in mind when he stated and I quote, "The conventional definition of management is getting work done through people, but real management is developing people through work." If one critically examine the revolution currently going in Ebonyi State one can easily conclude that Engr Umahi specializes in developing people through assigning to them tasks that go a long way in assisting in developing Ebonyi State and her people.
On the other hand, President Barack Obama of USA may also have Ebonyi State in mind when he stated, "I put forward a budget of what I called "middle-class economics" that continues to be fiscally prudent but makes necessary investments for us to continue the economic momentum and job growth." This great quote by this outstanding leader of the world aptly applies to Ebonyi State because it is only the result of budget prudence and financial wizardry of a leader like Engr Dave Nweze Umahi could be embarking upon the type of current infrastructure revolution going on in the State that dwarfs the feats of all the past administrations in Ebonyi State put together and still decide to not only increase the salaries and emolument of staff and entitlements of Pensioners but to pay such on 15th of every month at a period of recession when most States in Nigeria are owing their staff months of unpaid salaries.
Before I divulge into the main issues of this attempt and for avoidance of doubt this treatise is not to praise the Ebonyi State Government but strictly aimed to examine critically the financial prudence of the Umahi's administration and the current celebration in some quarters of the visit and operation of EFCC in the State.
As a concerned daughter of Ebonyi state not necessarily as the Technical Assistant on Media to Governor Umahi, I decided to task myself  to unearth for you, the reader, the public and our people in Diaspora the futility or otherwise of the recent EFCC venture into Ebonyi State at this particular time and to appeal to Ebonyi State people not to be disillusioned or disenchanted in any way or feel intimidated by propagandists whose Umahi's pragmatic leadership have become a source of misery to them and their sponsors.
On 9th November, 2016,I observed that the main discussion going on in most parts of Ebonyi State was the operation of the Economic and Financial Crimes Commission (EFCC) carried out in the state and reflected by  the Sun Newspaper and other dailies' including the Social Media of this day alleging that EFCC has sealed Governor Umahi's private properties.
Sadly, I also noticed with misgiving on this fateful day, the wide jubilation and celebration over this operation within the ranks and circles of some misguided and disgruntled opposition politicians whose disdain for the ongoing revolution by the Umahi's administration is well known.
Having said all these, you can now understand my goal in this treatise. Permit me therefore to present to you the main issues of this attempt.
John Milton (1608-1674) an English poet defined prudence as "Prudence is the virtue by which we discern what is proper to do under various circumstances in time and place" and this properly explains aptly the happenings in Ebonyi state but to understand and appreciate the mission of Governor Dave Nweze Umahi in the politics of Ebonyi State, and Nigeria at large, his mission statement must come to play. It states: "My mission is to enhance the welfare of our people, and empower all Ebonyians to be self-reliant, through the compassionate delivery of transparent and God-fearing governance, based on integrity and dignity."
With this, I will attempt to explain that the venture of the Economic and Financial Crimes Commission (EFCC) that deals with criminality and misappropriation of public funds into Ebonyi State, during the reign of this God-fearing man must be a venture that was misplaced.
In achieving a prudent management of the scarce funds available to Ebonyi State, a serious woman of God, Dr (Pastor) Queen Agwu, was appointed as the State Accountant-General, with Dr Dennis Ude Ekumankama a very forthright fellow as the Commissioner of Finance, and Dr Ignatius Unah as the Permanent Secretary of the Ministry. With these trio financial wizards, Ebonyians can be rest-assured that their funds are not only safe but will be utilised to achieve the vision and mission of the David of our time. Accordingly, the Vision of the ministry is so explicitly on the vision of the Governor. "The vision of the ministry is the integration and implementation of fiscal and developmental policies and programmes of the state government."
Under this administration, and to ensure accountability, transparency and improved revenue collection, the governor gave the Board of Internal Revenue a full autonomy, not minding that most states in Nigeria can't pay salaries because of the result of the recession in Nigeria. But under the Umahi regime the case in Ebonyi State is totally different. The Ebonyi State workers' salaries are now paid on or before 15th of every month, in line with His Excellency, the state governor's directive. Other genuine claims like leave allowance of the workers are paid regularly. Gratuities and pension benefits of retired officers are now paid monthly along side with the salaries.
The ministry's in-built checks and controls system through posting of internal auditors and other mechanisms have made the state government financial transaction in ministries/ departments more in line with budget provisions and financial laws. This, no doubt, is the policy trust of the present administration on transparency, accountability and quality service delivery. In budget implementation, we have ensured that contractor's certificates are paid timely and that fund voted for a particular project is strictly applied for the purpose. Over head releases are on monthly basis and regular too. That has given a boost to ministries and non-ministerial departments in carrying out their recurrent activities. Financial reporting has been improved upon. At present, there is no arrears of the State Annual Accounts. The Office of the Accountant-General introduced e-revenue and salary in the state. This salary automation ensures that each staff pays the correct tax, because this has been factored into the software.
Today, Ebonyi State is referred to as one huge construction site with three solid flyovers almost completed and to capture what is happening in Ebonyi State more aptly, Engr Babachir Lawal, a chieftain of the ruling All Progressives Congress (APC) and Secretary to the Government of the Federation (SGF) said it all: "Well, I cannot in all honesty understand how these works have been achieved within this short time and, indeed, in the climate of dire economic shortages of government. I am impressed that you (Dave Umahi) were able to do these works within the cost you mentioned. I can, in all honesty, tell you that the work is far beyond the cost. Now, this is a standard for other states and the Federal Government to emulate. To me, Governor Umahi is one of the few persons who believe that meagre resources could be used to achieve much, if we remove greed, which breeds corruption. Without mincing words, Umahi, is better than some governors in my own party, the APC."
Before going further on this treatise, let me unequivocally and unambiguously state that EFCC's Establishment Act mandates the EFCC to combat financial and economic crimes. The commission is empowered to prevent, investigate, prosecute and penalise economic and financial crimes, and is charged with the responsibility of enforcing the provisions of other laws and regulations relating to economic and financial crimes.
It is a fact that EFCC based on the above definition of its operations and establishment is free to visit and investigate any act they perceive criminal or illegal which may have caused they visit to Ebonyi State as reflected in the Sun Newspaper and other dailies' publication of 9th November, 2016 alleging that EFCC has sealed Governor Umahi's private properties.
The above notwithstanding, i wish to correct the erroneous impression as reflected in some of these dailies that 'EFCC has sealed Governor Umahi's private properties'. I accept the fact that an "under investigation" sign was placed on Orsbon La Palm Hotel and Brass Filling stations, and some other properties assumed to belong to Governor Dave Umahi of Ebonyi State, because of the alleged misappropriation of N400 million released by Col Sambo Dasuki (retd), National Security Adviser (NSA) to former President Goodluck Jonathan, for the 2015 general elections in Ebonyi State but the above notwithstanding, i wish to state clearly that placing an 'Investigation order' on the said properties is not the same as sealing the properties. Sealing the properties in a lay man's language entails closing these business outlets for business transactions with the public, which is not the case in this regard.
I will like to reiterate, all the same, that these properties under investigation were acquired by Governor Umahi as a private citizen, when he was outside the government and have nothing to do with any release either from Dasuki or any government source and, therefore, it is erroneous on the side of EFCC to place an investigation order on a property duly acquired legally by Umahi when he was not in government.
Third, and very importantly, the EFCC's action amounts to nothing since Engr Dave Umahi resigned his directorship and ownership of all his business empire since assumption of office as deputy governor of Ebonyi State in 2011. This act, therefore, becomes laughable for some group of people to assume that Umahi's properties were sealed by EFCC, as his office –  both as a one-time deputy governor and currently as the Governor of Ebonyi State – does not permit him to own or run any other business, except that of government.
However, it is important to note that Umahi, by the grace of God through the mandate given to him by the great people of Ebonyi State, is the incumbent executive Governor of Ebonyi State. Therefore, he enjoys immunity, as provided for in the Constitution of the Federal Republic of Nigeria and, as a result, can't be under probe while in office. Those celebrating of the unwarranted attacks on our amiable and performing governor are celebrating in vain, as God who granted him this grace to serve his people will surely protect him from every visible and invisible attack.
Having said all these, let me reiterate that as law-abiding citizens, and very supportive of President Muhammadu Buhari's fight against corruption, which is a major challenge to the development and emancipation of our nation, the Umahi's administration will support the EFCC to the best of her abilities to carry out its statutory duties. Even so, we wish to appeal to them to follow due process and respect the rights of our people and not give in to the antics of politicians who do not see any good in our efforts to bring the dividends of democracy to our people.
For us in the present administration under Umahi, prudence and proper distribution of the scarce funds at our disposal is our hallmark; and we have no skeleton in our cupboard. Our doors are always open to the EFCC and any other organ of government to beam its searchlight on us at anytime.
To us, it makes no meaning that the EFCC could paste information on the properties they felt belonged to our governor, because we are convinced that at the end of the day both Umahi and his associates will be vindicated.
Umahi doesn't need any distraction but support at this time to enable him focus on his mission and vision for Ebonyi State.
The Governor's reaction to those asking him to resign based on the EFCC's visit suffices here: "my government will not be distracted from delivering democracy dividends to Ebonyians. These elements attacking me lack credibility in all fronts to have the moral justification to beam a searchlight on me and my administration as their past is full of corruptive tendencies. I am happy that the public know that these elements have nothing positive to offer to our state bur are agents whose primary desire is to truncate the existing peace in our State and discredit my government. 
The good thing is that the people of Ebonyi who gave their mandate to me to exercise on their behalf would "never allow agents of the devil to have their negative desires come to pass. 
These desperate agents were those involved openly selling empowerment forms to unemployed youths of Ohaukwu LGA claiming that it was a Federal Government directive. The good thing is that my government had intervened by empowering over 4,500 unemployed youths and women of Ebonyi State and provided the sum of N250,000 to  them  to embark on business of their choice". 
Conclusion

finally, let me appeal to our people in Ebonyi and those in the Diaspora to continue to exercise faith in this administration, as we are determined to make a difference this time around, and to make our state a reference point in the annals of governance in Nigeria.
For those who are hell-bent on distracting the governor by cooking up lies against him, we appeal to them to exercise caution so that posterity will not be too harsh on them.
Miss Monica Ada C. Eze is Technical Assistant (TA) on Media to Governor Dave Nweze Umahi
Support InfoStride News' Credible Journalism: Only credible journalism can guarantee a fair, accountable and transparent society, including democracy and government. It involves a lot of efforts and money. We need your support. Click here to Donate