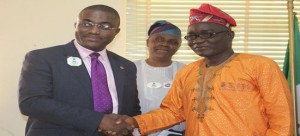 Ekiti State D.Gov., Dr. Kolapo Olusola (right) shaking hands with the Chairman Lions Club International, Lion Sam Harry Ekpuk (left) while the District Gov. Abdul-Ganiyu Adediji watches with admiration.
Ekiti State Governor, Dr. Ayodele Fayose has indicated that the doors of his administration are wide open to corporate bodies, philanthropic, organizations and individuals who have genuine intention to collaborate with his government and make Ekiti the envy of other states in the country.
Dr. Fayose stated this while playing host to the District Governors of Multiple District 404 of the Lions Club International who paid him a courtesy visit in his office.
The Governor who was represented by his deputy, Dr. Kolapo Olusola said his passion to see that life becomes more comfortable and worthwhile for the people informed the strategic "stomach infrastructure" policy of his administration which has been much misrepresented by the opposition but much appreciated by the people.
He commended the Lions Club for its various humanitarian services across the globe, especially in Nigeria, adding that Ekiti government is looking forward to seeing the developmental presence of the club in the state and a beneficial relationship with the government.
Earlier, the head of the team, who was the Chairman of Council of Governors, Multiple District 404 of the Lions Club International, Lion Sam Harry Ekpuk described the organization as a non partisan and non-religious association of diverse professionals who were committed to making life worth the living for the less privilege in the society in their own peculiar ways.
He noted that there are philanthropic non-governmental organizations such as the Lion Club International which could partner the government to bring desired development and urged the administration of Dr. Ayodele Fayose to explore and utilize such invaluable opportunities.
Lion Ekpuk who explained that the organization has been helpful to the society in health care delivery, education, sanitation and youth development, assured that Lions Club International was ready to collaborate with the government and make its impact felt in Ekiti State.
The Governor was later invited, become a member of the organization while his representative, the Deputy Governor was decorated with honorary membership.
Ekiti State Government Press Release