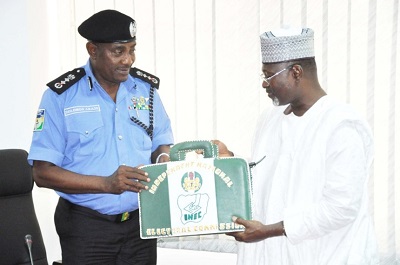 Nigeria's newly-appointed Inspector General of Police, Solomo​n​ Arase, has pledged to hold senior ​police ​officers responsible for any breakdown of law and order during rescheduled elections in Taraba, Imo and Abia States on Saturday.
Governorship elections will hold in specific areas of the three states after the Independent National Electoral Commission declared the April 11 elections inconclusive.
Mr. Arase, who was appointed on Wednesday to replace Suleiman Abba, said the police were doing everything possible to create an enabling environment for the repeat elections.
He said the force would not allow anybody to cause a breakdown of law and order in any of the states.
Mr. Arase said that the force had already done massive deployment of its officers, including Deputy Inspector Generals of Police, Assistant Inspector Generals of Police and Commissioners of Police, to oversee the elections in Yobe, Taraba and Imo.
"They are under strict directive that this time, whatever lapses we have noticed in the previous elections will not be tolerated this time around.
"I am going to hold them personally liable if they allow any breach or infringement of the rules and what we have told them to do", Mr. Arase said.
Mr. Arase, who made the remarks during a visit to the chairman of INEC, Attahiru Jega, on Friday, said the police were already investigating violent cases recorded during both the presidential and the governorship elections, adding that those involved in criminal content would be prosecuted.
"Those that fall within the purview of INEC, we are compiling them so that we can forward them to you and also give you the platform to ensure that this people are prosecuted no matter the parties that are involved.
"I am sure that this will serve as a deterrent for future elections so that we don't have a situation where people take the law into their hands thinking that they can work away with it. I can assure you of that", Mr. Arase said.
He also said the police would dominate security space in states where elections were going to take place.
"If anybody tests our will this time, we are going to deploy our potent security assets to ensure that we don't allow further violence to take place", he said.
The Chairman of INEC, Attahiru Jega, urged the police to enforce the movement restriction order in the affected states.
Mr. Jega said a situation in which high profile politicians moved around with bodyguards, convoy and armed personnel had to be stopped.
He said that most conflicts that occurred on election days were attributable to these kinds of engagements.
"Obviously, some of the challenges we face in the past are associated with the refusal of the political actors, candidates and party and government officials to respect the rules of the game.
"I will like to urge you to particular pay attention to the phenomena of either government officials or candidates or leading politicians moving around on Election Day.
"Two states in particular, Imo and Abia, these phenomena were largely responsible for the crisis that we had during the governorship and presidential elections.
"For these supplementary elections, we will like every politician to respect the rule of the game and to obey the non-movement order on election date", Mr. Jega said.
The chairman said the commission had put in place appropriate measures to ensure that the supplementary elections were successful.
He said INEC had deployed key personnel from the headquarters, including three National Commissioners and Resident Electoral Commissioners to each of the states where there would be supplementary elections.
"In addition to the National Commissioners and the RECs, we have also deployed at least one supervisory staff from the headquarters to each of the wards in these states.
"We are going to be very meticulous also in monitoring what goes on in the field, pay attention to our staff and ad-hoc staff to ensure that they discharge their responsibilities impartially, competently and professionally.
"We believe that doing these will go a long way to ensuring that things go well and also protect the credibility of the supplementary elections", he said.
Mr. Jega said that the commission looked forward to working with the acting IGP and the Nigerian police for the successful conclusion of supplementary elections as scheduled for Saturday.
Mr. Jega, who congratulated the acting IGP on his appointment, said he had no doubt that given his antecedent in professionalism and confident, the relationship between Nigerian police and INEC would grow from strengthen to strength.
"In the cause of my tenure, I have worked closely with three of your predecessors and we have received very good support and cooperation of the Nigerian Police as the lead agency for securing election", he said. (NAN)
Support InfoStride News' Credible Journalism: Only credible journalism can guarantee a fair, accountable and transparent society, including democracy and government. It involves a lot of efforts and money. We need your support. Click here to Donate