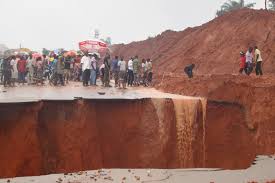 file photo
The only link road to Obinugwu, Ntueke and Umuogbom communities in Ideato South local government area of Imo State has been swept off by erosion, reports have said.
The road, whose construction was awarded by the state government about two years ago was abandoned.
The traditional ruler of the Ntueke Autonomous Community, Eze Kerian Uchenna Chinedo, while conducting Journalists round the erosion site, expressed his peoples' regret over their plight as they cannot have contact with their kith and kin in the other neighbouring communities.
The royal father who thanked the state government for awarding the road two years ago, however, regretted that the contractor, Messrs Gasser Enterprises, Port Harcourt, abandoned the road as soon as some red earth was excavated from the road.
He noted that due to poor performance by the first contractor, a second contractor was assigned the road, but since then the new contractor had only done about 100 metres of drainage since July last year and yet, abandoned the project.
"While other contractors had returned to site in other areas, the one in our community has been left for erosion to swallow the houses and electric poles, thereby causing grievous danger to our people," the monarch said.
"The erosion has gone out of control and the remaining portion of the road has been completely washed off, making it impassable for both pedestrians and vehicles; and as such the road that leads to our farm has rendered us incapable to harvest our farm produce, thereby making us hungry".
He therefore used the opportunity to call on the federal government and Imo State government to respond to their call by calling back the contractor or awarding it to another serious contractor who will arrest the situation and save them from being wiped out.
Chairman of Elugwu Ntueke Community, Elder Clement Nnoham also said that they have been starved of food as a result of lack of access to their family lands to harvest their crops. He noted that the road was motorable before the award for its construction but regretted that the contractors abandoned it and left them to suffer untold hardship