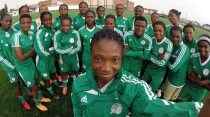 The setting for anything from joyous celebrations to intense team-talks, the team bus – much like the dressing room – is usually a very private place. Making a special exception for FIFA.com, however, Nigeria captain Patience Okaeme invited us on board for a fascinating insight to her side's preparations for the FIFA U-20 Women's World Cup Canada 2014.
"We don't normally listen to music on the bus or in the changing room before games, but we do sing," said Okaeme with a broad smile, before revealing the identity of the team's number one chanteuse: "Sarah (Nnodim) is the best out of all of us. We follow her, we clap along and we dance. It's fun."
With Nigeria about to play their opening game at Canada 2014, coach Peter Dedevbo and his charges are finalising their preparations, and the aforementioned bus is headed straight for the training ground, where the Super Falconets will undergo their second practice session of the day.
Today there is no singing or dancing, only a silence broken by the occasional whispered conversation. Dedevbo's players are clearly saving their strength for Wednesday's Group C clash with Mexico.
"Our preparations for the tournament have been tough because we're training twice a day," said the skipper. "That's what we were doing in Nigeria, and we've carried on here. I'm sure it's going to help us when the competition starts."
Quietly confident
That hard work and dedication could well be a reason why Nigeria are one of the global powers of women's youth football, a status of which they are rightly proud. "We have never failed to qualify for the U-20 Women's World Cup," explained Okaeme, pointing to a record that only Germany, USA and Brazil can match.
The last time the tournament was held, in Japan two years ago, the Super Falconets reached the semi-finals, a run that has set expectations high this time. "It's good to know that Nigeria are one of the strongest teams around in this age group," said the midfielder. "It gives us confidence, and we're also aware that we have a good side too.
"We also know, though, that we made the last four two years back. This time we want to go further. We want to win the trophy and that means more pressure for the team, whether you like it or not."
The mere thought of making her World Cup debut causes Okaeme's face to light up: "I was part of Nigeria's U-17 team, but I missed the world finals two years ago (in Azerbaijan) because of injury, so these will be my first."
Born into a family of football lovers, the 19-year-old Okaeme is well aware of the opportunity now awaiting her: "I've been waiting a long time for this moment to come. I think I'm going to have fun in Canada and I'm going to experience a lot of things here."
A captain's duties
2014 has been a special year so far for the youngster, who has just been appointed team captain. "I was very excited and nervous when they made me the skipper, though I've gradually been getting used to the situation," she commented, aware that she has to do much more than just pull on an armband before each game.
"A good captain has to know how to motivate their team-mates when morale is low. They have to lead the way, be understanding and friendly with everyone and treat every member of the team the same."
The bus comes to a halt at the gates of the training ground the Nigerians are using in Moncton, where they will be playing their group-phase matches against England, Korea Republic and the Mexicans.
Okaeme bids farewell as her team-mates jog off, focused on their final preparations for Wednesday's encounter with El Tri, an occasion on which the Super Falconets, ready for the fray, will be singing and dancing, giving full voice to their determination to succeed in Canada.
Normal
0
false
false
false
EN-US
X-NONE
AR-SA
/* Style Definitions */
table.MsoNormalTable
{mso-style-name:"Table Normal";
mso-tstyle-rowband-size:0;
mso-tstyle-colband-size:0;
mso-style-noshow:yes;
mso-style-priority:99;
mso-style-parent:"";
mso-padding-alt:0in 5.4pt 0in 5.4pt;
mso-para-margin:0in;
mso-para-margin-bottom:.0001pt;
mso-pagination:widow-orphan;
font-size:10.0pt;
font-family:"Calibri","sans-serif";}
Confederation of African Football (CAF) News
Support InfoStride News' Credible Journalism: Only credible journalism can guarantee a fair, accountable and transparent society, including democracy and government. It involves a lot of efforts and money. We need your support. Click here to Donate