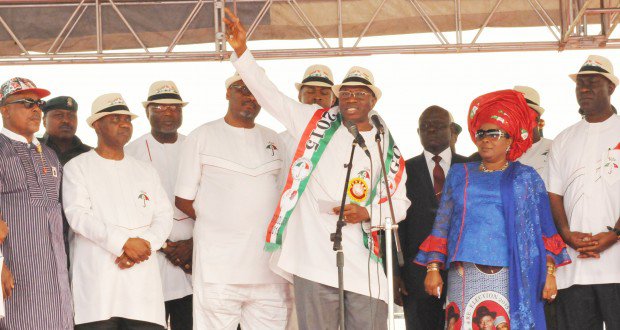 FROM LEFT: PDP DEPUTY NATIONAL CHAIRMAN, PRINCE UCHE SECONDUS; VICE President NAMADI SAMBO; PDP NATIONAL CHAIRMAN, SEN. ADAMU MUAZU; President GOODLUCK Jonathan AND FIRST LADY DAME PATIENCE JONATHAN, AT THE PDP PRESIDENTIAL CAMPAIGN IN ENUGU ON FRIDAY
The Peoples Democratic Party, PDP, has challenged the presidential candidate of the All Progressives Congress, APC, Maj. Gen. Muhammadu Buhari (retd.), to flaunt his school certificate, if he has any.
There has been controversy surrounding the APC presidential candidate's academic qualification after he deposed to an affidavit, which he tendered to the Independent National Electoral Commission, INEC, claiming that his certificates were with the Secretary of the Military Board.
The ruling party threw the challenge at the PDP presidential campaign rally organised for President Goodluck Jonathan in Ado-Ekiti, the Ekiti State capital on Tuesday.
The Director General of the PDP Presidential Campaign Organisation, Dr. Ahmadu Ali, at the event, boasted that Nigeria was working under Jonathan.
He said, "Nigeria is working under Jonathan… Ekiti has more than 60 per cent of all the professors in Nigeria. You have no business voting for somebody whose schools certificates we have just been informed were not available".
Leading the challenge against Buhari and his party, APC at the rally, the host Governor, Mr. Ayodele Fayose, said anyone who wanted to rule the country must have the necessary academic qualification.
The governor, who took the opposition party to the cleaners for accusing him of not having the required academic certificate to govern the state, wondered why Buhari had not made his certificate public.
Fayose, who brandished his certificates at the rally, said, "Anybody who wants to be the president of this country must have the necessary qualification. The APC said I don't have a certificate. They shouted and went to the Polytechnic of Ibadan, secondary and primary schools to get photocopies of the forms I submitted. The court told them they are liars and propagandists. Let General Buhari flaunt his certificate if he has got them".
Also challenging Buhari to make public his academic certificate, the Ondo State Governor, Olusegun Mimiko, who is the South-West coordinator for the PDP Presidential Campaign Organization said, "Does the Presidential candidate of the APC have a secondary school certificate? They must answer. They can't sweep it under the carpet. If a man says he would fight corruption, we must be sure of his personal integrity.
"If truly he does not have the certificate, did he swear to an affidavit that his certificate is with the military authorities?"
Mimiko, who spoke on behalf of other PDP governors at the rally, continued: "We want a president that is educated, with a caring heart, that is compassionate, that is cool even in the face of provocation. We want a president who can preside over elections that his party will lose and will congratulate the opposition".
In his address to the mammoth crowd, President Jonathan said he would not deceive Nigerians by promising what he would not be able to deliver.
He then promised to complete the Ifaki-Ado-Ekiti and Akure-Ado-Ekiti roads if re-elected.
He also spoke about the transformation he had brought to education and the agriculture sector.
The President said, "That is why we gave a Federal University to Ekiti State. Because we want young people to be job creators, that was why we started 'YouWin'".
The National Chairman of the party, Adamu Mu'azu, said Jonathan had demonstrated good leadership quality and hard work that had made Nigeria greater.
According to him, Nigeria, under Jonathan, is the largest economy in Africa and it is still "growing".
"Despite his humility, he has been able to do things only courageous people can do. If you vote him, you will see a lot more development.
"Your President is very educated. He is an enlightened President. It is due to the tolerance of Jonathan that today we don't have any political leader that is in exile or in jail.
"It is because of freedom he has brought, that is why we have absolute free press freedom that even when they say something that is not true about him, none of them is in jail".
Fayose said he was back to defend Jonathan's cause against his critics, saying the APC was not sincere about the fight against corruption and terrorism.
"It is the responsibility of everybody to fight terrorism and corruption. It is easy to criticise, Jonathan has done his best.
"You are too gentlemanly for them. You are a President who will not hurt a fly. Your opponent use unorthodox means to do their things. They don't obey the rules of the game. It is easy to criticise. When they criticise, I just laugh.
"They want to use Buhari as a siege. We are not going to allow any president to die on that throne anymore. I'm not against the North. The North deserves to rule this country, but they should wait for their time", he added.
Support InfoStride News' Credible Journalism: Only credible journalism can guarantee a fair, accountable and transparent society, including democracy and government. It involves a lot of efforts and money. We need your support. Click here to Donate