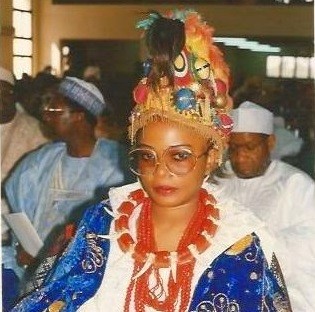 It seems the revelations on mind-boggling corruption that took place under the Goodluck Jonathan administration is only just starting with a prominent citizen from the Niger Delta region, where the ex-president hails from, providing further insight.
The Akasoba of Kalabari land in the Niger Delta, Queen Zainab Duke-Abiola, who is the latest to make startling revelations of fraud that took place in the oil sector under the former president, says she has evidence from the White House that a former Petroleum Minister stole $9.3 billion.
Speaking in an exclusive interview with The Nation, Mrs. Duke-Abiola, who is one of the late Chief Moshood Abiola's wives, said: "According to the information available to us, the minister stole more than $9 billion; not Australian dollars, but US dollars".
"And what I am saying is that the money should be used to develop the Niger Delta. Use this to help the impoverished Niger Deltans", she added.
Her claims are contrary to those made by Edo State Governor, Comrade Adams Oshiomhole, who put the figure at $6billion, based on what senior officials of the State Department told President Muhammadu Buhari when he recently visited the U.S on President Barack Obama's invitation.
When asked how she could prove this allegation, the queen said she was in Washington DC during the president's visit, and that she also met with White House officials who revealed the information to her.
"My relationship with White House is over 30 years. Americans are very eager to make sure that the money gets back. They want Nigeria to use that money for education", she said.
Mrs. Duke-Abiola further insisted that Buhari's delegation to Washington DC was aware of the exact amount stolen by the former minister and some others and alleged a conspiracy to give inaccurate figures because according to her some people from a section of the country are involved.
"Oshiomhole said it's about $6 billion. Information available to me states that the minister and her associates siphoned away $9.3 billion. I'm watching the game that they're playing. If they don't publish the evidence, I have document to support this", she said.
The Akasoba insisted that members of the presidential delegation were focusing on the $6 billion allegedly stolen by a minister in the previous administration, leaving out "the remaining $3.3 billion".
"If Buhari is not sure of his fact and figures, he should go back to Washington DC. If I read in the papers that they say $9 billion, I would keep quiet. But why are they saying only $6 billion?" she queried.
The Akasoba, an Ijaw, advised that when the money is recovered, it should be used to develop the Niger Delta.
"All I want is that this money should be used to help the less privileged, especially in the Niger Delta. Give these people fishing nets. Build some bridges for them. Clean up their rivers so they can fish once more, so they can have food on their tables once more. Build cottage industries for them. Put up little clinics as much as you can. In fact, we're talking about $9.3 billion, so build a John Hopkins hospital. Build a UCH replica in the Niger Delta. If there's some extra money use it to help other regions", she said.
The Akasoba spoke of her shock when she received the evidence from the White House.
"Some people said that much money couldn't have been stolen", she said, adding: "I was one of those who didn't believe. When they gave me the document, I was shocked. I have sent it to the appropriate Niger Delta elders. So, we know that nobody is accusing anybody wrongly".
The post Former Jonathan Minister Actually Stole $9.3bn, Not $6bn As Alleged By Oshiomhole – Akasoba Of Kalabari appeared first on INFORMATION NIGERIA.
Support InfoStride News' Credible Journalism: Only credible journalism can guarantee a fair, accountable and transparent society, including democracy and government. It involves a lot of efforts and money. We need your support. Click here to Donate