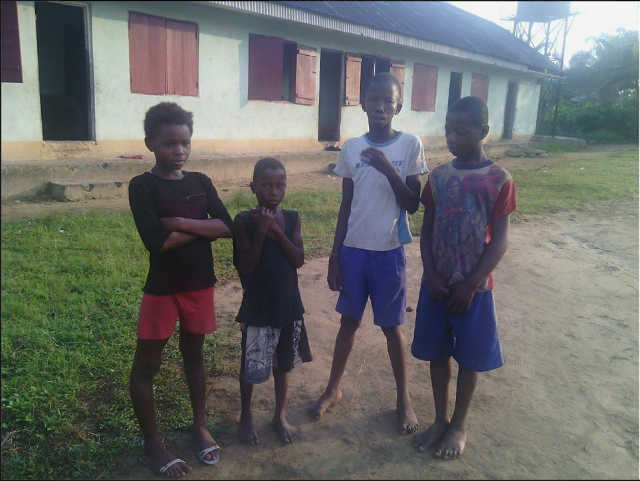 An Eket-based charity organization, the Child's Right and Rehabilitation Network (CRARN), has rescued four children who were hiding in a bush to avoid lynching after they were labeled witches and wizards, tortured, and abandoned to their fate by their families.
Speaking to newsmen early this week, one the centre principal coordinators, Ms Elizabeth I. Wilson said she lead a rescue team to where the children were hiding in the bush to avoid persecution after a hint by a volunteer before there were rescued.
"We got information from a volunteer who came to our centre and told us that he had seen some of our children in the bush. We told him our children were not missing and requested him to take us to see the children who were hiding. He obliged and took us there. When we arrived, they wanted to run, but I told them we were coming to help them; so they decided to follow us to our centre on our behest." Wilson narrated.
The children, who looked disheveled and unkempt were four in number who came from different families and communities. They recounted their ordeals in the hands of their families at home and when they were on the streets to our reporters.
The only female among them,who her name as Esther Walter Okposon, said she didn't have any problem in the house until her father got a new wife when her mother left. She said that one fateful morning, she woke up late from sleep and discovered the school bus had come and gone; and she asked her father why he did not come and wake her up. Instead of her father responding, her stepmother retorted abruptly that she would not stay in that house and attend school anymore. She said her stepmom accused her of planning to infect her six months old step stepbrother with witchcraft spell. She also hinted that her stepmother started hating her since she gave birth to her stepbrother.
"My stepmother started showing a strong dislike for me after giving birth to my stepbrother. She even starved me for no good reasons"
Esther further revealed that her elder sister, Elizabeth had been missing for some months before she (Esther) was booted out of the house and when she asked her father her sister's whereabouts, he would say " she is with my aunt in Uyo, tomorrow with my uncle in Enugu, the next day he would tell me she is schooling in Lagos. He kept telling lies all the time I asked him. I am concerned that she might not be alive…." Esther recollected with sobbing eyes.
The Primary 6 pupil called on the government to investigate why her sister has been missing for this long without explanation.
"I want the police to ask my father where he keeps my sister, Elizabeth for this long. If she's dead, he should tell us."
Esther lamented that her school mates were now transiting to secondary school while she lived in the bush with animals in inclement weather.
Another child Daniel Aniema Ekpo said his father lived in Upenekang, a fishing settlement in Ibeno where the ExxonMobil is situated while he lived with his mother in Ikot Uso Ekong, in Eket. He said things began to change for the worst late last year when a 'witch' stigmatized child, under pressure by a group of men, also labeled him as a wizard. He said since then, people around him started hating and beating him including his mother. At some point, he recaled, he would be called out and beaten because he got close to other children, tied to a stake and hit multiple times with sticks. He was later asked by his tormentors to leave the compound or he would be killed.
Daniel was found with multiple burns on his body which he revealed that his mother heated matches in fire and branded on his body severally. This propelled the organization to report to the police. She was arrested and later granted bail, but Daniel still remains in CRARN because of fear of torture and possible death from his mother and the neighbours.
Also in this dilemma is Wisdom Emmanuel Victory, an 11-year-old boy and a frail looking lanky, was not really disposed to responding to reporters. He, however, unenthusiastically, said he's from Ikono Local Government Area of Akwa Ibom State and ran away from the church he was kept for weeks without food because the prophet told his parents that he was not willing to denounce witchcraft practice; a thing he said he denied knowledge of.
But the case of a six-year-old Emediong Ukeme Ime Cynthia seems more than frightening. Emediong hails from Oniok-Edo in Esit Eket Local Government told our reporters that his father and mother separated when he was four, and his mother took him to live with his maternal grandparents. One day he decided to visit his father and stayed for about a month. His stepmother returned home one day from a prayer session called 'tarry-night' by locals and told him that when he left the house, he should not return again. That night his father woke him up in the middle of the night and asked him to confess if he was into witchcraft practice. He said when he denied it, his father brought matches and hit him on the head twice and the whole place became dark. He then dragged him out of the house and told him not to come to his house anymore. The little lad said he walked back to his grandpa's house in the wee hours of the night and told his mother (whom he gave her name as Blessing Inyang Etukeka) what transpired, but she didn't say anything. That very week, she packed her clothes and traveled to the Eket town. He further said that his uncles asked him to leave the house.
He recounted that when he left the house and roamed the streets, he met other abandoned children in a burial ceremony. Since then they became friends on the streets.
Emediong further disclosed that while they were living in an abandoned, yet uncompleted building, some men would come and attack them with sticks and matches, so they ran and hid in the bush where they were finally rescued by the CRARN rescue team.
As at the time of filing this report, there were no report of reconciliation of any of the four 'witch' children; but reports of other children who needed rescue. To reach out or support theses children, go to crarn.net
Reports from Eket- Nigeria
Support InfoStride News' Credible Journalism: Only credible journalism can guarantee a fair, accountable and transparent society, including democracy and government. It involves a lot of efforts and money. We need your support. Click here to Donate