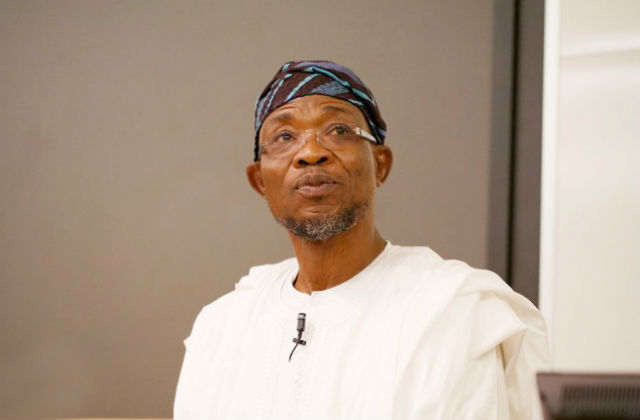 Governor Rauf Aregbesola of Osun State, on Monday, inaugurate the Governing Board Of Ladoke Akintola University Of Technology (LAUTECH) Teaching Hospital. During the inauguration, he charged the board members to hit the ground running. Read the remarks below:
Remarks By The Governor Of The State Of Osun, Ogbeni Rauf Aregbesola, At The Inauguration Of The Governing Board Of Ladoke Akintola University Of Technology Teaching Hospital At The Exco Lounge Of The Office Of The Governor, Bola Ige House, Abere, On December 21, 2015 
Protocols,
HIT THE GROUND RUNNING
It gives me great pleasure to welcome you all to the inauguration of the governing board of Ladoke Akintola University of Technology Teaching Hospital. Last month, the government announced a nine-man board headed by Prof Wole Atoyebi. Other members are: Dr. Kayode Akinlade, Dr. Ademola Akintolu Onifade, Oba (Dr) Folorunso Agboade Makanju Olaniyan, Prof Akeem Lasisi (Acting Chief Medical Director [CMD], LAUTECH); Dr. Temitope Olalekan Oladele (P.S Health), Dr. Surajudeen Ogunyemi, Chairman, NMA), Prof. Samuel Sunday Taiwo, Provost, College of Medicine and Dr. Daniel Adebode Adekanle (Chairman, Medical Advisory Committee). We are gathered here to inaugurate the board.
This is a well packed board headed by a renown and award winning medical scientist who had been provost of Lagos University College of Medicine; which also includes LAUTECH CMD; a traditional ruler who is also a medical practitioner; a medical labour unionist; the provost of LAUTECH College of Medicine and others who know and have practiced medicine at the public and private levels. This is our tradition, we don't do half measure.
This board is being inaugurated at an interesting time, when public finance is at its nadir, on account of falling oil price and uncertainties at the global economy. In addition to your statutory responsibilities, therefore, you will be required to think for the hospital and make it a centre of medical excellence, by national and global standards.
There is a medical ethics at the tertiary level: since a teaching hospital is a hospital of last resort, patients brought there are ordinarily not expected to survive. I want you to change this mind-set; let LAUTECH be a miracle centre where those expected to die would live.
The second miracle you are expected to perform is to secure funding for the hospital without passing the burden on patients beyond what it is at the moment. On this, you are well familiar with what obtains elsewhere, a substantial part of the funding for hospitals comes from endowments, gifts and philanthropy.
The third pressing need is to have harmonious relations with workers and trade unions and ensure a seamless running at the hospital. I am glad the chairman is himself a labour titan and the chairman of the medical association is on board. While not discounting the right of people to association and advance their cause through the unions, industrial actions should have no place in a hospital where the difference between life and death is a matter of seconds. It is a sign that we are fast losing our humanity when caregivers look on indifferently and on purpose while people die.
Lastly, the board must also be on board our administration's renewed efforts at work ethics. It is universally established that every human endeavour is for a higher purpose. This is why work must yield a higher value of result than the input. The surplus value between input and result is called profit. This is not a problem at the private sector; it is indeed the raison d'etre of enterprise where every worker hired is expected to add value. This principle must guide the public sector as well. Workers must see government work as an enterprise where the output must surpass the input. For the health sector, this must be manifest in punctuality, efficiency, honesty, a commitment to caring for people and ultimately an improved healthcare delivery to the people of the state. You should ensure that those who do not share this vision no longer have any place in the hospital.
In spite of the recent financial challenges we have had, we will continue to fulfil our obligations of state, especially to critical institutions like LAUTECH and other hospitals.
We have employed a multifaceted approach towards achieving our goal of providing healthcare for our people. The measures we have taken cover such health-related areas as provision of potable water supply to our people, especially in the rural areas, in order to promote personal hygiene. This has been known to go a long way in keeping away many disease-causing micro-organisms.
On the environment front, we have also ensured that waste management gets the deserved priority attention through regular bi-monthly environmental sanitation exercise, including the cleaning of work and market places on a weekly basis. Our administration has also taken care of the recurring incidents of flooding across the state along with its potential for spreading water-borne diseases. This we have done by embarking, immediately we assumed office, on widening, channelization and de-silting of our numerous canals, streams and rivulets. We are still doing it on a regular basis.
These and other measures have been adopted to raise the health status of our people. We have therefore been maintaining our free healthcare policy through constant procurement to ensure the availability of free drugs at our hospitals, while there are also free anti-malaria drugs for expectant mothers as part of their ante-natal treatment in government-owned hospitals. Indeed, in a recent World Bank publication, Osun came second after Lagos in the result of a national assessment for 2014 on infant and maternal healthcare delivery.
In addition, we have renovated nine state hospitals, as well as constructed nine trauma centres at the State Hospital, Asubiaro, Osogbo. There is also the upgrading of our existing primary healthcare centres while new ones are being built. To further enhance these efforts, medical equipment, furniture and electrical appliances have been procured for some of our health facilities where these are needed. Furthermore, ambulances were purchased and are now in full operation under the Osun Ambulance Services (O-Ambulance), which is aimed at improving the quick-response capacity of the health system, in cases of accidents and emergencies.
I congratulate members of the board and trust you will hit the ground running.
I thank you all for your kind attention.
Osun a dara!
[OSSG]
Support InfoStride News' Credible Journalism: Only credible journalism can guarantee a fair, accountable and transparent society, including democracy and government. It involves a lot of efforts and money. We need your support. Click here to Donate