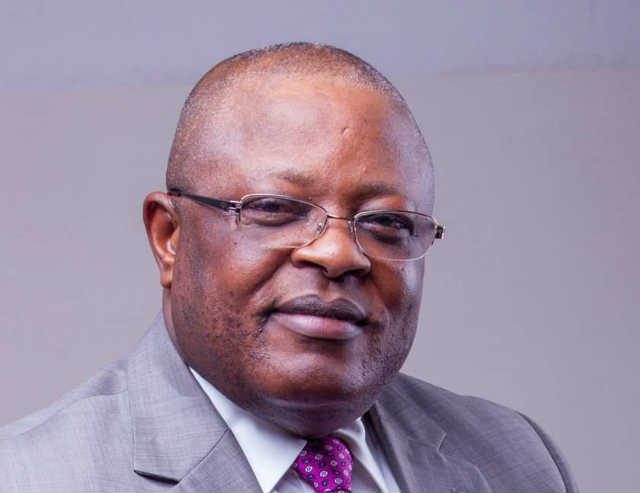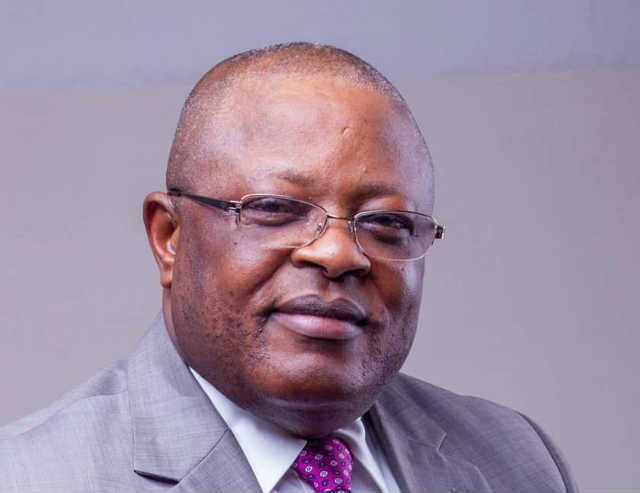 Hurray! Hurray!! Hurray o!!! my boss, uncle, the Lion of Ebonyi, the enigma and the new face of democracy in the politics of Nigeria, Engr. Dave Nweze Umahi FNSE, FNATE the present Governor of Ebonyi State is 53. God in His infinite mercy and divine consideration blessed Nigeria with this accomplished Administrator on the fateful day of 25th July, 1964. Wow!! I am so excited to celebrate this indefatigable, a resolute revolutionist who based on the trust of his brother South East Governors collectively elected him the Chairman of the South East Governors Forum. Governor Umahi's emergence to lead this strategic body did not come as a surprise to political watchers in Nigeria considering his organizational acumen, reputation as peacemaker, sagacity, prowess and the wisdom with which he has governed Ebonyi since his assumption of office on May 29, 2015 and formal acceptability of Ebonyi State into the mainstream of the politics of South East,"
It is on record that for the first time the South East Governors' Forum under the purposeful and visionary leadership of Governor Dave Nweze Umahi of Ebonyi State has a vision and drive for zonal socio-economic and security integration of the region and have mapped out strategies especially in energy sector for greater economic activities in Igboland. In order to achieve this, the S.E. governors have announced the composition of 10-man economic team which comprised Professor Barth Nnaji, former presidential economic adviser, Professor Osita Ogbu and eight others to be selected from the five states that make up the zone, adding two each to be selected from the five states in the zone. This vision will go a long way at improving power supply and help to spur its railway, cement production and other economic and industrial programs the zone is articulating in unism. Efforts are also made to interface with the Southeast Economic Corporation, Central Bank and the UK Department for International Development (DFID) for collaborations to achieve this noble goal,
In its vision to fight the menace of kidnapping, robbery and other vices prevalent in the region, the Forum has planned for security integration of the region and in this regard agreed to compare notes, collaborate with their commissioners of police and other security agencies to achieve this security integration.
Considering the unique position of this new face of democracy in Nigeria, this trailblazer, an asset the Presidency of the Federal Republic of Nigeria ensured that he was among the six political leaders selected to visit our ailing President at London at least to reassure Nigerians that our President is getting better.
In recognition of this great and unassuming leader from Ebonyi State he was awarded the prestigious Zik Prize for exemplary leadership in consideration of his unprecedented feats within two years in office as the Governor of Ebonyi State, which has given hope, not only to the South Easterners but to the entire Nigeria that leadership that can take her out of her present wood and predicament is still possible." Affirming the greatness of this new discovery in the politics of Nigeria one of the big voices of Africa, a well respected world leader and a former Nigerian President, Chief Olusegun Obasanjo, described Governor Umahi as a true Nigerian which zeal, energy and character is a true test of a leader. I have seen his exploits and the speed to which he wants to develop Ebonyi."
Ebonyi State in the past was seen as the most backward and undeveloped State in South Eastern Nigeria but today through Engr. Dave Umahi, the State has come to acquire a new reputation as the most progressing and progressive state in the region. Umahi's focus and passion have brought unprecedented transformation and development in all sectors of Ebonyi State. Based on his track record, Umahi has proved himself worthy of being regarded as a reincarnation of Dr. Nnamdi Azikiwe a world acknowledged leader, an icon of repute and one of the greatest leaders from Nigeria, who was in his life time called The Great Zik of Africa."
It is only a resolute revolutionist leader in the mould of Governor Umahi that could envision at this period of recession, scarcity and hardship to initiate a total new city of 5,000-unit mega city housing project in Ebonyi State though to be bankrolled by the Africa Nations Development Programme (ANDP) is another milestone that put Governor Dave Nweze Umahi as a concerned and committed lover of his people. Described as one of the best things that have ever happened to Ebonyi State as I am convinced that this housing project that will comprise of 5,000 detached two bedroom bungalows and other facilities such as schools, water, electricity, police station, barracks, hospitals among others is not only a milestone but also a strategic move to put Ebonyi in the league of the most developed states in Nigeria. This project that will be executed by this international body will cost the Ebonyi State Government little or nothing apart from the donation of the land and construction of a two-kilometre road to the site
Apart from all these milestones, Governor Umahi has arranged with the Bank of Industry to deposit N2 billion to fund small scale industries in the State, which will be made available to groups of people in the state with viable projects. Ebonyi under the watch of Governor Umahi will assist investors interested in the development of limestone and salt in the State, while the administration is cooperating with a multi-national cement company, Larfage, which is at the final stage of establishing the biggest cement factory in the country in Ebonyi, even as efforts are in progress to see that Nigercem in Nkalagu resume production soon.
To summaries what Umahi has become in the politics of Nigeria, his brother Governor and the Governor of Abia State recently declared him as the wisest Governor in Nigeria. The Abia State Governor, Dr Okezie Ikpeazu, who made the declaration during a visit by the Ebonyi State Executive Council to Abia State, is more than justified in the rating based on the realities on ground in Ebonyi vis-à-vis other states of the federation.
Gov Umahi's style of leadership is truly unique and has the imprint of wisdom all over it. At a time when many other states are finding it difficult to pay workers' salaries or meet other basic needs as a result of the economic recession in the country, the Umahi Administration, despite Ebonyi's modest resources, embarks on numerous road projects, flyovers, roundabouts, street lights and hospitals, while also executing a revolution in agriculture, as well as the educational and health sectors. This is in addition to regular payment of civil servants, who also get paid a 13th month by the State Government. Therefore, Governor Ikpeazu was 100% correct in describing Governor Umahi as the wisest State Governor in Nigeria.
This God gift to us Ibos and Nigeria as a whole has in addition to all these feats received accolades from World Leaders. Recently the United States Ambassador to Nigeria, Mr. Stuart Symington declared that Abakaliki rice being aggressively promoted by Governor Umahi is one of the best in the world. According to the Ambaasdor, "Your rice is the best anywhere in the world and we commend the Governor for putting his government to work in Ebonyi State."
I urge Ebonyians and the entire Easterners to join hands and celebrate Umahi for these positive testimonies by distinguished non-Ebonyians as I appeal to the people of the state to join in celebrating their God-given Governor who has deferred sleep in his quest to make Ebonyi one of the best states in Nigeria.
If we are to consider the massive investments in security, welfare, infrastructure, agriculture, roads, flyovers, health and education in Ebonyi State by this man, we from Ebonyi State count ourselves lucky having him as our leader.
Umahi and his profile
Born on July 25th, 1964 to late Elder Joseph Umahi Nweze and Margret Umahi of Umunaga in Uburu, Ohaoazara Local Government Area of Ebonyi State. Umahi received his secondary education from Ishiagu High School and the Government Secondary School of Afikpo before entering the Enugu State University of Science and Technology in 1982. He graduated in 1987 with a Bachelor of Science Degree in Civil Engineering.
In 1990, he co-founded Norman Engineering and Construction Nig. Limited with Ombo Isokarari, serving as its general manager until 1993. Until 2011, he served as chairman and CEO of Brass Engineering & Construction Nig. Ltd., Focus Investment Nig. Ltd., and Osborn La Palm Royal Resort Ltd.
Umahi entered public service in 2007 as the acting chairman of the Ebonyi State chapter of the Peoples Democratic Party. From 2009 to 2011, he served as state chairman of the party. During that term, he served a year on the governing board of the Federal Medical Centre in Asaba as its chairman.
The Politics of Umahi
To Ralph Waldo Emerson an American Essayist, Lecturer and Poet, "Do not follow where the path may lead. Go instead where there is no path and leave a trail". This is exactly what Engr. Dave Umahi is currently doing to give a new direction to Ebonyi, Ebonyians and the Ibos as the Leader of the South East Governors' Forum. The few months I have spent as a Technical Assistant on Media to this enigma of a man, I have come to understand him as one character that, "Nothing seems a problem to him and no issue is insurmountable so far he is concerned. Problem does not exist in his dictionary". This is why John Maxwell with Umahi in mind stated, "The pessimist complains about the wind. The optimist expects it to change. The leader adjusts the sails." Discussing and narrating the journey of Umahi to the office of the Governor of Ebonyi State is like reading a typical story in James Hadley Chase's novel. It started when the first civilian governor of Ebonyi State, Sam Egwu, appointed him acting chairman of PDP, Ebonyi State chapter. In that capacity, as a Trojan he is, he fought to ensure that the PDP candidate in the 2007 gubernatorial candidate, Martins Elechi, not only won convincingly but saw him through to the Supreme Court of Nigeria. This action led to his businesses and personal outfits being burnt and destroyed in his home town, Uburu. For proving himself as a great leader, he was formally confirmed as the substantive chairman of PDP. He not only made PDP under his watch a cohesive, vibrant, united family but a political lethal force in the state, ready to pull down any form of opposition using its grassroots appeal as a strategy. He is reputed to have built the best State Secretariat of PDP in the entire Nigeria.
Based on his unique leadership style, which he exhibited so much as the PDP Chairman in Ebonyi State, he was duly rewarded with the office of the deputy governor during the second tenure of Chief Elechi, during the 2011 gubernatorial election in which he contributed so much financially, materially and spiritually to ensure that Elechi was duly re-elected.
It was very obvious that he will succeed Elechi come 2015 gubernatorial election, based on mutual understanding, as a result of his sacrifices and the risks he took to ensure the success of his party in the state. But to make his journey the fairy tale it was, he was shocked to his marrows when in the company of elders and chiefs from his community, the then Governor Elechi bluntly told him that he will never succeed him. Instead, he backed then Minister of Health, Prof Onyebuchi Chukwu, who the governor nominated to succeed him.
At this point, Umahi took his fate in his hands and resorted to God. And with the help of the then Secretary to the Government of the Federation (SGF), Chief Pius Anyim, Sam Egwu and others, he was eventually given the privilege of reclaiming what was truly he is. This is the divine march that has recovered Ebonyi State from the doldrums to its present glorified and enviable state.
Bill Taylor after carefully study of the macabre dance in the politics of Ebonyi State in his article titled, "Do You Pass the Leadership Test?" wrote, "The true mark of a leader is the willingness to stick with a bold course of action — an unconventional business strategy, a unique product-development roadmap, a controversial marketing campaign — even as the rest of the world wonders why you're not marching in step with the status quo. In other words, real leaders are happy to zig while others zag. They understand that in an era of hyper-competition and non-stop disruption, the only way to stand out from the crowd is to stand for something special."
"I am glad to note that all these challenges and uncomfortable scenarios were just incentives for Umahi to do the impossible in Ebonyi State as he demonstrates his ingenuity in the arts of governance that forced the amiable Governor of Abia State, Dr Okezie Ikpeazu, to describe him as the "wisest governor" in Nigeria. It is also a fact not minding the position of the opposition political parties and people that are awed by the great feats of the Umahi's administration in such a short period of time that under the administration of this enigma, Ebonyi State can boast of the best Laboratory Diagnostic Centre and equipped Virology Centre. Recently, the Inspector-General of Police stated that Umahi is the most-friendly governor in Nigeria, while the United States Ambassador to Nigeria, Mr. Stuart Symington described the Ebonyi Rice as the best in the entire world; while the British High Commissioner to Nigeria, Mr Paul Arkwright stated that, "Ebonyi roads are the best in the South-East". With all these postulations, one cannot make any mistake to declare that Umahi has delivered"
Today, Ebonyi State is rated as one of the most outstanding growing states in Nigeria, as Umahi embarks on total rehabilitation of the dilapidated roads in Abakaliki and construction of roads in all the zones of the state.
While the current recession ravaging most states in Nigeria has made them unable to pay their staff salaries for many months, the administration of Umahi in Ebonyi State has not only increased the salaries of its workers by 5 per cent, but also pays regularly on 15th of every month. What is more, we are now hearing about the 13th month salary in Ebonyi State, Governor Umahi having decided to pay the state's civil servants 13th month salary during the 2016 Christmas!
Today, there is no family or community in Ebonyi State that is not feeling the impact of governance in Ebonyi, and are all singing the praises of the governor: pleading with him to go for a second term, come 2019.
Umahi has not only redefined governance, but has achieved within less than two years in office what past administrators couldn't achieve in the 20 years of the creation of the state. This is why it looks as if John Maxwell had Umahi in mind, when he stated: "Knowing how to do a job is the accomplishment of labour – showing others is the accomplishment of the teacher – making sure the work is done by others is the accomplishment of the manager – inspiring others to do better work is the accomplishment of the leader."
The Poem I Developed to Celebrate My Boss and My Uncle on this Auspicious Birthday Celebration
My Boss! My Uncle!! My Governor!!! My Excellency!!! Your name David has formed an independent, positive, and determined personality who can't easily be influenced by the opinions of others. People who don't know your pedigree and modus operandi will accuse you of being stubborn. Yes! It is a fact that once you have made a decision, you put forth great effort to accomplish your goals regardless of obstacles. Your progress is built upon your meticulous awareness of detail, your patience, and your consistent hard work. You have great ambitions and your requirements in life are moderate.
Let the whole world hear me, My Uncle is a realist with interest in mathematics, technical and scientific fields and that is why he has brought all these into the governance of Ebonyi State turning the entire State into one huge Construction Site!!! He has brought inventive to bear in these fields. You are interested in facts and figures and do well in positions that require great attention to detail, such as accounting and computer technology. Activities combining ingenuity and manual skills are of particular interest to my boss, enabling him to excel in technical vocations, mechanical, electrical and electronics. It is difficult for him to visualize or theorize unless the ideas being presented are developed in a logical step-by-step manner. It is what he can see, experience, and prove through compilation of facts, experiment, and logic that has greatest value to him. My uncle, my uncle you are always skeptical of new ideas that are more visionary, idealistic, or philosophical but as a realist, you handle issues in most pragmatic way that always astonish those around you and earn their admiration. As a great David, he inhibits the inspirational quality of musical or artistic expression, in which any interests he has would lean toward the practical, technical aspects and the perfection of technique.
Your loyalty to, and appreciation for your family and friends are shown by what you do for them rather than what you say. This name limits your ability to be expressive, imaginative, and versatile. As a result, this limitation causes repression and frustration at times. In personal relationships, it is hard for you to express the appreciation and compliments that mean so much to some people. Also, you do not appreciate being the target for sentiment or flattery. You are not overly conversational; in fact, at times, you consider time wasted when spent in idle chatter. You are more interested in being active and accomplishing the tasks you set for yourself. Your lack of expression can lead to misunderstandings and unhappiness with those close to you who do not understand your practical, candid, somewhat self-centred approach. Humour and spontaneity are not natural expressions of this name. You are serious and methodical.
My David has nothing else to prove as he has demonstrated without any reasonable doubt that he is a leader who has the vision to take Ebonyi State to the next level. I urge the good people of Ebonyi State to speak with their votes in 2019 and ensure that landslide victory for my David so as to ensure that he gets four more years with which to build on the great foundation he has laid for our dear State,"
My David is the most outstanding and I am very proud to be associated with this great Zik of Ebonyi State.
Conclusion
As much as it is impossible to in one article enumerate all the feats of this great leader from Ebonyi State, let me conclude by stating that if we are to judge Engr. Dave Nweze Umahi based on the realities of his feats in the governance of Ebonyi State, I can comfortably state that Ebonyians will continue to give him their full support and will cap it by overwhelmingly re-electing him in 2019 to enable him continue his good work."
I therefore congratulate Governor Umahi my leader and my uncle for his birthday on this auspicious day and for showing that Ebonyi State can be number one State in Nigeria and for all these great feats and positive testimonies by distinguished non-Ebonyians and redefining governance in Ebonyi State, I must state that I am proud to be called ADA EBONYI and one of those considered worthy to be among the UMAHI's great team.
Let me formally conclude this treatise by declaring that the Lion of Ebonyi State at 53 has come of age and can now roar and let the world take note that Ebonyi will shine and shine to the glory of God
Happy birthday my leader, uncle and the lion of Ebonyi State.
Wishing you long life and prosperity.
Monica Ada Chidinma Eze AKA ADA EBONYI is Technical Assistant (TA) on Media to Governor Dave Nweze Umahi and can be reached through dunaebonyitransformation001@gmail.com & quintrelking@gmail.com
Support InfoStride News' Credible Journalism: Only credible journalism can guarantee a fair, accountable and transparent society, including democracy and government. It involves a lot of efforts and money. We need your support. Click here to Donate