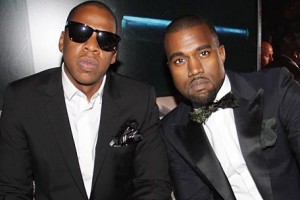 A new documentary has dissected the 'epic rivalry' between Jay Z and Kanye West that's led to one of the biggest falling outs in music history.
Public Enemies: Jay Z v Kanye will chart the "meteoric rise and colossal falling out of two of the world's most iconic popstars".
The one-off, hour-long documentary on Channel 4 features home videos, unseen footage and exclusive interviews with the people who know them most – to get the root of exactly why one of the biggest duos in hip hop history became enemies.
And it looks like Kanye's marriage to Kim Kardashian could be the root of the problem.
Kanye married Kim – one of the most famous women in the world in 2014.
Meanwhile Jay Z continued to guard his privacy – despite being married to Beyonce.
The queen of reality TV has brought Kanye a massive amount of public exposure but rumours have circulated that it's come at the expense of his relationship with Jay Z.
GLC, rapper and friend of Kanye revealed that Kanye's high-profile marriage has changed him.
"The guy that I see now, that's not the guy that we knew back then, that's not the same person," he said.