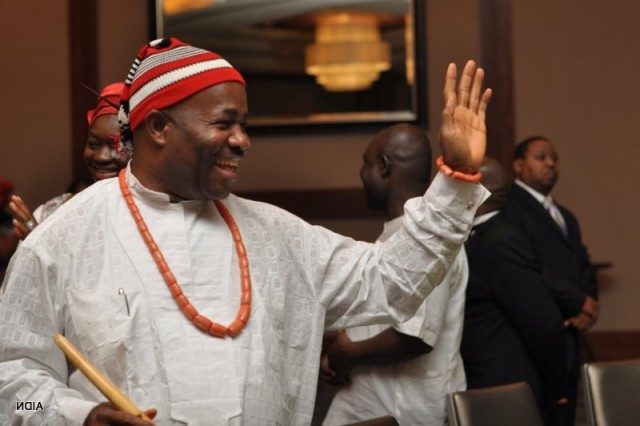 The Senator representing Ikot Ekpene Senatorial district and ex governor of Akwa Ibom state, Senator Godswill Akpabio he does not regret quitting PDP for APC.
Godswill Akpabio revealed this in his hometown, Essien Udim local government area as he answered questions from newsmen after the burial of his nephew this weekend, where he said if he could decide now, he'll still join APC.
He also said he did not regret choosing governor Udom Emmanuel as his successor, saying he is someone who is presentable.
His words, "I have no regret bringing Udom Emmanuel. You know like I always say, in 2015 I wasn't looking for a governor for Godswill, I was looking for a govenor for Akwa Ibom. So if Akwa Ibom is happy with him , why not I will be satisfied. You Know it is always good that you bring out somebody who is presentable.
"Even if you want to go to a football match you must look for good players. So for me I don't have any regret over Udom Emmanuel. I pray that he does well for the state. And I also pray that God give him the wisdom as long as he has the opportunity to pilot the affairs of the state, he should do well for the happiness of our people. I have no regret at all.
"I have no regret equally of my joining the APC. I have no single regret. If I were to take the decision today I will go to the APC. I am happy in the APC."
"Why are you people listening to mischief when I am getting entrenched in APC. I am very happy to be in APC. I am excited and I thank God that the President won the election resoundingly all over the country."