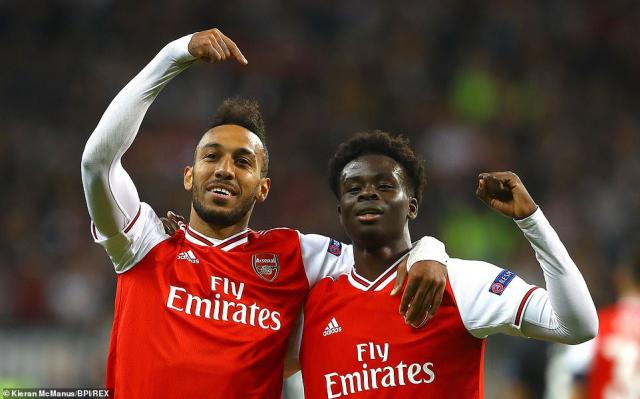 Arsenal forward, Bukayo Saka has come out to reveal that he wants to follow the footsteps of club legend, Thierry Henry.
He recently revealed that he used to watch the Frenchman score goals for the team and his mindset was just so elite.
According to him, Henry was super passionate for the club and he did all he could to win with Arsenal.
He added that he wants to emulate his career because Henry was an inspiration to him when he was much younger.
His words on Aubameyang, "In the academy we got tickets to watch [the first team] and I used to see him scoring goals. To now be playing with him is just amazing,"
"You know he's going to score a goal for us. He's such a good guy who helps all the young players with advice and he's also funny as well!"
On Henry "His mindset was just so elite. He told us about a day that Arsenal were behind and he wouldn't allow his team to lose before running past everyone to score,"
"When he speaks to your face and you see in his eyes how passionate he is for the game and how much he wanted to win it shows why he was such a great player.
"You dream of trying to emulate a career like his. As a young player that just inspires you and that's why scoring against Wolves meant so much to me."
"I was so excited to get it. It's stuff you dream of and to think of the legends who have had it is such an honour. I liked the number growing up because some of the best players in the world have worn it,"
"It shows how much confidence they have in me and I want to repay their faith and hopefully can write my own history in that shirt."
On being handed the number seven jersey which was previously worn by Robert Pires, Tomas Rosicky and David Rocastle, his words, "I was so excited to get it. It's stuff you dream of and to think of the legends who have had it is such an honour. I liked the number growing up because some of the best players in the world have worn it,"
"It shows how much confidence they have in me and I want to repay their faith and hopefully can write my own history in that shirt."