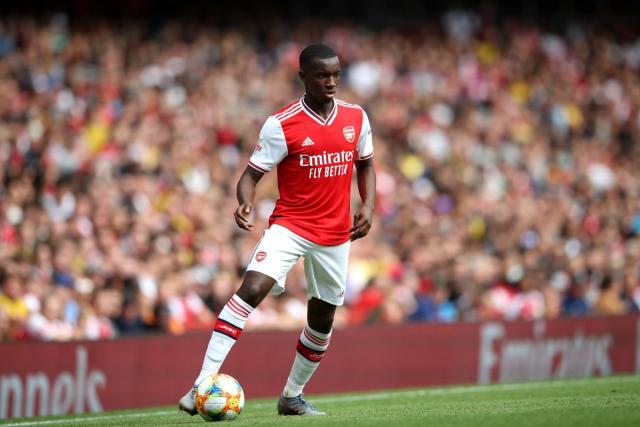 Arsenal player, Eddie Nketiah has come out to say that he is hungry to do better on the pitch under Mikel Arteta.
He recently revealed that the challenges he battled when he was much younger has given him the character to cope with in-game hardships.
According to him, he is now mentally tough enough to take pride in the chances falling to him and having the job of converting.
He added that he strives to reach Alan Shearer's level and he believes he has started very well.
His words, "A lot of the boys might have thought the chance had gone when I missed the pen but I just stayed calm and I knew another chance would come if I kept working and kept my head up,"
"I am mentally tough; I have faced a lot of adversity in my life and overcome it. Football is like that as a game, it isn't always going to go your way and I have learned how to deal with that. I take pride in the chances falling to me and having the job of converting.
"It is a double-edged sword when it doesn't come off; you have to be able to take it and get up and go again. That's what I always do, whether I score or miss, I will always put myself in the position for the chance and I want to have the opportunity to get that chance again.
"I showed my mentality today to keep going and when it did come my way, I tucked it away. It did come my way and I think it was quite a cool finish from myself and I was thankful for the great ball that Sess played me. It is a great feeling to win, qualify and break a record."
"I would love to get to where Shearer was, He is a great player and it is an honour to break his record,"
"I think I have started well, it is still early days and I think there's a lot more in me. I am looking to progress; it is about becoming the best player I can be.
"I am grateful with the opportunities that Mikel has given me so far and I am hungry for more. I am eager to kick on and keep contributing to both teams to play as many games as possible.
"The Euros is something to look forward to but I have to make sure I am doing well at my club and keeping performing, doing well and pushing myself as a player, then everything else will fall into place."