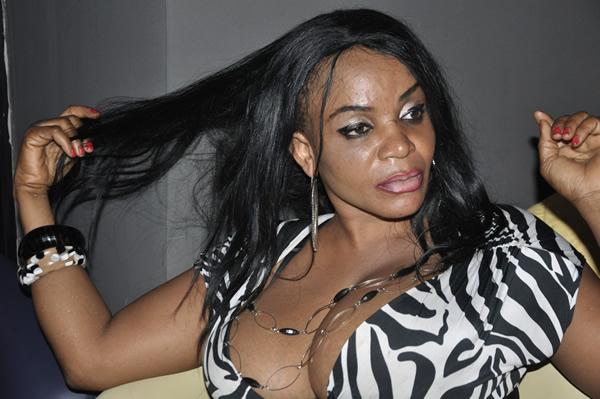 Popular and Highly endowed controversial Nollywood Actress, Cossy Orjiakor, has made it known that she is looking for a husband. The actress, who does not see any big deal in acting unclad according to her, has described herself as "highly spiritual". In a new interview with Ovwe Medeme, Cossy said a lot of things that might interest you. She talked about her current projects, marriage and some of the controversies surrounding her career.
Read excerpts below:
Career-wise, how has it been with you?
Career-wise, I have been doing very good.  You know it is not a competition so I just go at my own pace.
 A lot of things have been said or written about you, but who would you like people to know you as?
I am a very deep person; I am a very spiritual person. I love people who love me and I don't really care about what they say about me.
Does it affect you in any way?
It doesn't affect me in any way when people I don't care about talk about me. I try to make my anger so expensive that people can't afford it, except people I love.
There are those who say that you intentionally generate controversy so that you will always be in the news. How would you respond to that?
It is not about intentionally generating controversy. When I'm happy, when I want to have fun, the way I have fun might be controversial for some because like right now, I came out to work and I'm looking all good but if I'm going to a party, you don't expect me to be formal. You should also understand that what other people wear, when I wear it, it comes out different. There are different things that make me happy some people do drug but me I just like playing with my physique and playing with my attires. So that is the kick I get.
Your se*uality is always in the public eye. Are you comfortable with that?
I am very comfortable with myself. I love myself to bits. I love everything about me. I have no regrets.
People tend to know you more with your natural endowments…
(cuts in) When you talk about people, the truth is that, I don't really care. I am having fun. Life is short. So I just do my thing. If you keep listening to people, you will just change your destiny. You won't be able to achieve what you want. Then when you get old, you will be very annoying and irritable. Live your life. Don't bother about all those people, especially when there is no particular name attached to these people.
How do you catch fun?
I love listening to music. I love dressing up. I love going out. Generally, I love doing things that make me happy.
Where does your music career stand as of today?
Like I always say when people ask me this question, I'm not in a competition with anybody. I'm doing good all by myself. You know, I have a good friend. He is a big name in this industry. Any money he gets, he uses it to shoot expensive videos and yet, this guy doesn't even have a car.
Why would somebody stress themselves just because they want to be on TV all the time? It's expensive to promote music so if you do one a year, it is not a bad thing. It depends on how you cut out your life but I always suggest. If you are an up and coming, always make sure you have other things you do. Don't rely on just one source of income. That is why we have five fingers in each hand. Try to get like five things that will keep you very busy and will make money for you.
Are you working on an album?
My dear, again, let me repeat it. I am not in a competition with anybody. I have a studio in my place. I bought all the equipment needed for movie production. Anything that makes me happy, I just get it.
How would you describe your sense of style?
My sense of style all depends on what and how I feel. So if I feel like being sexy, I know what to do. If I am going for an interview, I know how to dress.
How do you relate with your fans?
I love my fans. I can do anything for them.
Some of them are wondering when you will be getting married…
I'm looking for husband o! Will you marry me? (laughs)
If I agree to marry you, what are some of the qualities you will use to rate me?
(laughs) That is a very private question…
In May, Cossy had balanced a glass of wine between her massive b**bs at the birthday bash of another Nollywood actress, Uche Ogbodo. In a recent interview, the actress said she still gets offers for movie roles but she's very choosy, saying, "I don't just accept roles like that."
Source: Naij
Support InfoStride News' Credible Journalism: Only credible journalism can guarantee a fair, accountable and transparent society, including democracy and government. It involves a lot of efforts and money. We need your support. Click here to Donate