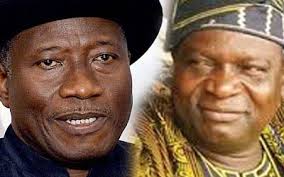 Former governor of Osun State, Prince Olagunsoye Oyinlola may have decided to take a firm stand once and for all on his political future as he has parted ways with his party, the Peoples Democratic Party (PDP).
The Okuku-born retired army general hinged his decision to part ways with the PDP on his belief that his services are not wanted by the party, more so that President Goodluck Jonathan doubts his loyalty even after going the extra mile to prove otherwise.
Oyinlola in a July 30, 2014 letter to the president, said he would not be doing himself any good "if I don't think seriously about my political journey and take a firm decision".
The former PDP National Secretary, enumerated the various efforts he and others including his friend and former military colleague, Senate President David Mark, made to reconcile him with the party and the president said: "I may, at this point, need to look beyond the party and take my destiny in my hands".
The letter, with reference number 00/PDP/5, reads in part: "Your Excellency, you are very conversant of all efforts made by me and very importantly, by respected leaders of the party to get this matter resolved and truly reconcile all aggrieved parties.
"I, however, learnt that you were not sure of my support for you, given my closeness to former President Olusegun Obasanjo hence the decision to disallow me from returning to my legally recognized position as the National secretary of the PDP.
"I have met you on several occasions on this matter to pledge my loyalty. At my last meeting with you, which was at the instance of the party's National chairman, Alhaji Adamu Mu'azu, you requested that I be part of the ongoing Osun State governorship campaigns. Mr. President would remember that I stated that the minimum the party leadership could do to get me to campaign was to instruct the Ogun State chapter of the party to withdraw its appeal at the Supreme Court; or alternatively, obey the Appeal Court order, and allow me to resume duty, the same way the party obeyed the faulty Federal High Court verdict that ousted me.
"To the foregoing, I wish to state that I was promised some positive response which never came, up till this moment. The Chairman of the party's Board of Trustees, Chief Tony Anenih CFR, has also on several occasions, after discussing me, met with Your Excellency on this matter assuring you of my loyalty to you and to the cause of the party.
"I am also aware that the Senate President, Senator David Mark, GCON, has similarly met with you and made a case for my return to office. Senator Mark went to the extent of asking you to hold him responsible for all actions I might take as National Secretary.
"Mr. President, allow me to state with emphasis that what joins Senator Mark and my humble-self is more than politics. The military family that binds us does not know double-dealing or disloyalty. A part of our training, we keep our words, hence we are called 'Gentlemen Officers'. That precisely was why the Senate President could most frontally vouch for me.
"Your Excellency, allow me to also recall that on three occasions, Senator Mark informed that I had agreed to submit to you a pre-signed resignation letter, if that would allay all fears of insincerity; and all, in a bid to ensure that the injustice of my illegal removal from office is redressed.
"I wish to respectfully state that I do not go back on my words, just like I don't abandon my friends, associates and leaders, no matter how hard the situation might be.
"That explains why as a State Governor, I remained very loyal to my boss, former President Ibrahim Babangida, GCFR, even when he had some issues with the government of former President Olusegun Obasanjo, I wish to respectfully recall very respectfully, that Chief Obasanjo never made any attempt to move against me on account of these differences.
"The same spirit today drives me as I maintain my loyalty to former President Obasanjo, who may, or who may not have any relationship with your government. It was that same spirit that made me insist on your approval of my candidature, in your capacity as national leader of the party and president, before I agreed with my brother-governors' request in 2012, to contest for the position of PDP National Secretary. I should like to state that I am not a fair-weather fellow. To my friends, the spirit is very similar to marital vow".
The former governor expressed regrets that President Jonathan refused to listen to entreaties by party leaders on his behalf.
He added: "Mr. President, I wish to observe that with all these efforts by me and other credible leaders of our party, it appears clearly to me that you are not totally convinced that I am who I have always been in my journey through life.
"I have, therefore, come to the conclusion that it is this mindset that is at the root of my challenges in PDP. It seems to me that I am not wanted by the national leader of the party; and I know that.
"Therefore, I will certainly not be doing myself justice and good, despite everything, if I don't think seriously about my political journey and take a firm decision.
"Mr. President, I may at this point, need to look beyond the party and take my destiny in my hands. I sincerely hope that this will solve the problem.
"Conclusively, Your Excellency, if I am doing the above and take further steps without telling you, I would be negating the pledge of loyalty which I had earlier made to you; hence this correspondence to Mr. President".
Support InfoStride News' Credible Journalism: Only credible journalism can guarantee a fair, accountable and transparent society, including democracy and government. It involves a lot of efforts and money. We need your support. Click here to Donate