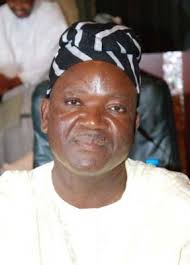 ABUJA (Federal Ministry of Industry, Trade & Investment Report) – The Minister of State for Industry, Trade and Investment, Samuel Ortom (Dr) has urged the Poland Government and Polish investors to take advantage of the President's Transformation Agenda to participate in Nigeria's economy. He made the call during the visit of the Polish delegation led by the Polish Deputy Minister for Economy, Andrzej Dyeha to his office in Abuja.
Samuel Ortom noted that Nigeria is the largest and fastest growing economy in Africa with a high population of 167 million, fertile land mass and abundant natural resources making the country the topmost investment designation in the world. He called on the Polish investors to take advantage of the business opportunities in Nigeria and introduce their advanced technology as well as expertise for the development of the country.
"We will continue to encourage our businessmen and women to partner with Polish investors on a win-win situation and I urged you to encourage your businessmen to invest in our country. We must ensure that both trade and investment relationships between both countries improve," he iterated.
While speaking on the Economic Partnership Agreement (EPA), the Minister assured the Polish delegation that all issues relating to EPA are being addressed and Nigeria is looking forward to working with Poland. "The private sector has been carried along and their interests protected. All issues affecting all stakeholders in this respect would be resolved to the interest of all, so that we can have a win-win situation as Mr. President is passionate about the EPA," he said.
"The Government will continue to provide enabling and conducive environments to eliminate the bottlenecks and hindrances to investment in our nations."
Speaking earlier, the Polish Deputy Minister of Economy, Andrzej Dyeha stated that his visit was a follow-up to that of his Prime Minister, who visited Nigeria earlier; noting that businessmen in both countries are eager to do more business together and there was need to open up and strengthen the economic relationship between both countries as well as ensure stronger economic ties.
He stated that Nigeria is the heart of both the region of West Africa and the entire African continent, indicating that the Government of Poland is hoping to explore a lot of opportunities in different fields such as agriculture, shipping, oil and gas. He added that the trade volume target of $100 million was far below expectation, expressing the gratitude of the people and government of Poland to the First Lady, Patience Jonathan, who commissioned a new vessel in Poland and participated in a business forum.