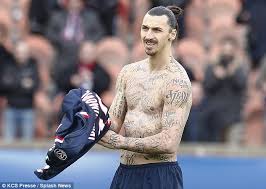 Gianluigi Buffon has admitted Italy do fear Zlatan Ibrahimovic ahead of their meeting with Sweden on Friday, although he says he is not their only concern.
While Italy know a win will take them through to the round of 16 with a group game to spare, Buffon says it is premature to think about the next stage of the tournament until they are mathematically certain of progressing and that his former Juventus teammate Ibrahimovic is bound to make that as complicated as possible.
"We fear Zlatan a lot because he's part of that small group of champions who make the difference for the teams they play for," Buffon said at a news conference in Toulouse. "Certainly Sweden are not just about Ibra, though, because they have other great players.
"But his strength and awareness of being a champion is not something you see in the other players. For me and for our defence, he's going to be a big problem."
Buffon already knows that, having been beaten by an exquisite Ibrahimovic strike back in Euro 2004.
"I don't have a fond memory of that goal to be honest," the 38-year-old Italy captain said. "I learned to appreciate it afterwards, though, because it was a beautiful goal. At the time, we knew Zlatan had talent, but he was still young so you could not predict what type of career he would have.
"Now, 12 years on, I think Ibra has shown his quality over and over again and he's repeated the goal he scored past me in Portugal three or four more times. It's something that is part of his repertoire and it is no longer a surprise."
Italy coach Antonio Conte shared Buffon's warning about Sweden's most dangerous player, saying he is a player who can "make a difference in any team."
"I think that Zlatan is such a strong, top player that he could play in any league in the world. I wouldn't rule any league out for him," Conte, who takes charge of Chelsea after Euro 2016. said. "As Gigi's said, he's a very good player. Sweden are a strong team with a star, which is him."
That said, Conte has identified many other reasons Sweden must not be taken lightly.
"In defence, the problem is not only [dealing with] Ibra, it could also be [Emil] Forsberg or [John] Guidetti; it could be their set-pieces and many things we have got to analyse," Conte said. "When we analyse our opponents, we look at them first as a team then break them down into individuals and try to highlight their deficiencies.
"We're seeing some really, really even games to be honest and you can see that each game is very, very difficult — look at France yesterday, for example, they only went ahead against Albania in the 90th minute and added a second in the 95th minute.
"The games are going down to the wire and we've got to be very well prepared, but we just have to concentrate on what we are doing, what we have to do, who we have to face and analyse their strengths and weaknesses. We've got to give the best we can to reach our first objective, which is to reach the last 16."