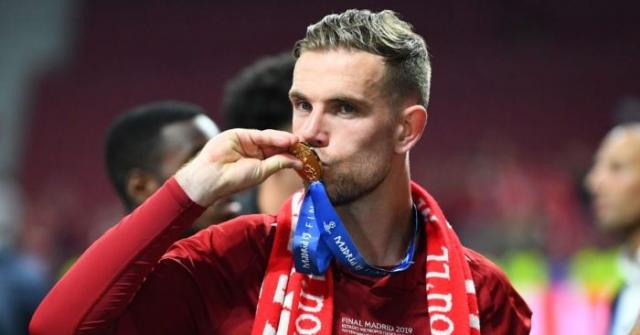 Liverpool forward, Mohamed Salah is better than he was in his first season at the club, Jordan Henderson has said.
Henderson recently revealed that the Egyptian's goal record at the club is currently computer game stuff.
According to him, the African's consistency in front of goal is scary and he is a more complete player than when he first joined.
He added that his contribution cannot be underestimated and it is a huge privilege to play alongside him.
His words, "Mo's numbers are jaw-dropping,"
"He's achieved his century in just 159 appearances – that is computer game stuff!
"I read that Mo got to this milestone in the third-quickest time in LFC history. The other two Liverpool players who got to a century quicker are Roger Hunt and Jack Parkinson – and we are going back quite a long time. It just emphasises the enormity of his contribution.
"I shouldn't be surprised, but it yet again underlines just how blessed we all are to be working with him, or be a supporter of this club at the time he is here with us."
"Not for one minute do I think Mo is taken for granted; he 100 per cent isn't by anyone associated with our club at least. But I do think the level of his achievement maybe deserves a little more recognition in the game.
"It's possible that the numbers he hit in his first season with us – 40-plus goals – means everything else since has been measured by an unfair and unrealistic yardstick.
"As someone privileged to play alongside him, I can tell you I think he is so much better now than during that first season. I also think his contribution now is more important than in that first season. As amazing as he was, he has only got better and better."