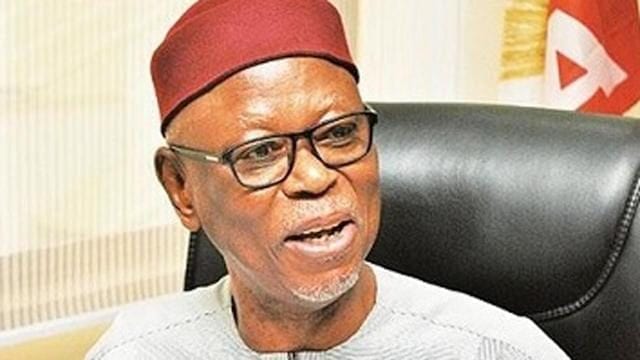 Charles Idahosa, a chieftain of the All Progressives Congress (APC) and former Commissioner of Information in Edo State, has said President Muhammadu Buhari is running the federal government with a divided political party.
He also said that the APC under John Odigie-Oyegun is weak but the Party's National Chairman 'plays the ostrich' just to keep his position and continue to enjoy the perks of his office as APC chair.
"The people the party wanted lost out in both chambers and a member of the opposition (Ike Ekweremadu) is Deputy Senate President today. From this, you can see that the leadership of the APC has failed us woefully. We have not been able to put our house in order. But I don't think the president has chosen to remain silent on the report. Very soon, I am sure action will be taken on it.
"We have a situation where Dino Melaye, an APC senator from Kogi state is fighting the state governor, another APC member to a standstill and the party cannot move in and call them to other. It is very embarrassing. We will only be deceiving ourselves if we say the party is not divided.
"The APC is in tatters and the leadership is so weak. Look at the issue of Timi Frank, the Deputy National Publicity Secretary. The National Publicity secretary, Alhaji Lai Mohammed became a Minister, everyone expect his deputy to have taken over from him but they went and brought another man (Bolaji Abdullahi) as his replacement.
"When we say APC leadership under Oyegun is weak, we know what we are talking about. I am older than Oyegun in politics. When I joined the Unity Party of Nigeria (UPN) in 1980, Oyegun was still in civil service. The fact that you become national chairman does not make you superior or make you think you have more experience than others.
"I know Oyegun very well. He is a Benin man like me. He is not old enough to be my father; the highest he can be is my senior brother and I am very close to his younger brother because we all went to school together. Because I know him does not mean I will now lie and say he is doing well. He is not performing well as national chairman. He is not doing the job he was elected to do. He went on a platform to become national chairman, now that he is there, he is now running to powers that be in order to secure his job. That is what is called sycophancy. He is now a friend of the president. The president didn't bring you. The president did not bring his vice, Prof. Osinbajo. Everybody in that cabinet was brought by one respective leader or another.
"He (Oyegun) knows where he is coming from but to keep his job now, everything is right. People are suggesting practical ways to ensure that APC continues as the ruling party in 2019, all Oyegun keeps saying is 'Buhari must re-contest; ' I will fast and pray to make sure Buhari runs again'. Even when the president was sick and was in hospital, all Oyegun keeps saying is 'Buhari 2019' yet he wants us to be clapping for him? That is sycophancy and I don't like it.
"Buhari has a right to decide whether to seek re-election or not. What will Oyegun do if Buhari says I am not running? I hate people who are sycophants. Oyegun knew what we did to make him national chairman. Tom Ikimi had already gone unopposed from Edo state. We had to call a State Working Committee meeting to say there is another person from Edo state who is interested in the position. I spoke to the state chairman of APC who is still alive; I spoke to then governor, Adams Oshiomhole that this is what we should do because we are not very sure of Ikimi."
Support InfoStride News' Credible Journalism: Only credible journalism can guarantee a fair, accountable and transparent society, including democracy and government. It involves a lot of efforts and money. We need your support. Click here to Donate