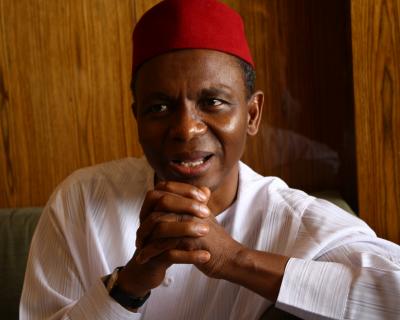 Kaduna State governor-elect, Mallam Nasir El-Rufai has blamed the outgoing government of President Goodluck Jonathan for the state of Nigeria's economy. He noted that the All Progressives Congress (APC) was inheriting, perhaps, the worst ever set of human development indices in Nigeria's history than any government has ever had to face.
El-Rufai spoke on the second day of the policy dialogue organized by the APC. He stated that challenges facing the APC administration were enormous, but narrowed them down to five big issues.
"So what are the challenges ahead for us? The challenges for us are only five but they are big issues; first is rising governance cost. Jonathan's legacy of waste, debt, corruption and institutional destruction. One of the things I think Jonathan deserves a Nobel Prize for is the capacity to take functional institutions and destroy them within the shortest period of time.
"Functioning institutions that we left have been destroyed and I don't know how; it is magic, Jonathanian magic. The second is manifest injustice. We live in a country where 3-4 million people that work for the public service consume about 90 percent of the revenues of the government.
"That is injustice and we must ask ourselves whether that makes sense. We must ask ourselves whether we should live in a country with this kind of perverse prioritization. How can we be spending only 10 percent of the budget on capital expenditure and the entire 10 percent will be borrowed?
"So the entire revenues of the Federal Government are going to be spent on running the Federal Government so that one million people that work for the Federal Government wear nice suits meanwhile we don't have roads, electricity is not working, no rail system. What kind of people are we?
Proposing solutions to the problems, El-Rufai said:"I have ten points. I am sure they are not exhaustive, but ten is enough. First we need to accelerate implementation of the national ID scheme. Now I am sure you are surprised why I put that as number one but one of the biggest problems we have in this country is tracing wrong doings and criminals.
"People do things and just disappear. People from neighbouring countries come into Nigeria and just take our passports and do things in our name. The national ID card scheme is the most important infrastructure we need not only to identify who is a Nigerian but to count ourselves and eliminate many areas of wrong doings.
"This project has been ongoing forever. In 2006, I was asked to take it over. We did organize; we did the Nigerian Identity Management Commission but it is still ongoing. We need to finish registering all adult Nigerians within the shortest possible time and give them ID cards so that when they do something they can be traced. It is a very important human infrastructure.
"Secondly, we need to review our statues on falsification of records and perjury. Nigeria is the only country where people lie on forms, change their age, do any kind of stuff without any consequence because our statues make it very difficult to convict.
"I don't think we will make progress because it starts from there. The moment a person feels comfortable about altering records it is even easier to steal and disappear since there is no identification. For us in the APC government if we want to change government we have to do this," he said
He also called for the overhaul of the NNPC.
"I said NNPC is evil, I mean it. Any organization that can singly bankrupt the country is evil," he said.
Support InfoStride News' Credible Journalism: Only credible journalism can guarantee a fair, accountable and transparent society, including democracy and government. It involves a lot of efforts and money. We need your support. Click here to Donate