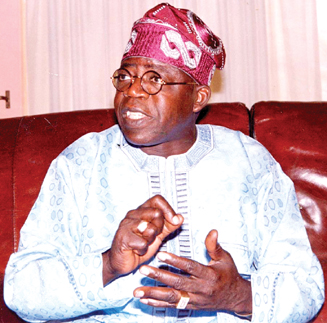 Chieftain of the All Progressives Congress (APC), Asiwaju Bola Tinubu, has said President Goodluck Jonathan's request for $1 billion loan (about N165 billion), is not for fighting terrorism, as the government wants everyone to believe.
According to Tinubu, the loan would be used to wage war against the opposition and scuttle democracy.
The former Lagos State Governor noted that the administration would not be transparent in expending the loan if approved by the National Assembly, adding that its records showed a deep-rooted mismanagement of the nation's resources and abuses.
In a statement yesterday in Lagos, Tinubu said: "The news that President Jonathan has requested the National Assembly to approve his request to seek a loan of one billion dollars, purportedly to battle Boko Haram terrorism, should lead any person with sober conscience to fall out of their chair.
"If only our spendthrift President attacked terrorism with the daring by which he assaults democracy and our common sense, there would be no need for any expenditure. Boko Haram would have been vanquished many yesterdays ago.
"Yet, Boko Haram continues stalking us because the President would rather play tricks than govern as a statesman. The bottom line is that the only thing remotely military about this massive request is that it serves to camouflage a sinister aim. The man seeks to bolster the Peoples Democratic Party (PDP) electoral war chest on the backs of the victims of terror and on the heaviness of our collective fear of the terrorist's threat. In cloaking the request as part of the battle against terror, he believes no one will have the courage to object and this will enable him to get away with what should not be gotten away.
"He is not asking for help in tackling terror. He is asking us to turn a blind eye and empty mind to an abject heist. This is as cynical a measure as a national leader has ever undertaken during the time of national calamity. He demeans his office and the nation in this time of crisis. Of all things, he now subordinates the gravest national threat we have faced in four decades to his desire to hold on to office.
"Yet, do we know precisely what the loan is for? No. What will they purchase that has already not been set to purchase? No one knows. Again, by saying this is to fight terror, we are supposed to act blind, deaf and dumb or rush to congratulate him for his new found vigour. At best, he appears as a Johnny-come-lately to the fight against Boko Haram. This man has been commander-in-chief for over three years. Where has he been? He has been ensconced in the cosy, safe confines of Aso Villa, giving less than a care about the ravaging of northern Nigeria.
"It was only upon hiring a foreign Public Relations (PR) firm did he begin to act as if Boko Haram and the Chibok crisis exist. Before that, he was sleepwalking in the midst of the storm around us.
"I fear hired handlers may have told him to do this thing because it will help him get elected and will make it appear to the outside world that he is doing something. Johnny-come-lately is also now on stage, dancing and performing in dual capacity, as Johnny do-the-wrong-thing and Johnny-wrong-step.
"Hasn't he presented the National Assembly defence bills and budgets totalling over three trillion naira in the past three years? Boko Haram has been terrorising throughout this period. Tell me, what has changed, what is so different now that he must stack another $1 billion atop the funds already given him to defend and protect the nation? The answer is nothing, except that elections are approaching.
"Thus, we are left with two alternatives. In the past three years, he has been so bereft of conscience and derelict in duty that he presented defence budgets, which are woefully inadequate to face the challenge we all could plainly see before us. Alternatively, he has been so bereft of conscience and derelict in duty that he has squandered the money given him in the worst of ways, giving contracts to cronies and leaving our frontline soldiers without boots or bullets.
"Now, he asks us to applaud his request for $1 billion loan. He and his claque have siphoned money from the states to deposit in the illegal Excess Crude Account/Sovereign Wealth Fund. The government said it did this unconstitutional confiscation of state and local funds to save for a 'rainy day'. Well, terror is reigning over and down on us from all sides. The blood of the innocent rains on our national conscience.
"If those who control this money do not think we are not now in the hands of calamity, then there will be no other earthly occurrence that may ply their hands into releasing the people's money for the people's security and well-being. In short, there is no need for the loan. If the funds are truly needed for our collective safety, Nigeria has the money.
"But Jonathan seeks to borrow money because of his foreign handlers. They have told him, if he borrows from abroad and spends that same money aboard, he will win the favour of foreign lenders, arms contractors and assorted business ventures. These people will, in turn, pressure their governments to love Jonathan where they now loathe him and his incompetent handling of high matters of state. As such, he can then ramrod his way through the 2105 elections and not risk international reaction. This is the plan. This loan is not intended to defend Nigeria any more than a pig is built for aerial flight. It is intended to launder his image and buy foreign favour that he may conduct his coming electoral misdeed in international silence.
"In reality, this loan will be used to buy the election and pay for the intimidation of the opposition and the electorate. Most of it will go into the PDP coffers. The portion which finds its way to the Armed Forces and security agencies will be to purchase their services in suppressing all who are not PDP. The loan will not be to fight terrorism. It will be to fight the legitimate dissent.
"Thus, the President's request should be rejected categorically, for he seeks not to use the money to construct a safe haven for the people. He seeks the money to build a casket for democracy.
"I want to rid this nation of Boko Haram but I also am not prepared to be fooled by a trickster and his tricks on this important point. Given his track record of corrupt expenditure, the burden of proof lies with Jonathan. If more money is truly needed to tackle Boko Haram, I have no qualms with it. Before we get there, the President must give the nation a full accounting of what happened with the vast funds already allocated. If we need more funds, let it come from the illegal funds the government now controls.
"Moreover, if money is needed, the National Assembly must institute a special fund and exercise special control and monitoring over the sum. All expenditure must be audited by impartial experts so that the funds are used solely for the battle against Boko Haram and not for partisan objectives".
Support InfoStride News' Credible Journalism: Only credible journalism can guarantee a fair, accountable and transparent society, including democracy and government. It involves a lot of efforts and money. We need your support. Click here to Donate