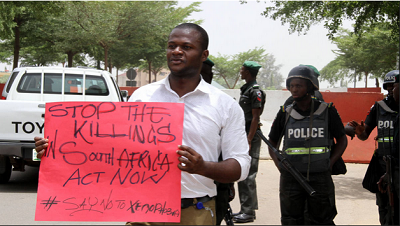 The Socio-Economic Rights and Accountability Project (SERAP) has urged the government of President Goodluck Jonathan to "urgently take legal action against the South African government before the African Commission on Human and Peoples' Rights to seek effective remedies, including adequate compensation, for Nigerian victims of xenophobic attacks in South Africa."
In a statement Monday by its Executive Director, Adetokunbo Mumuni, the organization said "Several Nigerians have been attacked and have lost more than 21 million Rand in the ongoing xenophobic attacks in South Africa. This is unacceptable as it clearly violates the obligations of South Africa under the African Charter on Human and Peoples' Rights. These serious human rights abuses call for strong and decisive action from our government".
"Both South Africa and Nigeria have ratified the African Charter. If President Goodluck Jonathan is to side with the victims and ensure that they receive adequate compensation he has to immediately instruct the Attorney General of the Federation Mohammed Adoke, SAN to urgently file an inter-state communication before the African Commission on Human and Peoples' Rights", the organization stated.
According to the organization, "there is no better time for President Jonathan to do this as the African Commission is meeting this week in Banjul, The Gambia for its 56th Ordinary Session. Articles 48 and 49 read together with Article 47 provide the legal basis for Nigeria to submit communication against South Africa for violations of the right to life and non-discrimination provisions of the Charter. Countries like Uganda have taken full advantage of this procedure in the past and there is absolutely no reason why Nigeria can't do the same".
The organization also said that, "By taking the proposed legal action against South Africa, the Jonathan government will be giving Nigerians in South Africa the best parting-gift ever while also sending a powerful message to the authorities there that Nigeria will no longer accept the inadequate response by South Africa to blatant attacks against our citizens".
"The South African authorities have persistently failed to strongly speak out against xenophobic attacks, and to hold perpetrators accountable. This in turn has continued to amplify the negative impact and the feeling of fear and vulnerability of Nigerian community in South Africa. Such a failure to act also sends a message of impunity to those who commit such crimes. An expectation of impunity can contribute to an escalation of such attacks. And this is exactly why our government must act decisively to stop this trend", the organization added.
According to SERAP, "The proposed legal action will put pressure on South African authorities to hold responsible those who perpetrate violence against Nigerians, to adopt effective measures to end discrimination against non-nationals and to provide effective remedies, including adequate compensation and guarantee of non-repetition, to Nigerians affected.
"South African authorities have the primary responsibility to protect individuals, including Nigerians resident in that country, from all types of violence and the duty to implement their international legal obligations to combat xenophobic and other forms of bias-motivated violence. The authorities need to be told in clear and unmistaken terms that tolerance and non-discrimination are important elements in the promotion of human rights and democratic values", the organization also said.
"SERAP notes that the Durban Declaration and Program of Action (2001) called on States to carry out thorough investigations and to combat impunity in cases of racist or xenophobic violence. As part of the Durban Review Conference (2009), most U.N. Members States agreed in an Outcome Document that reaffirmed the responsibility of governments to respond to racist and xenophobic crimes".
Support InfoStride News' Credible Journalism: Only credible journalism can guarantee a fair, accountable and transparent society, including democracy and government. It involves a lot of efforts and money. We need your support. Click here to Donate